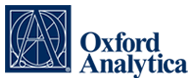 Although it is smaller than the residential housing market, the deepening US commercial property market bust could have a major impact on the banking system in general and on US regional banks in particular, according to Oxford Analytica. It could also substantially affect non-residential US investment.
The Fed estimates that the size of the US commercial property market is 6.5 trillion dollars, or approximately one-third the size of the housing market. Commercial property loans outstanding are an estimated 3.3 trillion dollars, also roughly one-third of the 10.0 trillion dollars in residential mortgages outstanding. Of the commercial real estate loans outstanding, over half are held by commercial banks, with these loans constituting a very important part of the regional banks' balance sheets. Approximately 25% of commercial property loans are securitized, with most of the remainder being held by life insurance and savings companies.
As the President of the Fed Bank of San Francisco Janet Yellen (presently a voting member of the Fed Open Market Committee, which sets interest rates) recently observed, despite being smaller in size than the residential real estate market, the further bursting of the commercial real estate bubble could constitute a significant risk to US economic recovery:
Plummeting construction. The continued collapse of the market would have a serious impact on non-residential fixed investment. In the first quarter, real non-residential construction activity is estimated to have declined at a record annualized 44% rate, which subtracted approximately two full percentage points from GDP growth in the quarter.
Further bank losses. Further commercial property price declines could torpedo the fragile healing process underway in the banking system by compounding US bank losses. In 1993, less than 2% of US banks and thrifts had exposure to commercial real estate that was more than five times their Tier I capital — but by late 2008 that ratio had jumped to 12%, involving approximately 800 banks and thrifts. Foresight Analytics, a California-based property consultancy, estimates that the US banking sector could eventually incur commercial real estate loan losses of approximately 250 billion dollars, which could cause another 700 banks to fail.
Despite a growing recognition in policy circles of the troubled state of the commercial property market, official efforts to support the market have been limited:
In May 2009 of the Fed extended its Term Asset-Backed Securities Loan Facility (TALF), which aims to spur securitized lending, to commercial real estate securities.
Commercial real estate loans are to be included in the Treasury's forthcoming Public Private Investment Program.
Despite these new public policy initiatives, at the end of May Standard & Poor's warned that it was considering downgrading a large number of recent commercial backed securities issues, including 90% of the most senior notes issued in 2007.
As commercial property tends to lag the US housing market by a full year, and price declines in commercial real estate are accelerating, this market is unlikely to bottom out before late 2010. This would threaten the solvency and stability of scores of regional banks, likely require a federal bailout, and reduce the pace of what is likely to be an anaemic economic recovery late this year and in early 2010.
In a related report, OxAn finds that the US housing crisis is bottoming out, but only slowly.