"The first four months of 2013 have been rougher and tougher than at any time in the past decade, with market values plunging $220 billion, or 18 per cent, for 37 of the world's top 40 [miners]". Jock O'Callaghan, PwC, Australia
Last year there was a sea change in the mining industry as major firms replaced their CEOs and started reigning in excessive capital expenditures, CAPEX. My December article, A Sea Change In Mining: 1 Stock To Buy, 1 To Hold and 2 To Sell, listed the key issues causing strong industry headwinds,
A resurgence of resource nationalism, the #1 risk to miners
Tighter restrictions on capital expenditures
Dismissal of top management
Top Management and the Directors have squeezed the capital budgets nearly dry, canceling much planned expansion. The new management is divesting the firms of non-core assets, reducing administrative staff and forcing no-nonsense meetings with recalcitrant government representatives. Progress is being made on these fronts but other issues are draining company resources.
The costly and continuing issues,
Increased labor costs; strikes, sometimes violent, from Mexico to South Africa to Indonesia
Production halted by major accidents at key assets
Low commodity prices
This article sets BHP Billiton in the context of a troubled industry as it presents illustrations of these issues from around the world. An analysis that includes its Tier 1 peers describes each firm's geographic locations and product mixes. We will ascertain the impact of the above issues to each firm, and how they are expected to impact its performance and profits in the coming months.
I recommend BHP Billiton (NYSE:BHP) as the opportune value buy of the three major miners actively traded on the NYSE.
I caution against investment in the other firms, Rio Tinto (NYSE:RIO) and Vale (NYSE:VALE).
Just The Factoids
PwC begins Mine, its annual mining report released in late May, with the following bullets:
Revenue flat at $731 billion - a 6% increase in production volume offset by softer prices
Net profits down 49% to $68 billion
Market values down, gold miners hit especially hard
Issuance of $108 billion of debt, including $43 billion of bonds, sends gearing from 13% to 24%
Estimated 2013 CAPEX of $110 billion, 21% lower than 2012
New CEOs at five of the Top 10 companies
The Bottom Line
In addition, PwC reports in this recent publication,
2012 net profit of $68 billion was equivalent to the level realized in 2006, and the net profit margin of 13% was the lowest it has been since 2003.
At $731 billion, it was only the second time since 2003 that revenue went down.
Operating costs rose 9% to $340 billion.
One area of cost stands out. While headcount in the industry increased only 2%, labor costs increased 13%. Australian miners were especially hard hit with higher labor costs.
These same Australian miners, including BHP Billiton, Rio Tinto, and Fortescue (OTCQX:FSUGY) announced $45 billion in write-downs during 2012. For the most part, these are the atonement for the expansionary sins of CEOs past.
Company Actions and Market Reactions
Since the first of the year, the new CEOs have made heroic efforts to divest non-core operations and reduce staff at both the headquarters level and in the field. Face to face meetings with important government officials have brought reasonable concessions. The efforts of Rio Tinto CEO Sam Walsh in Mozambique and Mongolia has put things in motion that seemed hopelessly mired in the cross purposes of local politicians.
From Argentina to the Democratic Republic of the Congo, resource nationalism is the largest risk to miners. Labor issues also span the globe. Commodity prices are weak. Against these headwinds, the mining industry is making progress this year.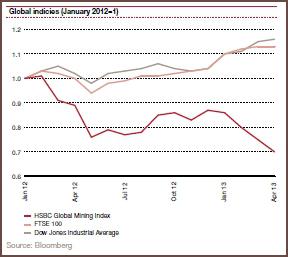 However, the market has not responded in a manner that shows any confidence in the mining industry. It underperformed the market by 17% in 2012 and continues to underperform the broader stock market. In the first four months of 2013, the HSBC Global Mining Index fell by 20% while the broader markets hit all-time highs. Since January 2012, the HSBC Global Mining Index has underperformed the Dow Jones by 46%.
Of the 5 largest global miners, only BHP Billiton has a market cap currently equal to its 2009 market cap.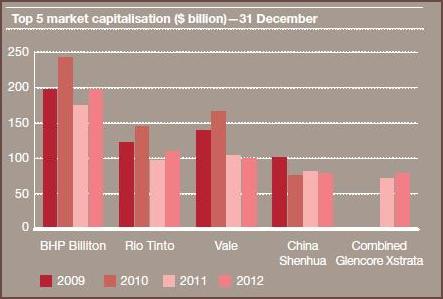 Disruptive Labor Actions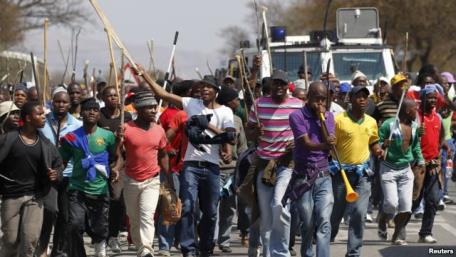 South African mining had a bloody series of strikes in 2012. Mining minister, Susan Shabangu, spoke in an interview with the Financial Times last September after Reuters and others reported that over 60,000 miners walked off the job.
Shabangu told FT the country's mining industry was facing its biggest challenge since the end of apartheid in 1994, adding that it was quite clear that the "sporadic" and "unilateral" industrial unrest is far from over.

"The biggest challenge I think we face as a country is when such spontaneous strikes erupt on a regular basis and one cannot predict when it's going to happen because nothing informs it," she said. "It's a sad day because we've been talking about these things and should they [companies] really see such a situation before they respond?"
The labor actions continue at mines around the world. The major miners have a presence in all of the countries below; in most cases, two of the three do.
South Africa continues to be in the headlines. Last year the tally was over 50 deaths. In the area where police shot dead 34 miners in August, miners went on strike again this Monday at South African miner Lonmin (OTCPK:LNMIY) after a man believed to be a member of the National Union of Mineworkers was shot dead.
South Africa has about 500,000 workers in mining, over 300,000 of them in unions. The leader of South Africa's biggest platinum mining union, Association of Mineworkers and Construction Union, AMCU, threatened on Friday to bring Africa's #1 industry "to a standstill". Last week, the Rand fell to a four-year low against the dollar.
In Mexico labor unrest and violence is a longtime companion of mining. From the early part of the 20th Century, when cross-border US Calvary attacks on striking miners bloodied the streets, to the present time, mercurial emotions accompany strikes.
On Monday the Associated Press reported the shuttering of 3 Minera Frisco mines owned by the world's richest man, Carlos Slim. The labor dispute is between two rival unions, one of which holds the contract at the mine and the other, which seeks to organize workers there. Mexico's important El Coronel mine, producer of over 197,631 ounces of gold in 2011, is one of the facilities that is closed.
In Indonesia tension is high between Freeport-McMoRan Copper & Gold (NYSE:FCX) and a volatile work force. The Grasberg Mine is the largest gold mine and the third or fourth largest copper mine in the world.
A 2011 labor dispute caused a long hiatus in production because of sabotaged infrastructure supporting the site. In actions that reflected the norm of earlier times, the miner allegedly used the Indonesian Police as its private security force, compensating them handsomely.
Workers blockaded roads in the area at key points. They also cut the pipeline that carries mining concentrate to the port. The area is home is to a decades-long low-level insurgency. The possibility of government corruption is likely. Indonesia, now discouraging new foreign miners, slipped to #55 globally for desirability of places to mine.
In the Congo, numerous NGOs target areas where children and women are involved in hazardous mining activity. Their interest is legitimate. The adjective "artisanal" describes hand processing in what is usually viewed as an industrial process, such as in the phrase "artisanal mining". Simple tools and bare hands are the implements used. Exposure to toxic elements causes sickness, sometimes death.
Coltan is the name of the ore from which the rare element Tantalum, used in flat screen manufacturing, is obtained. With the kind of artisanal mining abuses depicted in Child Miners Speak, it is no wonder that the sophistication of labor negotiation is at a primitive level in the country.
Coltan Mining In The Congo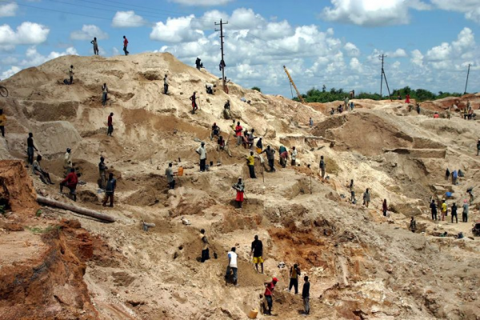 Gold, Copper and Tin are the metals sought by the large industrial miners, and there are rich deposits in this country. Major firms involved in exploration or active mining include BHP Billiton, Glencore Xstrata (OTCPK:GLCNF), Freeport McMoRan, Barrick Gold (NYSE:ABX) and Lundin Mining. In a joint venture, the Government of the Democratic of Congo owns 17% of the Tenke Fungurume Copper Mine in central DRC and Freeport-McMoRan owns 58%.
The country risks are among the highest in the world, but miners go there seeking major deposits of minerals and energy. The low hanging fruit in the more civilized parts of the world has been picked. The labor, environmental and resource nationalism here is prevalent throughout Africa.
In Mongolia Rio Tinto has the largest and most visible project in this country, the huge copper mine at Oyu Tolgoi, which is just beginning production. An overview of the project is at this link. This, again, is a mine in which a government holds an ownership interest. Difficulty dealing with the unsophisticated Government of Mongolia has been a major challenge. Many are relieved that the issues seem resolved and production is beginning. However, my belief is that this is only a hiatus in the ongoing feud involving the politicians of that country and the miners.
Mining is labor-intensive, dangerous, dirty hard work, often in inhospitable environments. This is true in Canada and Australia as well as in the freezing Gobi Desert of Mongolia and the steamy jungles of the Congo.
Australia and Canada The resource nationalism of a Canadian Province or of Australia takes a different tone than that in the third world countries. Rather than confiscate property, as was recently done in Argentina, extracted materials are taxed at higher and higher rates. In the Congo, Indonesia and Mongolia, the locals want a bigger piece of the ownership, and a larger share of profits. In Australia, they simply raise taxes. Labor is less violent but no less insistent about higher wages.
Accidents
Mining is safer than it has ever been. It is also safer when done by firms with high levels of technical expertise and mechanized processes. However, a recent major accident in the US and that of a US firm, Freeport McMoRan, operating in Indonesia are alarming.
Utah, U.S. The largest open pit mine in North America is the Bingham Canyon Mine. The mine is approximately 1 mile deep, and 2½ miles wide at the surface. Rio Tinto owns this mine near Salt Lake City.
A slide occurred along its northeastern wall on April 10, 2013. No one expected this to happen. Fortunately, no deaths resulted from the event. By early May the mine was operating at half usual capacity and the firm announced it would lay off a significant number of its 2200 workers. It will take months to restore full production.
Bingham Canyon Mine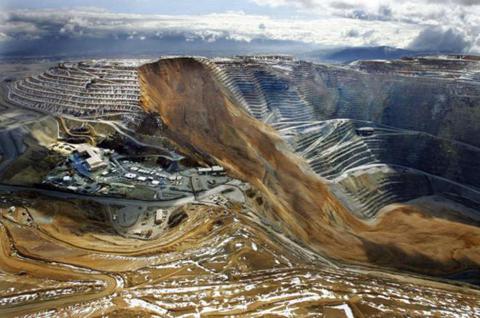 Grasberg Mine, Indonesia A tunnel caved in at Freeport-McMoRan's gold and copper Grasberg mine in Indonesia's Papua province on May 14, killing 28 workers. This is a very unusual event in a modern mine. As of yet, no one knows why it happened.
The company closed the mine for an anticipated two-week period, and planned to resume operations at the open pit part of the complex shortly thereafter. However, the Government of Indonesia said it will remain closed for an additional two months for an investigation. Syawaluddin Lubis, Indonesian chief mine inspector, said on Sunday that the energy and resources ministry sent a letter to Freeport earlier this week instructing them to only carry out only administrative and maintenance work. "Actual mining activities should stop across Grasberg."
Mined Products by Firm
The product mixes of each firm, along with the geographic location of its key resources, are among the most important factors in judging a firm's future success.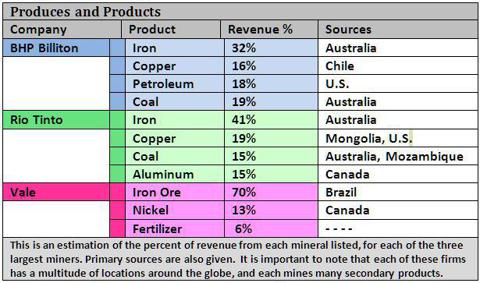 BHP Billiton stands above its peers in the balance and diversity of products it produces. It focuses on what it calls its "four pillars" of Iron, Copper, Petroleum and Coal. Its key properties are large scale, long life projects, located in venues with little country risk. This, along with its massive size and depth of management, gives the company many advantages.
BHP Billiton has the lowest debt level. Its returns on equity and assets are stronger. BHP Billiton is the steadiest of the three and its dividend is very secure; it has a written progressive dividend policy. Past earnings were solid as will be future earnings. In addition to the strong balance sheet, it boasts an A credit rating.
Rio Tinto does not have quite such a profitable mix; significant resources are tied up in low profit iron ore and aluminum. However, it is becoming a very low cost producer of iron ore, as is its Australian competitor, BHP Billiton. Its large copper project, the massive Mongolian mine at Oyu Tolgoi, presents problems because of its remote location and because of the somewhat unpredictable government of Mongolia. This mine and its future profitable operation is a key to Rio's future.
Vale has the weakest product offering; it is very dependent on iron ore, with its profits tied to the price of that commodity. Its low cost, high-grade iron ore has driven profitability when prices were high. However, it is apparent that we are entering a period of global oversupply in that product, and Vale's fate lies in the price of iron ore.
Global iron ore supplies will expand faster than demand over the long term, potentially lowering prices and reducing volatility of the raw material used to make steel… New seaborne cargoes will gradually displace more expensive output, mainly in China…
BHP Billiton and Rio Tinto are both expanding in Australia, which will lower their unit costs and make them more competitive. Vale also has a geographic disadvantage, its mines being more distant from China than those in Australia.
The Brazilian government sometimes uses Vale to achieve social goals, such as to lower unemployment in regions of the country. That kind of political action, coupled with the inflationary economy, weak Brazilian currency and the sluggish local business environment, does not bode well for the company. I concur with the writer of this SA article that Vale is still overvalued. I believe its dividend is the least secure.
Recommendation
BHP has done better than its peers, YTD. It has fewer risks and I believe it will continue to outpace its peers with steady profitable business. I believe that BHP Billiton is a buy.
These firms all trade on the NYSE as ADRs and are not broadly covered by analysts. The analyst targets from Yahoo Finance, beside my targets below, came from 2 to 4 analysts.
I suggest you do your due diligence and determine your best action. I hold BHP Billiton and have recently added to my position.
Financials, Charts
Highlighted items are important to valuation.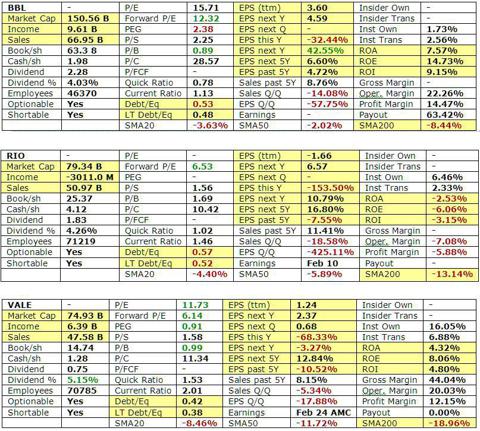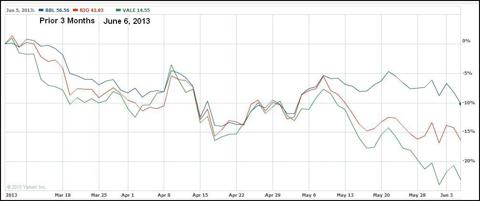 Disclosure: I am long BBL. I wrote this article myself, and it expresses my own opinions. I am not receiving compensation for it (other than from Seeking Alpha). I have no business relationship with any company whose stock is mentioned in this article.