Last year saw a decline in the returns of the companies engaged in the refining industry of the United States. One of the major players in the Oil and Gas sector, ConocoPhillips (NYSE:COP), got separated from its refining operations, forming another company by the name of Phillips 66. The reason for such a drastic move was simple. Oil and gas exploration industry was booming especially because of the boom in shale gas but refineries were facing tight profit margins and the forecasted flat demand from the US consumers. The situation now is different. With petroleum sales stagnating in the United States, downstream companies are reporting a surge in demand for refined products from markets abroad. One company benefiting from this change is Marathon Petroleum Corp (NYSE:MPC).
MPC is the fourth largest refiner of petroleum products in the United States. The company owns seven refineries with an estimated refining capacity of 1.69 million barrels-per-calendar-day. The company also has significant marketing operations. Other business segments include pipeline transportation and Speedway LLC. Speedway LLC is the fourth-largest chain of gasoline and convenience stores. Marathon owns and operates Speedway LLC.
Source: Marathon's Financial Statements
The above bar chart shows the breakup of MPC's income from the three different segments. Note how the revenue from the Refining and Marketing segment has been rising in recent years.
Segmented Performance - 1Q13
All three segments of Marathon Petroleum Corp reported an increase in their income in the1Q13. Each segment needs to be analyzed separately to understand MPC's business model further.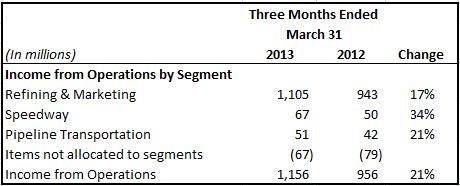 Source: Company Financial Statement
Refinery & Marketing
The YoY increase in the revenue from the Refinery & Marketing segment was a robust 17%. This was achieved due to better refining margins, increase in the sale of refined products and an increase in the overall throughput in the refineries owned and operated by MPC.
Speedway
Income from the Speedway stores saw the greatest YoY increase of a hefty 34%. This was due to the rising margins from the sale of gasoline, distillates and merchandise products. This positive effect was counterbalanced by the increase in expenses related to the growing number of stores under the Speedway brand.
Pipeline Transportation
Due to increased transportation tariffs and higher pipeline affiliate earnings, the Pipeline Transportation segment had in increase in income of 21%.
Comparative Advantage of MPC
The company is financially strong as in the 1Q13 it spent close to $379 million on capital natured programs. MPC wants to balance investments in its business segments along with returning capital to its shareholders periodically. This policy was evident in the 1Q13 when the company returned $547 million to its shareholders through share purchases and payment of $116 million in dividends. The company, through its businesses of Speedway and Pipeline Transportation is vertically integrated. This helps the company to cash in the margins of these businesses as well. MPC also follows the policy of horizontal integration as it has slowly and steadily acquired refineries to expand its Refining and Marketing business and convenience stores to run under its Speedway brand. A testament to this policy is the recent acquisition of BP's (NYSE:BP) Texas City Refinery by Marathon. The company's access to Pipeline Transportation allows it to have a greater regional presence that is not possible for its lower-cost competitors.
The company has also completed its Detroit Heavy Oil Update Project (DHOUP) at its recently acquired Galveston Bay Refinery. This move will position Marathon to exploit the lower prices of American crude and will help it increase its margins on its exports. This will boost up the company's cash flow and increase its profitability.
Future Outlook - Risks and Opportunities
The ever changing landscape of the Oil and Gas sector is a constant problem for the companies engaged in it. In order to maximize their returns and use their resources efficiently, companies in this sector need to forecast some key variables such as crude oil prices and retail gasoline prices.
Source: U.S. Energy Information Administration
The graph above shows the flattening of prices for both, retail gasoline and crude oil. This means that refineries in the United States should work to lower their costs to improve their margins as the retail prices for gasoline will stay static. The refineries can also use the projected static prices of crude oil in the U.S. to boost their exports and cash in the greater margins that come from exports of the refined products.
Relative Valuation
Valero Energy Corporation (NYSE:VLO), Exxon Mobil Corporation (NYSE:XOM) and Chevron Corporation (NYSE:CVX) are some of the companies that directly compete with Marathon in the industry.

Source: Morningstar
MPC's P/E and P/S show its possible undervaluation but its P/B shows a very minute level of possible overvaluation.
Conclusion
MPC has a diversified business with all of its segments showing increased earnings in the recent quarter. MPC has a competitive advantage over its many competitors because of its policy of both vertical and horizontal integration. With the market prices for refined products forecasted to become stagnant in the United States, refineries are looking for greater margins through exports. The comparative valuation also shows the possible undervaluation of MPC's stock. I would therefore recommend a buy stance to investors for a short horizon. If MPC starts to focus more on exports in the future, I would then recommend a buy stance for a long horizon.
Disclosure: I have no positions in any stocks mentioned, and no plans to initiate any positions within the next 72 hours. I wrote this article myself, and it expresses my own opinions. I am not receiving compensation for it (other than from Seeking Alpha). I have no business relationship with any company whose stock is mentioned in this article.