The title above from a line by Will Ferrell in one of my favorite movies, Anchorman, is quite funny, but the situation I'm referring to with this line is no laughing matter.
Bridgepoint Education (NYSE:BPI) is a for-profit education company that CEO Andrew Clark co-founded in November of 2003. He has been in charge ever since. His base salary for 2012 was $600,000 and in total he made about $2.7 million or 2.13% of BPI's FY12 earnings. In short, he makes a lot of money. So does the rest of management. The company just approved $25.25 million in new stock for compensation purposes. That's about 20% of what the company earned this year. Why do shareholders pay management all this money? I don't currently own shares in the company so I can't speak as a shareholder but I'd assume it's to run the company in the best interests of shareholders. That is, after all, usually how things like this work, right? By my tone, you can probably tell that I'm pretty disillusioned with management at Bridgepoint. In this article I'll explain why you should be too.
Background
In America, the higher education system works like this: The Federal Department of Education offers financial aid in the form of grants and subsidized loans (Title IV funds) to students who attend a college or university that is accredited by an accreditor that the DOE recognizes as a 'gatekeeper' of the Title IV funds. According to this site, about $150 billion in Title IV funds are dished out each year to about 14 million students. This averages out to $10,714 per year per student. Because of the kind of students at for-profit institutions (typically low-income adult learners that are less financially secure than the average student), students at for-profits probably get a good deal more than $10,714 on average. By the time a student graduates with a 4 year degree from a for-profit, they could owe the federal government as much as $60,000. This loan is not backed by anything and so, if the graduate is unable to find work with their new degree to pay off the loan, the government doesn't get the bulk of that money back. With student default rates up in recent years, it makes sense that the federal government is cracking down on higher learning institutions to lower student default rates by improving educational quality.
Now back to the accreditors. There are six regional accreditors recognized by the DOE as gatekeepers of Title IV Funds. They each have jurisdiction over certain regions of the country as shown below: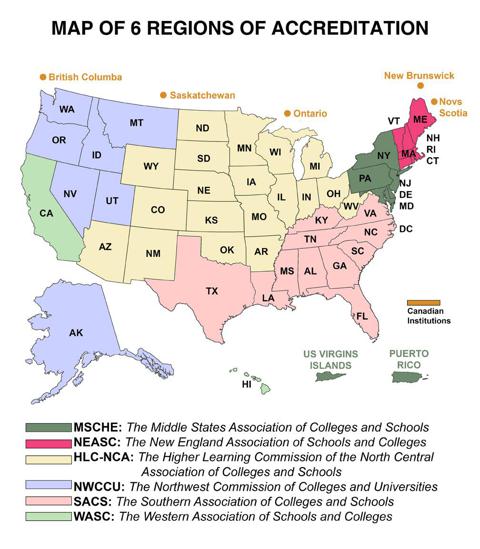 Bridgepoint's institutions, Ashford University and University of the Rockies, are located in Iowa and Colorado respectively. As you would expect, HLC, the regional accreditor with jurisdiction over both Iowa and Colorado, is the accreditor for both schools. So what exactly is the problem here?
The Dilemma
Well, HLC recently changed its jurisdictional requirements. The new requirements are below:

Provided by ncahlc.org
The third bullet point is problematic for Ashford University because Bridgepoint's corporate headquarters and most of Ashford's administrative presence is based in San Diego, CA which is outside of HLC jurisdiction. For this reason, HLC placed Ashford on Notice. HLC defines 'Notice' as the following:
"Notice is a Commission sanction indicating that an institution is pursuing a course of action that, if continued, could lead it to be out of compliance with one or more Criteria for Accreditation. An institution on Notice remains accredited. At the end of the Notice period, the Board of Trustees may remove the sanction, place the institution on Probation if the identified concerns have not been addressed, or take other action."
The end of the Notice Period is February 2014. Basically HLC is saying that if Bridgepoint doesn't move its corporate headquarters and Ashford's administrative presence into the HLC region by next year, things will get a whole lot worse.
Now, Bridgepoint has about $500 million in cash and investments, plenty of money to fund a move into HLC territory. So this is a non-issue right? Wrong. Bridgepoint could've very easily moved its offices. Arizona, which is in HLC jurisdiction, is a three-hour drive from San Diego. The move would have been an excuse to downsize as the company clearly had to do. It cut 450 jobs last September and took some heat for it that could have been mitigated. It would cost some money but Andrew Clark and management, if they'd done their homework, should've known the huge risks not moving. If the company stayed put in San Diego, it would need to get Ashford accredited by WASC. The paragraph below comes directly from the Public Disclosure Notice released by HLC:
On June 15, 2012, the WASC board denied Ashford's application for initial accreditation. (The action was made public on July 9.) Information about this decision is available on the WASC website (wascsenior.org). According to HLC policy and federal regulations, if another institutional accrediting body takes an adverse or probationary action against an HLC institution "the Commission will undertake prompt review of the institution to determine whether additional review or Commission action, including sanction or withdrawal of accreditation, is appropriate." Therefore, the decision by WASC prompted a review and action by the HLC board.
Considering that applying for accreditation from WASC was risking a comprehensive review by HLC and Ashford's educational quality isn't exactly stellar, the move to Arizona would have been well worth the money to avoid this risk. It doesn't seem likely that Bridgepoint was unaware of the risks of seeking WASC accreditation. I would think the first thing that would've happened after HLC told them they were out of jurisdiction was management asking HLC what would happen if they were to apply for WASC accreditation.
So why didn't they move? The answer, ladies and gentlemen is because they didn't want to. Executive management is taking Will Ferrell's words literally and staying classy in San Diego. They like living in San Diego; can you blame them? They're being paid exorbitant amounts to do what's best for shareholders but are instead doing what's best for themselves. As a shareholder, you can absolutely blame them.
So instead of moving, last year the company applied for accreditation from the accreditor with jurisdiction over California, WASC, and guess what - it got denied. WASC initially denied the request which set off the mandatory review by HLC. Now, the accreditation issue has expanded from a jurisdictional formality that could've been solved, to a comprehensive review that the company may not be able to solve. The company now has to overhaul its business model because Andrew Clark and company just couldn't part with San Diego.
Sure if its appeal to WASC gets denied, the company has agreed to move into HLC jurisdiction before the February 2014 deadline, but now because of the review, there are no guarantees they'll maintain accreditation just because of the move. The issue is broader than that now and the blame is completely on management.
Chances of Accreditation Now
WASC had the following to say regarding the initial denial of Ashford:
The Commission found that Ashford University was not yet in substantial compliance with elements of Standard 1 (Defining Institutional Purposes and Ensuring Educational Objectives), Standard 2 (Achieving Educational Objectives through Core Functions), Standard 3 (Developing and Applying Resources and Organizational Structures to Ensure Sustainability), and Standard 4 (Creating an Organization Committed to Learning and Improvement), as required for initial accreditation.
The visiting team of WASC gave many recommendations to Ashford and Bridgepoint but the biggest points were:
Increased cooperation between San Diego and Iowa. They found the two locations to be operating, for the most part, independently.
Increased academic presence in San Diego.
Better use of technological capacities to monitor and analyze outcomes.
Improved adaptability to change programs when areas needing improvement are identified.
More formal relationship between Ashford and Bridgepoint. Less reliance on company by University.
Clark provided some information on what the company was doing to act on these recommendations in the company's Q1 earnings call in May:
Reassigned 400 admissions personnel to a new department of Student Inquiry and the Student Services department.
Free two-week orientation program in which 28% do not enroll in their first course.
Ashford Promise - guaranteed full refund of tuition through first three weeks of classes. 11-12% weeded out in first three weeks.
The company is trying to improve student support. The visiting team recognized that the dynamics of online education are very different than in-classroom but wanted Bridgepoint to better recreate traditional dynamics by making it easier for students to ask questions and interact. The company is also trying to improve student persistence rates by weeding out students who cannot afford the education, aren't sure they want to do it, or aren't academically qualified for the school. The company hopes that the remaining students will be much higher quality and persist at higher rates.
I'll leave it up to you to decide what you think the chances of Ashford getting WASC accreditation are but I'm pretty unsure myself. If I had to give a hard number I'd say 75%.
What Happens If WASC denies Ashford
If, this summer, Ashford is denied by WASC, then Bridgepoint will have to immediately begin moving its operations into HLC territory. There will be a few evaluations by HLC between October and December to monitor the progress of the move and to discuss the underlying problems that would have caused the WASC denial. In February 2014 when Notice expires, HLC will decide to either take the company off Notice, place the company on probation, or "take other action." If you're wondering what probation entails, HLC offers the following:
"Probation signifies that conditions exist at an accredited institution that endanger its ability to meet one or more of the Commission's Criteria for Accreditation. In placing an organization on probation, the Board identifies in the institution's Statement of Affiliation Status the specific conditions that led to probation and the date of the next comprehensive evaluation, at which time the institution must provide clear evidence of its progress toward ameliorating those conditions."
Probation lasts no longer than two years during which the school will still be eligible for Title IV funds but if the school is placed on probation it will be made known to all prospective students and Ashford's reputation will take even more of a beating than it already has. Right now Andrew Clark anticipates enrollments stabilizing by fiscal year end but if Ashford gets placed on probation I can almost guarantee that that won't happen.
What bothers me and why I wrote this article is that this whole debacle could've been avoided if management had just recognized the risk of initiating a comprehensive review by applying to WASC, and instead spent the couple million dollars it would've cost to move to HLC jurisdiction immediately. It's so frustrating as an onlooker.
So yes, I am quite negative on management at Bridgepoint Education. Clearly their interests don't align with those of shareholders and that's all I need to know to keep me from becoming a shareholder again.
Disclosure: I have no positions in any stocks mentioned, and no plans to initiate any positions within the next 72 hours. I wrote this article myself, and it expresses my own opinions. I am not receiving compensation for it (other than from Seeking Alpha). I have no business relationship with any company whose stock is mentioned in this article.