We take a look at the latest developments in the oil market, including charts of all the major inventory categories.
The Department of Energy reported that in the week ending May 31, U.S. crude oil inventories decreased by 6.3 million barrels, gasoline inventories decreased by 0.4 million barrels, distillate inventories increased by 2.6 million barrels and total petroleum inventories decreased by 1.2 million barrels.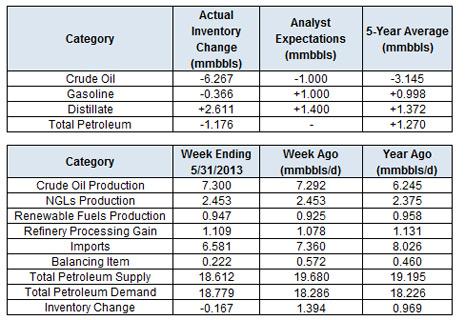 Crude oil was slightly higher after the release of the latest inventory data. Crude inventories fell from the record level hit last week, but remain well above the five-year average. The same holds true for all the major petroleum categories with the exception of distillates, which remain in a substantial deficit to the five-year average (though they are now above the year-ago level).
Surprisingly, crude oil prices have managed to hold steady despite the ongoing sell-off in stock markets around the globe. Perhaps this outperformance signals a coming tightening of supply and demand balances. That remains to be seen, but for now, inventories are at very comfortable levels, as can be seen from the charts on the following pages.
From a technical perspective, the key levels we are watching are $106 and $96 for Brent, which are resistance and support, respectively. For WTI, $98 is the key resistance level to keep an eye on.
BRENT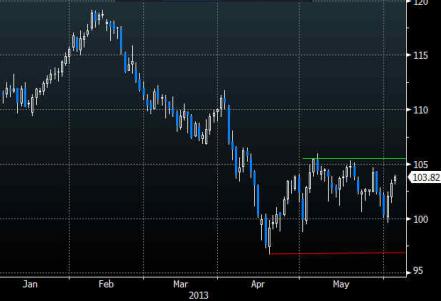 WTI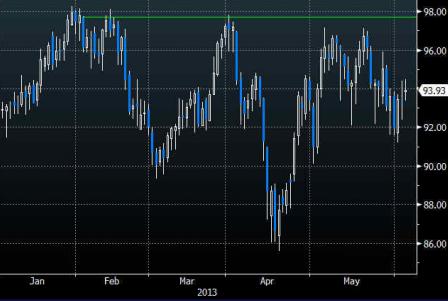 Turning to this week's EIA inventory figures, total petroleum inventories in the U.S. fell by 1.2 mmbbl, against the five-year average of a 1.3 mmbbl increase. In turn, the inventory surplus fell to 53.1 mmbbl, or 5 percent.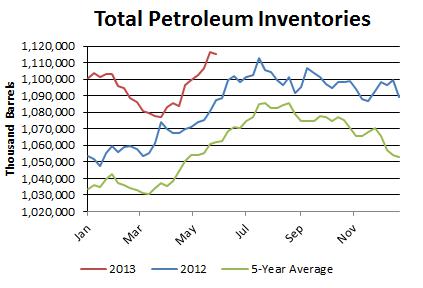 Crude oil inventories fell by 6.3 mmbbl, against the five-year average of a 3.1 mmbbl decrease. In turn, the surplus in the crude category fell to 35.5 mmbbl, or 10 percent.
Regionally, inventories inside and outside the Midwest fell.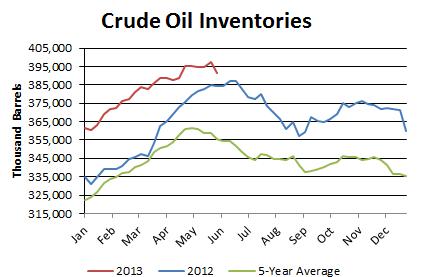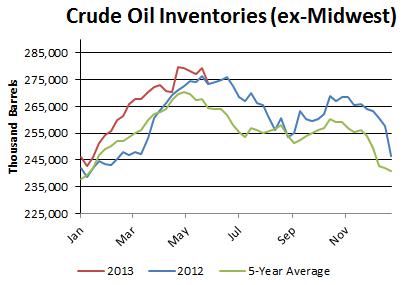 Gasoline inventories fell by 0.4 mmbbl against the five-year average of a 1 mmbbl increase. The gasoline surplus now stands at 9.1 mmbbl, or 4.3 percent. Distillate inventories rose by 2.6 mmbbl against the five-year average of a 1.4 increase. In turn, the distillate deficit narrowed to 12.6 mmbbl, or 9.3 percent.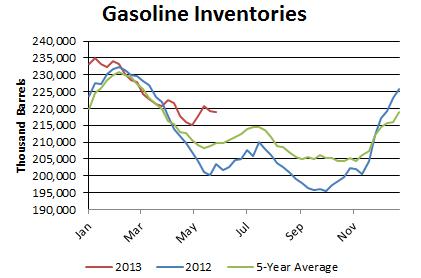 Demand
Total petroleum demand in the U.S. rose to 18.8 mmbbl/d. Gasoline demand fell to 8.8 mmbbl/d and distillate demand edged down to 3.8 mmbbl/d. On a four-week rolling basis, total demand was up by 0.2 percent from last year. On that same basis, gasoline demand was down by 0.8 percent and distillate demand was up by 6 percent.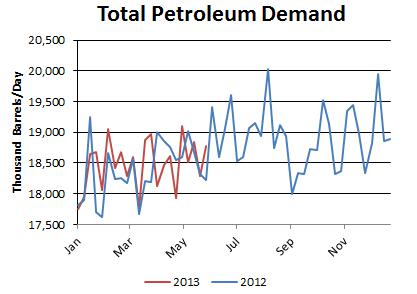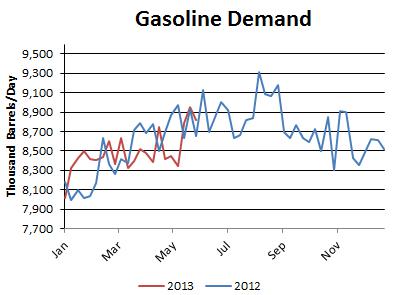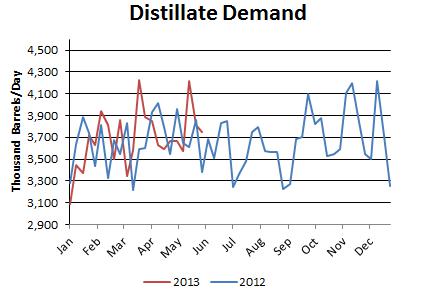 Imports
Crude oil imports fell by 0.5 mmbbl/d to 7.3 mmbbl/d. On a four-week rolling basis, imports have been 1.2 mmbbl/d below the year-ago level.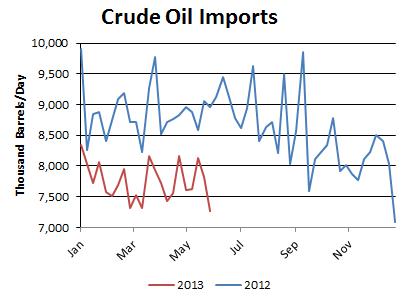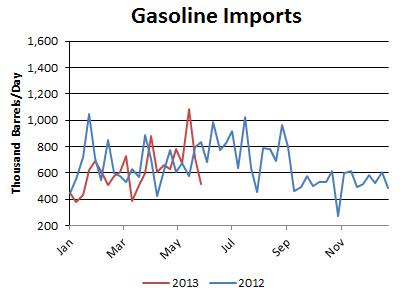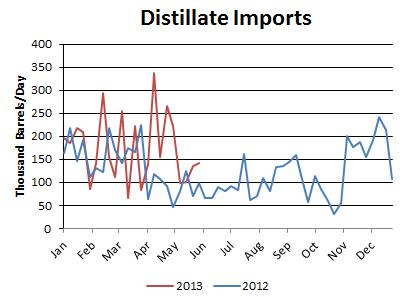 Refinery Activity
Refinery utilization ticked up from 86.4 to 88.4 percent. Utilization is below the year-ago level but close to the five-year average. Gasoline production rose to 9.3 mmbbl/d, while distillate production edged up to 4.8 mmbbl/d.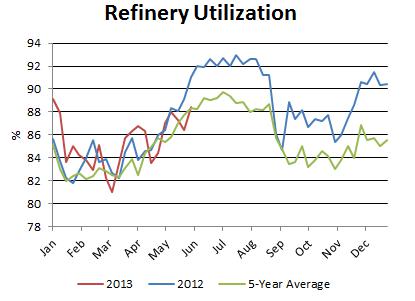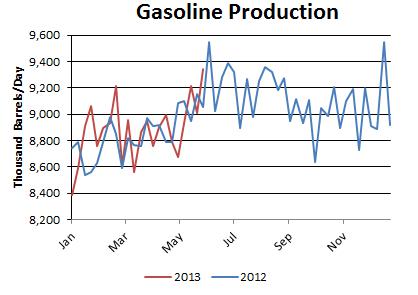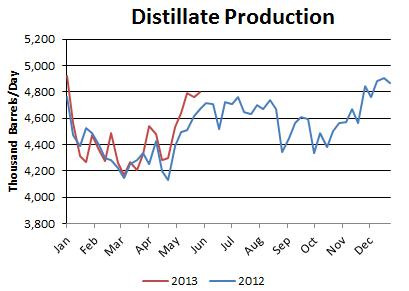 Miscellaneous
U.S. crude oil production rose to 7.3 mmbbl/d, close to the 21-year highs set last month. Output has been rising swiftly this year thanks to surging production in unconventional oil plays. Since the start of the year, output has averaged 1.21 mmbbl/d, or 20 percent, above the same period a year ago.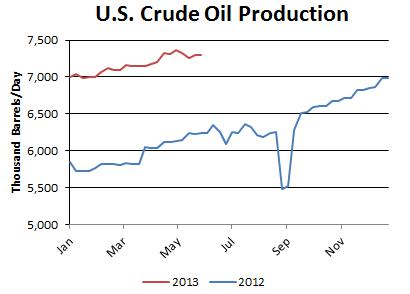 Inventories at the Nymex delivery point in Cushing, Okla., fell by 0.5 million barrels to 50 million barrels, or 63 percent of the EIA's estimate of capacity. Overall, Midwest inventories fell by 1 million barrels to 117.4 million barrels, or 76 percent of estimated storage capacity.
Front-month WTI calendar spreads remained in contango at +$0.24.
Front-month Brent calendar spreads remained in backwardation at -$0.35.
West Texas Intermediate's discount to Brent rose week-over-week from -$9.30 to -$9.89. WTI's discount to Louisiana Light Sweet rose from -$8.75 to -$9.35.