According to a recent report by the International Data Corporation (IDC), worldwide PC shipments are now expected to fall by 7.8 percent in 2013. The new forecast reflects a shift in PC-buying trends, as users' preferences are increasingly shifting to alternative equipment, such as tablets and smartphones, for more of their computing needs.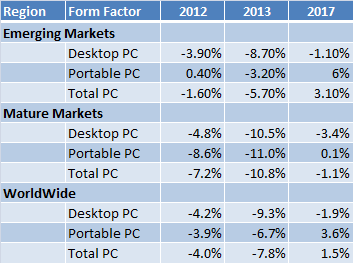 The table above shows the expected PC shipment growth by region and form factor, from 2012 to 2017. As you can see, the researchers expect a drop in the global PC market, but the drop is weighted by mature markets rather than emerging markets due to an increasing shift to tablets and smartphones. In addition, the BYOD (bring your own device) phenomenon has moved from portable PCs (laptops) to smartphones and tablets.
About Company:
Advanced Micro Devices, Inc. (NASDAQ:AMD) operates globally as a semiconductor manufacturer. It operates in two segments: computing solutions and graphics. The company designs, develops, and sells microprocessor products, such as central processing units (CPU) and accelerated processing units (APU) for servers, desktop PCs, and mobile devices. It is the only significant rival to Intel (NASDAQ:INTC) in the central processor (CPU) market for (x86-based) personal computers. Since acquiring ATI in 2006, AMD and its competitor Nvidia have dominated the discrete graphics processor unit (GPU) market.
The reason behind the selection of this company is that 85 percent of its total revenues are dependent on its PC segment, which is in a declining trend.
Stock Price Performance:

The graph above shows the stock price performance of AMD compared to its direct competitors: Intel Corp. and NVIDIA Corporation (NASDAQ:NVDA) as well as the Dow Jones U.S. semiconductor price. You can see the disappointing performance of AMD's stock over a period of one year, with a price deprecation of 32.88 percent. This decline clearly reflects the depressing PC market, but Intel has been able to survive this wave due to its diversification benefits.
Decline in Revenues: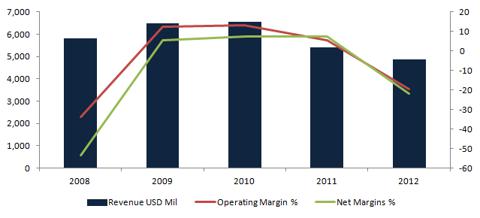 The chart above shows the company's long-term revenues performance along with its operating and net margins. You can see a consistent decline in revenues over the long run due to the decline in the PC market and dependability on limited customers.
The company's revenues are highly dependent on a limited number of customers. According to the company's 2012 annual report, five customers accounted for approximately 59 percent of the net revenues of its PC segment, and five customers accounted for around 48 percent of the net revenues of its graphics segment. High dependency on a limited number of customers has led the company's revenues to drop substantially due to the decline in the PC segment and distress in the market for the semiconductor industry, which further led to a drop in its operating as well as profit margins, as shown above.
Recent step to diversify operations:
AMD has decided to take the exceptional move of breaking up its exclusive relationship with Microsoft Windows and working with other operating systems, like Android and Chrome OS. It will design chips that work with both Google's Android and Chrome operating systems. The new chips will be based on x86 and ARM architecture, which can run multiple operating systems.
Conclusion:
Despite the recovery of the semiconductor industry, the company's dependability on limited customers will not do much good for it in the short run. Furthermore, its biggest competitor, Intel , is already providing chips to Google for Android and Chrome devices, which means that Intel is already benefiting from the advantage of being first in that segment of the market. In other words, Intel has already captured most of the share in this new market where AMD is currently just planning to enter. Currently, the company does not have a strong enough financial position to support future growth. Meanwhile, JPMorgan analyst Christopher Danely reported that Asian companies indicate that PC shipments will grow below normal seasonal levels this quarter. As a result, Danely believes that AMD's 2013 results may come in below its guidance and analysts' consensus estimates. So, it is in the best interest of investors to short this stock.
Disclosure: I have no positions in any stocks mentioned, and no plans to initiate any positions within the next 72 hours. I wrote this article myself, and it expresses my own opinions. I am not receiving compensation for it (other than from Seeking Alpha). I have no business relationship with any company whose stock is mentioned in this article.