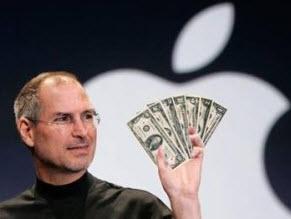 Executive Summary
The mobile payment and digital currency industries are still in the early innings of development. I believe these industries are multi-billion dollar, multi-year secular growth markets which will have a huge impact to the bottom line of key players. Aite Group states the volume of mobile payments will grow to over $200 billion by 2015. In 2010 mobile payment revenue was approximately $16 billion. That is an over 12-fold increase in just five years.
Yesterday, Apple (NASDAQ:AAPL) filed a patent to create virtual currency referred to as "iMoney". Apple looks to get into the mobile payment/digital currency game in a way similar to Amazon (NASDAQ:AMZN) Coins. The patent is a combination of virtual currency and digital wallet technology. It allows users to store money in the cloud and make payments with their iPhone.
Apple is a dominant leader in the smartphone market. They have not entered the mobile payment market yet, but I expect them to arrive on the scene very soon and disrupt the current mobile payment landscape. With 200 million existing customers and credit card numbers on file with Apple's iTunes service, this makes Apple the sleeping giant of mobile payments.
The use of smartphones as a mobile payment device is inevitable and underway. Please review the following discussion of the current mobile payments landscape followed by an in-depth review of Apple's current state and future prospects.
Current mobile payment competitive backdrop
Competing technologies -- There are many competing technologies at this early stage of the mobile payments industry. The leading technology is Near Field Communications, otherwise known as NFC utilized by ISIS, Google (NASDAQ:GOOG) Wallet and PayPal. Additionally, you have proprietary systems like Starbucks Card Mobile. NFC emits a short range, high frequency signal to communicate data. NFC's technology enables

smartphones and other devices to establish a radio connection by touching them together or coming in close proximity. NFC technology has not been heavily adopted in the U.S. yet, but according to some analysts' estimates there will be a greater push for mobile users to adopt the technology in the next few years.
eBay's position -- eBay's (NASDAQ:EBAY) mobile payment business has exploded from a few hundred million dollar business in 2009 to a $7 billion business in 2012. Only a small percentage of

smartphone users currently use the service today. eBay's PayPal exemplifies the exponential growth potential for mobile payments.
Google's foray -- Google has a horse in the race with a service called Google Wallet. Google Wallet is a service that allows users pay for goods and services with Android phones. It works by using near field communications (NYSEMKT:NFC) technology. An NFC chip inside Android phones is recognized by a scanning device used by merchants to complete a sale. The wallet functions by letting users link a credit card to a Google Wallet to provide funds. Utilizing a Google Wallet app, users can upload virtual credit cards to facilitate the ability to pay with their phone from a bank or credit company. Citi (NYSE:C) and MasterCard (NYSE:MA) back the service, and those companies that are heavily promoting Google Wallet to encourage adoption by users and businesses alike. Just ask Google Wallet, which is currently trying to build this from scratch. I predict the big winner here will be Citigroup . Citigroup has always been at the forefront of technological innovation regarding banking. I expect the mobile payments revolution will be no different.
Apple's current status
Apple is not known for following the crowd. Apple is more apt to disrupt the current state of affairs with a proprietary competing technology and the recent patent filing supports this thesis. Furthermore, Apple already has been awarded a patent that covers mobile payment controls. Apple was granted a patent by the U.S. Patent and Trademark Office for a method that sets financial transaction rules to govern subsidiary financial accounts. The patent description suggests the technology may be used by a parent to set up a prepaid subsidiary account for a child or a by an employer setting up rules for an employee's payment account on a mobile device. Apple has many patents related to mcommerce, NFC and payment. Clearly Apple plans to leverage iMoney, iCloud, iTunes and some iWallet to transact an expanded form of commerce. While Google and PayPal are in a drawn out battle in bricks-and-mortar, Apple will most likely use their strength with iCloud to compete with Visa's V.me.
I expect Apple to leverage its 200 million existing customers and credit card numbers on file with Apple's iTunes service to jump into the mobile payments market in a big way. Apple transformed retail by implementing the roving transactions process, doing away with the traditional checkout counter. I expect them to do the same with mobile payments and digital currency. The mobile payments revenue stream may be another major catalyst for Apple's stock at some point, time will tell.
Conclusion
It seems inevitable that the mobile payment industry will experience exponential growth. eBay is definitely in the lead with its PayPal service today. Nevertheless, with so much at stake, you can be sure Apple will gain its fair share of the mobile payment pie. Apple seems to be behind the curve as it were now, but is known for its disruptive tendencies. Citigroup is the bank I posit is best positioned to benefit from the growth in mobile payments transactions. Regardless, the mobile payment industry is here to stay and may soon become the norm rather than the exception.
Perform a review of each of these stocks to ensure their suitability regarding your current situation. Use this information as a starting point for your own due diligence and research methods before determining whether or not to buy or sell a security. If you choose to start a position in any stock, I suggest layering in to reduce risk.
Disclosure: I have no positions in any stocks mentioned, but may initiate a long position in AAPL, C over the next 72 hours. I wrote this article myself, and it expresses my own opinions. I am not receiving compensation for it (other than from Seeking Alpha). I have no business relationship with any company whose stock is mentioned in this article.