We are seeing some interesting times in the commodity space, as oil and natural gas dance around current levels and it is becoming more and more obvious that the spread between Brent and WTI Crude is narrowing. This is giving refiners some headaches and as the transportation routes out of such areas as the Bakken and Utica continue to improve and get production to market quicker, the ability to play arbitrage games quickly dissipates.
We were correct to lead readers out of the refiners near the highs, and the levels we called to exit left plenty of meat on the bones from our entry points for those who wanted to risk staying in for a bounce upwards after our sell recommendations.
Today we want to look at how investors are approaching these new MLPs and companies that are looking to break up their asset base in hopes of creating further value. It has worked for some, but we want to look at why it is not for names such as Devon Energy (NYSE:DVN).
Chart of the Day:
The uranium price has collapsed on the spot market, however, the uranium equities have rallied. What has fueled the rally? Well, investors' optimism for one, and the fact that we are seeing M&A pick up in the industry. When those in the industry get bullish, so too should investors. At least that is what history in the industry has taught us.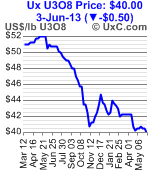 Chart courtesy of UxC
Another note for the novice investor looking at uranium, the spot price fuels the juniors but the long-term contract price is what drives the big names such as Cameco (NYSE:CCJ). Historically the smaller names sold on the spot market as they never signed supply contracts for the vast majority of their production in order to allow them to benefit from rising prices, but also out of fear of not being able to obtain their production targets. So where the spot price is quite volatile and dependent upon who is selling and in what volume, the contract price tends to be far less volatile and more indicative of the market as a whole.
Commodity prices this morning are as follows:
Gold: $1411.40/ounce, down by $4.40/ounce
Silver: $22.64/ounce, down by $0.067/ounce
Oil: $95.21/barrel, up by $0.45/barrel
RBOB Gas: $2.8581/gallon, up by $0.0072/gallon
Natural Gas: $3.843/MMbtu, up by $0.016/MMbtu
Investors seemed to be unimpressed by Devon Energy's news that it would be moving some assets into a MLP structured vehicle as shares moved about 1.5% lower on the news. This is not a new idea, nor a surprise for shareholders, as the idea had previously been floated by management and it was stated that they would be looking into it. The shares have been poor performers since that initial news was released and this bucks the trend of value realizing maneuvers by companies being rewarded by investors.
The stock initially rose above $60/share on the news, but when it was announced that the company would in fact pursue an MLP, investors were less than enthused.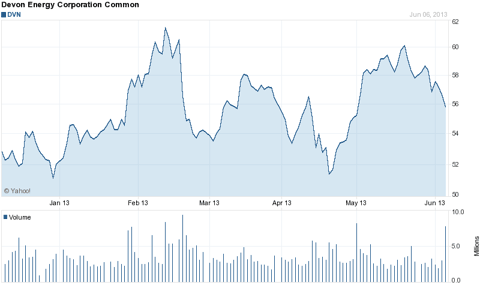 Chart courtesy of Yahoo Finance
Look no further than Hess (NYSE:HES) or Apache (NYSE:APA) for names that have seen their languishing shares come to life after announcing plans to monetize assets and focus on higher margin or higher growth opportunities. Hess' transaction will be a bit more complex -- multiple transactions to be honest -- and will ultimately result in various asset sales and potentially a new MLP, although the focus will be on asset sales and redeploying that capital.
On the other hand, these two names have performed quite well since announcing their plans to increase shareholder value, in the case of Apache, and having someone essentially announce those plans for them, in the case of Hess.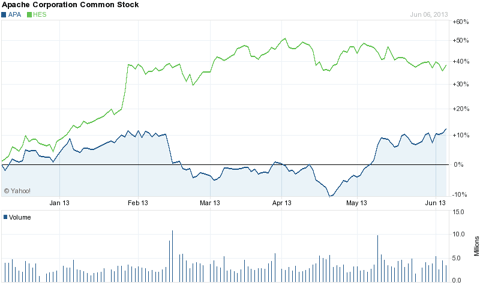 Chart courtesy of Yahoo Finance
Our view is that Devon is a good bit late to the game and missed the boat on the spinning off of assets into MLPs to raise capital. Will it be able to pull it off? Yes, of course. Will investors ever get excited about it? No, because it is no longer a new idea but a copycat move performed in order to try to hop on the bandwagon.
Chesapeake Energy (NYSE:CHK) did a great job of recognizing the potential of retaining ownership of these assets while at the same time minimizing risk by bringing on board new investors, which freed up capital to the company. The difference between the two is that Chesapeake needed the capital to continue its major drill program and midstream build out while Devon does not really need the cash in the same way. Thus, the thud rather than a boom for the share price. When you need the money, it is more of a surprise when you get it, when you do not need it, in the same way, investors have little reason to cheer a move such as this.
Disclosure: I have no positions in any stocks mentioned, and no plans to initiate any positions within the next 72 hours. I wrote this article myself, and it expresses my own opinions. I am not receiving compensation for it (other than from Seeking Alpha). I have no business relationship with any company whose stock is mentioned in this article.