Brazil's gross domestic product declined 1.8 percent annually in the first quarter of 2009, falling into a recession for the first time since 2003.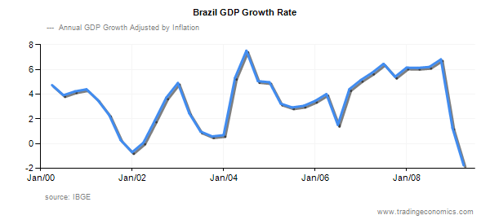 And even though it is expected that Latin America's biggest economy may experience negative growth this year, it is likely that will contract much less than other countries.
Indeed, during the last few years, exports of agricultural and industrial commodities have been big drivers of the Brazilian economy and as long as the global economy was performing well, foreign capital was flowing to the country. However, with the worsening of the global financial crisis, the demand for Brazilian products dried up and exports of cars, steel products and commodities have slumped. This January, for the first time since March 2001, Brazil recorded a trade deficit. To make things even worst, unemployment rate reached 9% in March and industrial production dropped 14.8% in April from a year earlier.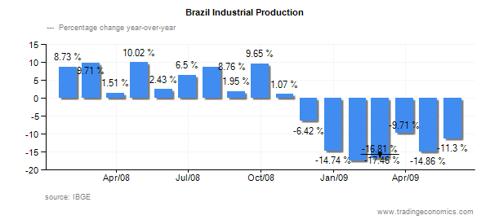 Yet, the Brazilian economy seems to be recovering. In fact, exports are steadily rising since reaching the bottom in February. Moreover, recent stable trade and investment flows are maintaining confidence that the current account will remain fully financed this year. Also, consumer demand holds strong. Retail sales rose 4% in May from the same month a year earlier, compared with a revised 7.1 percent gain in April.
More importantly, the government has taken various measures to boost credit supply and domestic demand. It has cut taxes and eased bank reserve requirements while the central bank has cut the benchmark interest rate to a record low of 9.25%. In addition, Brazil has built up $200 billion of currency reserves to defend the real and foreign-currency borrowings have mostly been exchanged for real-denominated ones. So, the currency deterioration no longer hurts the government's balance-sheet. The Brazilian real has appreciated 20% against the U.S. dollar since reaching the bottom last November and we expect this rally to continue trough out the rest of 2009.
Disclosure: long BZF