The United States is the third-largest producer of petroleum products in the world, with 16,000 establishments shipping $134 billion worth of products. The oil and gas refining and marketing industry is expected to grow furiously in the next five years because of increasing demand from Asian economies such as China and India. Major players in the industry are Atlas Pipeline Partners, L.P (NYSE:APL), DCP Midstream Partners LP (DPM), and Access Midstream Partners, L.P (NYSE:ACMP).
Introduction
Access Midstream Partners, L.P is one of the leading players of the industry. They own, operate, develop, and acquire natural gas, natural gas liquids and oil-gathering systems in the United States. The diagram below represents its business model.
Click to enlarge images.

The map below represents their key active business areas.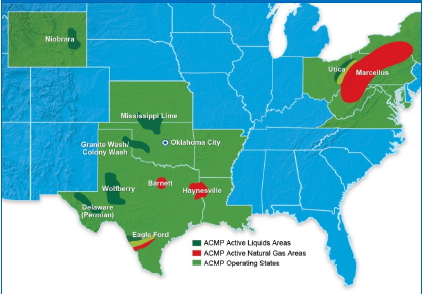 Source: AccessMidstream.com.
It has long-term agreements with companies like Chesapeake (NYSE:CHK) and Total, in which their acreage dedication is fixed. The company has had to connect their drilling pads and wells with its gathering systems, and then transport it to connection points, called gates, with a gas pipeline plant. Its business is not exposed to much risk, as they are using a fixed-fee business model and they have contractual protections against inflation rates, interest rates, and the cost of their operations. Parallel use of a fixed-fee business model and contractual protections give them long-term cash flow stability.
Growth Prospects
From 2010 onwards its enterprise value has also been consistently increasing, which is a very bright prospect both for the investor and the company.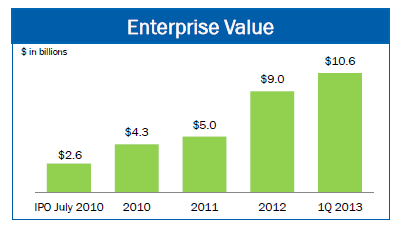 ACMP's adjusted EBITDA has shown a growth of 51% in three years, which is quite a remarkable performance. It makes me feel there are bright prospects for investors in this company. If the company continues to grow at this pace, it will soon be a market leader.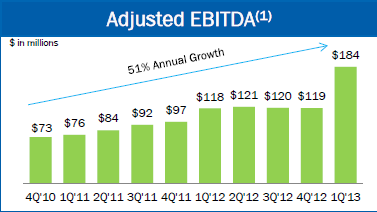 Demand for natural gas is expected to rise in the Asian economies of India and China; hence more business can be expected from them in the future.
Common Stock Position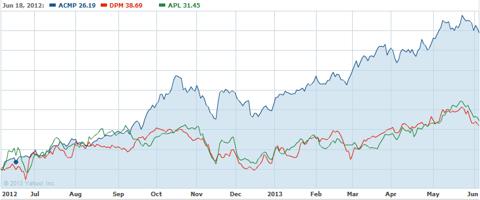 Source: Yahoo.com.
During the past year we can observe an overall increasing trend in the stock price of ACMP. A year ago it was being traded at a price of $27.56, and now it's being traded at a price of $42.83 -- a growth of 38.1%. Its stock has outperformed its competitors throughout the year.
Its excellent performance on the stock market could be credited to its increasing payout ratio, as it enhances investors' confidence toward the company and encourages them to invest more.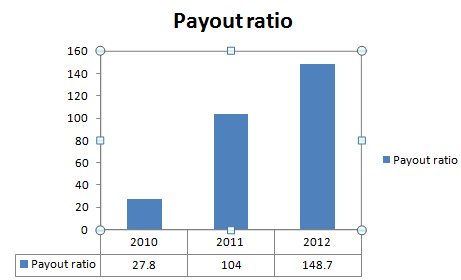 DuPont Analysis

Source: MorningStar.com.
A major portion of ACMP's ROE is coming from its net margins. This could be credited to its increasing revenue and proportionate increase in expenses, which are lower than its growth in revenues. ACMP's growth in revenues could be credited to the 20-year contract they signed with Chesapeake and Total, as it has given them a large dedicated acreage to work upon. The next-highest contribution toward ROE has been financial leverage, as it is continuously increasing. However, this won't be a worrying factor for ACMP, as its cash flows are stable due to contractual protections they have ensured in their contracts. The company's assets are considered to be underutilized. With the effective management of assets, its asset turnover would increase and in the future could become an important contributor towards ROE. A continuous growth can be observed in its return on equity, which is a good sign for investors, as it could be expected that the company would be earning more money for its investors in the future.
Valuation

Source: Morningstar.com.
Currently, the price/earnings ratio of the company is 10.3 and the industry average is 9.8, which means this stock is overvalued. Its price/book ratio is 2.3, but the industry average is 2.1, which also indicates that this stock is overvalued. While considering its price/sales ratio, the stock is overvalued by quite a large margin, as its value is 5.2 and the industry average is 0.3. Its price/cash flow ratio also indicates that the stock is overvalued, as it's 10.9 while the industry average is 6.1. As all the measures indicate that this stock is overvalued, it can be concluded that ACMP's stock is indeed overvalued in the market.
Conclusion
ACMP has very strong financial health. Its net margins are continuously increasing and they are making good money. The company is not facing any liquidity issues -- their current and quick ratios are in comfortable zones. Its long-term contracts, which include contractual protections with companies like Chesapeake and Total, ensure steady and stable cash flows for them. Its debt is continuously increasing -- it would swell up the interest expense column, but with its stable cash flows it won't be a problem for ACMP to meet its interest payments. The stock valuation for ACMP is overvalued in the market. While considering all factors, it could be concluded that ACMP's stock is a short-term sell and a long-term buy.
Disclosure: I have no positions in any stocks mentioned, and no plans to initiate any positions within the next 72 hours. I wrote this article myself, and it expresses my own opinions. I am not receiving compensation for it (other than from Seeking Alpha). I have no business relationship with any company whose stock is mentioned in this article.