Market Overview
The commodities market is moving on Friday on a big day of data from employment. NFP came out above expectations at 175K versus 156K expectations. SPDR Gold Trust ETF (NYSEARCA:GLD) was one of the biggest commodity ETF movers, with a current drop nearing 2% since the open. This downside has everything to do with the jobs data that was announced. The larger-than-expected increase in job growth data drove the stock market higher and pulled investors away from this precious metal and into equity markets. The increase also affected the U.S. Dollar Index (USDX), which increased from start of trading hours. The USDX is up, which also moved investors away from gold as its comparative value depreciated.
Moreover, silver also saw decreases today for the same reasons mentioned above. iShares Silver Trust (NYSEARCA:SLV) is down as well. Silver prices for the last year have tracked the sentiment and expectations of the Fed QE program. The better jobs data announced today can influence the Fed on the timing of QE tapering, and a better jobs environment will lend its way to an earlier taper. If tapering is sped up because of these positive results, expect the dollar to increase, which would also work against these precious metals.
Natural gas inventories announced yesterday is still decreasing prices for this mineral. Inventories increased to 111 billion cubic feet, well above the 97 billion expected by analysts. United States Natural Gas ETF (NYSEARCA:UNG) is currently down 0.40% as a result of the increase in natural gas inventories announced yesterday. Oil, on the other hand, has had a fluctuating day today as traders still seem to be uncertain of the timing of QE tapering even after U.S. data on employment. A stronger dollar as a result of QE tapering helps oil, as it makes it less expensive for holders of other currencies, increasing demand.
Company Analysis
Yesterday, we posted a 10-page equity research article on Chevron (NYSE:CVX). This article stated that although CVX is still a very successful company, we do see some glaring fundamental issues that are not going to change in the near term. As demand for oil continues to grow, energy producers are searching for product in harder to mine and inventing technologies to get at resources that were previously never able to be mined (oil sands, fracking natural gas). The main example of this, for Chevron, is a recent oil discovery off the Gulf of Mexico. This oil depository is six miles under the surface and the costs associated with extracting and refining this oil is immense. We argued that as time goes on, CVX's cost of doing business will continue to rise.
As these costs increase so must capital expenditures. As mentioned, drills must go deeper, refining costs must increase as the conversion of less attractive forms of energy becomes more intricate and transportation costs will rise as well. As this occurs, there must also be a decrease in free cash flow as more and more of the operating cash flow is being used for capital expenditures. For the previous five years, CVX has had a decrease in free cash flow of 20.99% and increase in capital expenditures of nearly 58%. If oil prices kept on increasing, this would not be a problem as high prices would more than compensate for increased drilling costs. The problem is that oil prices have kept somewhat stable in the last five years and should keep doing so for the foreseeable future. OPEC recently decided to not increase or decrease supply in order to not disturb recovering markets. Additionally, we have a convergence of recent negative economic data along with continued QE keeping the dollar low.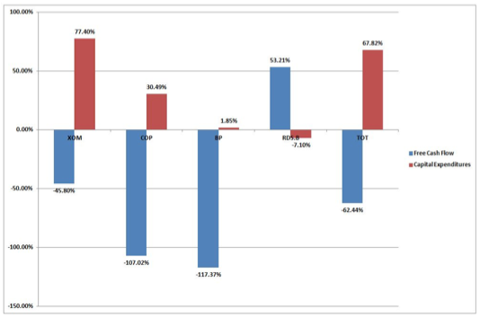 We looked at five other major integrated companies, Exxon Mobil (NYSE:XOM), ConocoPhillips (NYSE:COP), BP (NYSE:BP), Royal Dutch Shell (NYSE:RDS.B), and Total (NYSE:TOT) to see how capital expenditures and free cash flow have done in the last five years and results were as expected. XOM is a perfect example of the current state of the oil industry. The company has had to rely on a high-risk/high-reward method of oil exploration. It recently announced an oil exploration program in Ireland that would cost $200 million. This occurs in a region where previous oil explorations have failed to garner enough minerals for the commercialization process.
As capital expenditures rise and oil prices stay stable, companies like XOM will be forced to go further in order to drill and also take higher risks as the one mentioned. For the past five years, XOM free cash flow has decreased by 45.80% while its capital expenditures have increased by 77.40%. Although these numbers seem high, other companies in the industry have surpassed as can be seen in the chart. COP has also made plans to start drilling in remote Arctic waters, even though RDS.B suffered enormous setbacks there last year. After a review of Shell's trouble last year, Oceana's (a conservation group for oceans and marine life) Pacific Deputy Vice President Susan Murray said:
By and large, the review told us two things we already knew: Companies are woefully unprepared for the remote and unforgiving Alaskan waters, and our government improperly awarded Shell approvals to operate there.
COP's ignoring of the risk of encountering the same problems that Shell did after massive investment is a sign of the times for oil companies. Looking into the future we believe that if oil prices stay stable as expected, Oil companies will have to find new, less expensive ways of drilling. Out of the companies analyzed only Total had a five-year decrease in capital expenditures (-7.10%) and increase in free cash flow (53.21%) so they might be a company to look for in the future.
ROIC is also something that one has to look for in the future. In this parameter over the last five years all five companies analyzed had negative ROIC. After ranking all the companies Total was second with a ROIC decrease of 29.72%, further confirming our positive view on them.
Recommendation
We believe that Total is the most attractive company out of all the ones analyzed. It scored the best in capital expenditure decreases and in free cash flow decreases. Additionally, it is one of the companies with the lowest ROIC decreases for the last five years with a decrease of -29.72%. Although it is a European company and it has been hit by local market conditions, we believe that when European markets improve, Total will have great upside.
On the other hand, COP had one of the poorest ratings in free cash flow increases and capital expenditure decrease as can be seen in the chart above. ROIC on capital is also the worst for this company with five-year ROIC of -163.15%
Disclosure: I have no positions in any stocks mentioned, and no plans to initiate any positions within the next 72 hours.
Business relationship disclosure: The Oxen Group is a team of analysts. This article was written by David Ristau, one of our writers. We did not receive compensation for this article (other than from Seeking Alpha), and we have no business relationship with any company whose stock is mentioned in this article.