Standard Motor Products, Inc. (NYSE:SMP) delivered a big first quarter earnings beat in early May thanks in large part to a significant increase in its gross profit margin. This prompted analysts to revise their estimates significantly higher for both 2013 and 2014, sending the stock to a Zacks Rank #1 (Strong Buy).
Despite strong earnings momentum and solid growth potential, shares of Standard Motor trade at a very reasonable 14x forward earnings.
Standard Motor Products manufactures replacement parts for motor vehicles in the automotive aftermarket industry, with an increasing focus on the original equipment and original equipment service markets. The company is organized into two major operating segments: Engine Management and Temperature Control. It has a market cap of $791 million.
Big Q1 Beat
Standard Motor Products delivered better than expected first quarter results on May 3. Earnings per share came in at 42 cents, crushing the Zacks Consensus Estimate of 32 cents. It was a whopping 83% increase over the same quarter last year.
Revenue rose 9% to $230.7 million, driven by a 16% increase in the Temperature Control segment thanks to an acquisition. The Engine Management segment (which accounted for 76% of total revenue) saw top-line growth of 8%.
The real driver of earnings growth, however, was the expanding gross profit margin. Gross profit increased 270 basis points to 28.5% of revenue, as the company continues to increase in-house production, reduce purchase costs, and expand production in its low cost Mexico and Poland manufacturing operations.
Estimates Surge Higher
Analysts revised their estimates significantly higher for both 2013 and 2014 following the big Q1 beat. This sent the stock to a Zacks Rank #1 (Strong Buy).
You can see the sharp increase in consensus estimates in the company's "Price & Consensus" chart: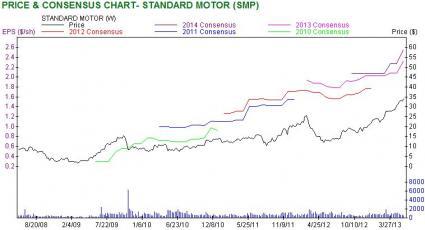 The 2013 Zacks Consensus Estimate is now $2.33, representing 27% EPS growth over 2012. The 2014 consensus is currently $2.55, corresponding with 10% EPS growth.
Reasonable Valuation
Shares of SMP trade at a reasonable 14x 12-month forward earnings, which is in-line with the industry median. And its price to book ratio of 2.5 is well below the peer group multiple of 3.6.
The Bottom Line
With rising estimates, strong growth projections and reasonable valuation, Standard Motor Products offers investors attractive upside potential.
STANDARD MOTOR (SMP): Free Stock Analysis Report (email registration required)