The much anticipated May employment report has come and gone and what we learned from it is that little has changed.
There is job growth, but it isn't accelerating sharply.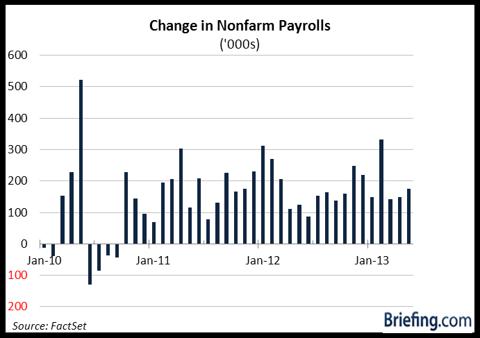 There is wage growth, but it is negligible.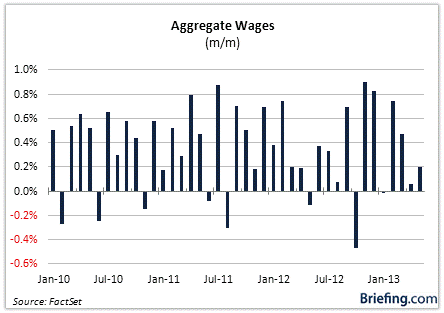 The unemployment rate is lower than it once was, but it isn't low.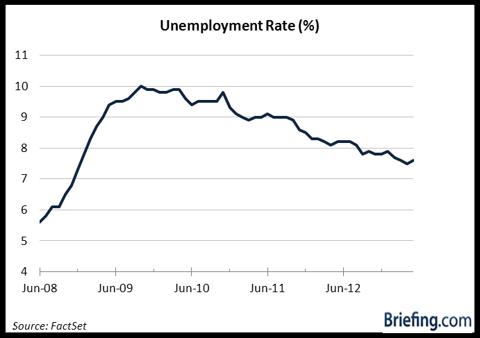 It doesn't take as long as it did a year ago to find a job, but it still takes a long time.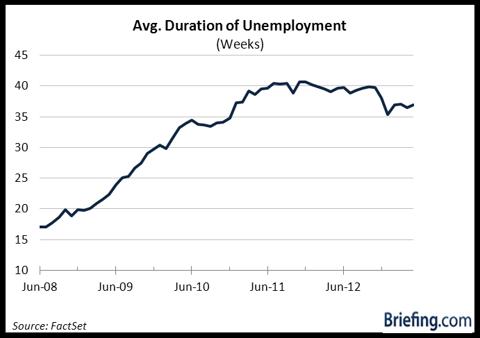 More people are starting to look for a job, but the labor force participation rate still languishes near a 30-year low.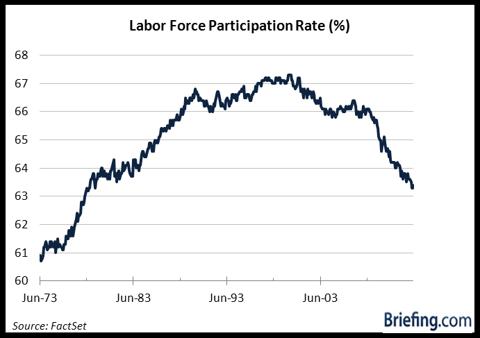 The stock market just loves this "better but not strong" scenario. Why? Because the labor market is improving just enough to keep hope alive that corporate profits won't decline in coming months, yet not strongly enough for the Fed to stop dealing its "monetary cocaine," as Dallas Fed President Fisher calls it.
Summing Things Up
Our summation of the May employment report on Page One Friday morning was that the employment report was average. That characterization had a literal element to it considering non-farm payrolls increased by 175,000, which was nearly spot-on with the average of 172,000 over the past 12 months.
Really, though, it was simply a qualitative assessment.
The May report resembled most of the recent employment reports in conveying a message of non-existent wage inflation and steady, but unspectacular, payroll growth that is basically keeping pace with population growth.
Our Chief Economist, Dr. Jeffrey Rosen, provided a cogent synopsis of the overall report, saying:
"Even though payrolls beat expectations, the underlying trends point toward a stable, not upward moving, labor market and a slow-growth economy... The gain in payrolls, combined with the flat hours and earnings, resulted in aggregate wages increasing a modest 0.2%. That is enough to keep retail sales from contracting in May but not enough to drive the economy back toward full employment and potential GDP growth."
It is worth noting that our second-quarter GDP forecast calls for growth of just 0.6% versus the annualized growth rate of 2.4% in the first quarter.
Dual Mandate, Dual Disappointment
Based on its own guidelines, and the data revealed in the May employment report, the Fed's credibility would take a serious hit if it decided to taper its asset purchases at the June 18-19 FOMC meeting.
It isn't going to do that and the stock market knows it. The May employment report, however, didn't squash the tapering idea altogether.
One could point to the steady payroll gains we suppose as the evidence the Fed is seeking to curtail its asset purchases. Recall, though, that the Fed said last September it would buy $85 billion of long-term Treasuries and agency mortgage-backed securities a month "to support a stronger economic recovery and to help ensure that inflation, over time, is at the rate most consistent with its dual mandate."
When that statement was issued, the unemployment rate was 7.8%, the labor force participation rate was 63.6%, and the PCE inflation rate was 1.6%. Today, the unemployment rate is 7.6%, the labor force participation rate is 63.4%, and the PCE inflation rate has dropped to just 0.7%.
Steady payroll gains are nice to see, but at the current pace, the unemployment rate isn't going to come down in a hurry and wage growth isn't going to take off. In other words, there is still a lot of proof left in the pudding before the Fed can honestly say it is meeting its dual mandate.
Meeting Expectations
There was a prevailing expectation ahead of the May employment report that a decision by the Fed to taper its asset purchases would likely occur at either the September 17-18 or the October 28-29 FOMC meeting. Without any notable deviations in the May employment report, that expectation isn't likely to change.
Subsequent economic releases could move up, or move back, that expectation. What we are certain of is that the May employment report didn't move the needle since it was mostly as expected.
| | | |
| --- | --- | --- |
| Release | Actual | Briefing.com Consensus |
| Nonfarm Payrolls | 175K | 159K |
| Nonfarm Private Payrolls | 178K | 175K |
| Unemployment Rate | 7.6% | 7.5% |
| Hourly Earnings | 0.0% | 0.2% |
| Average Workweek | 34.5 | 34.5 |
Source: BLS; Briefing.com
What It All Means
The behavior of the capital markets after the report was released may not be as telling as a first impression might suggest.
The Treasury market sold off, the U.S. dollar Index rallied, and gold prices slumped badly. That combination is seemingly a telltale signal that those markets think a tapering is going to be seen in the near future. The stock market, on the other hand, rallied after the report.
The question is: did the stock market rally because it is optimistic about the growth outlook and not fearful of the Fed pulling back on its asset purchases or did it rally because it is relieved that the May employment report supported the case that the Fed isn't going to be pulling back on its unbridled monetary policy support in the near future?
Considering the stock market was weak ever since the Fed chairman suggested the Fed could take a step down in its asset purchases in the next few meetings, we are inclined to look at the stock market rally as a relief rally that the Fed isn't going to be lightening up on its accommodation soon.
In that light, we think the selling in Treasuries wasn't so much a case of being fearful about the Fed reducing the size of its asset purchases as it was a case of a rotation trade to try to capitalize on further stock market gains that would be driven by a belief the Fed is going to stay its current policy course.
The May employment report was an average report that produced some strong, and possibly conflicting, reactions in its immediate wake. Time and additional data will provide more clarity (we hope), but brace yourself for a summer where the market is still going to be yammering about the tapering question and acting in a fitful manner.
Disclosure: I have no positions in any stocks mentioned, and no plans to initiate any positions within the next 72 hours. I wrote this article myself, and it expresses my own opinions. I am not receiving compensation for it. I have no business relationship with any company whose stock is mentioned in this article.