By Sumit Roy
Commodities were mixed this week as oil and the platinum-group metals spiked, while silver and natural gas retreated. Stocks recovered from an early-week sell-off to trade slightly higher for the period as a whole. The S&P 500 advanced less than 1%, bringing its year-to-date gain to just below 15%.
Macroeconomic Highlights
This week was highlighted by a highly anticipated report on employment in the United States. In its latest nonfarm payrolls report, the Bureau of Labor Statistics said that employers added 175K jobs in May, better than the 163K increase that was expected. However, the unemployment rate ticked up from 7.5% to 7.6% as more people began searching for work. The uptick in the unemployment rate suggests that the Federal Reserve may be in no rush to taper its quantitative easing programs. At the same time, steady jobs growth in the 150K to 200K range is consistent with the slow but gradual economic recovery of the past few years. In other words, these were considered "goldilocks" numbers for many investors -- not too hot and not too cold.
Elsewhere, ISM said that its manufacturing PMI fell from 50.7 to 49 in May, putting the index in contraction territory and at the lowest level since July 2009. However, ISM's nonmanufacturing index rose from 53.5 to 53.7 in the month, better than anticipated. Meanwhile, in Europe the European Central Bank kept its overnight interest rate unchanged at 0.5%. The move sent the euro spiking and the dollar tumbling, as some had anticipated a more dovish action by the ECB. The greenback fell to the lowest level in three months. Finally, Japanese stocks tumbled again this week. The benchmark Nikkei 225 swooned by 6.3% this week, bringing its two-week decline to nearly 19%. Year to date, the index remains up by 24%.
Commodity Wrap
| | | |
| --- | --- | --- |
| Commodity | Weekly Return | YTD Return |
| WTI | 4.49% | 4.66% |
| Brent | 4.20% | -5.85% |
| Platinum | 3.17% | -2.24% |
| Palladium | 1.37% | 7.83% |
| Soybeans | 1.32% | 7.82% |
| Corn | 0.60% | -4.58% |
| Gold | -0.34% | -17.44% |
| Copper | -0.61% | -10.41% |
| Wheat | -1.42% | -10.54% |
| Silver | -2.16% | -28.24% |
| Natural Gas | -3.77% | 14.33% |
This week's jobs report failed to ignite gold prices in either direction as some had hoped. The yellow metal remains locked in its narrow range just above and below $1,400. This is despite the fact that the "goldilocks" jobs figure likely means the Federal Reserve will maintain its ultra-loose monetary policies for a while longer. Clearly, the gold-QE link has been severed.
Meanwhile, silver dipped below $22, putting it on track for the lowest close since September 2010. Silver's potential breakdown doesn't necessarily bode poorly for gold. As long as the yellow metal remains above $1,322, prices are safe, from a technical perspective. However, it just goes to show that the entire precious metals complex remains vulnerable following the steep declines from earlier this year (see "World Gold Council's Artigas: Expanding Gold Holdings Could Add Huge Demand, Mine Production Stagnant"). Patience is warranted and we recommend traders stay on the sidelines until there is more clarity on the outlook.
Gold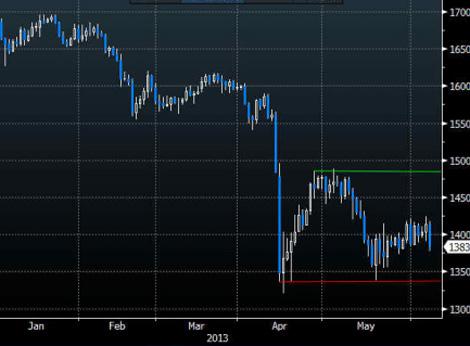 Silver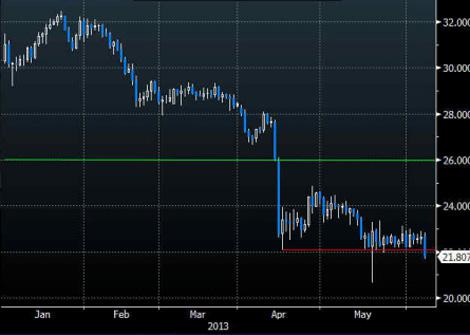 Platinum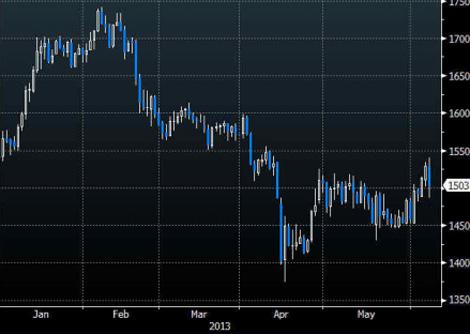 Palladium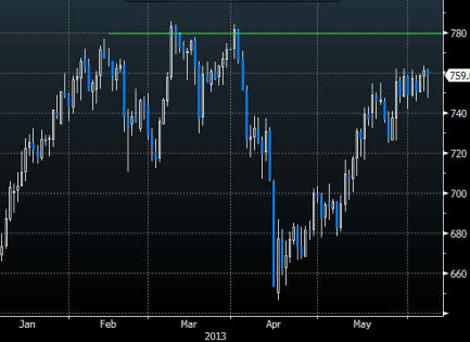 Crude oil surged this week, outperforming all other commodities. A big drawdown in U.S. inventories (see "Oil Outperforms Amid Stock Market Sell-Off As Crude Supplies Sink") provided support. Brent has been fluctuating between $100 and $106 over the past five weeks. A break outside of that range would set the medium-term trend. At the same time, if WTI can surpass $98, it would be considered a significant technical breakout.
Brent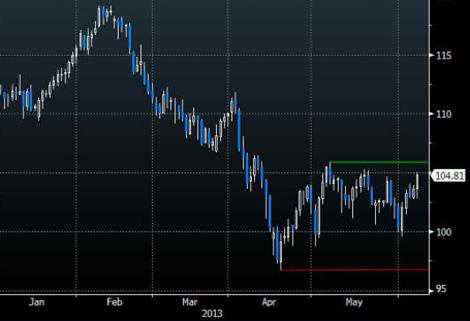 WTI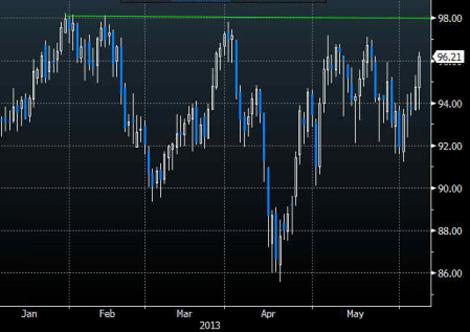 Grains were mixed. Corn and wheat look rather uninspiring on the charts; however, soybeans are ripe for a potential move above the $15.50/bushel resistance level. That would push prices to new highs for the year.
Corn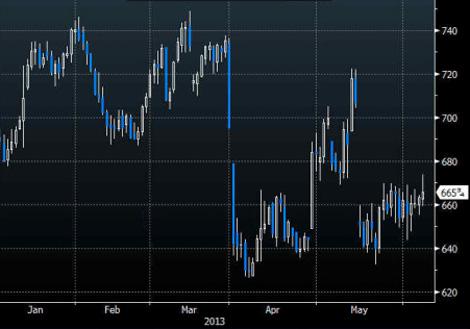 Soybeans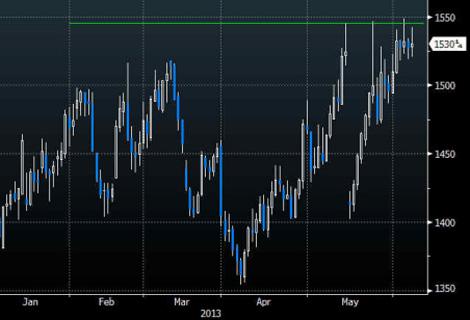 Wheat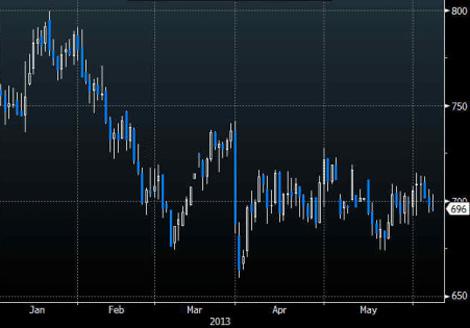 Copper is locked in a very narrow band between $3.30 and $3.40/lb.
Copper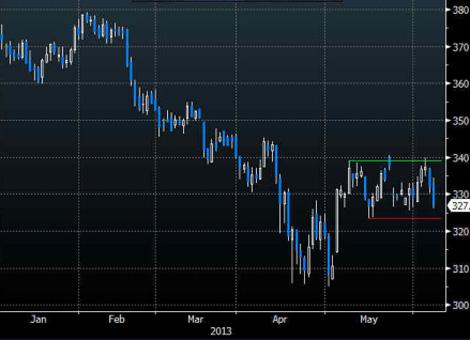 Natural gas was the worst-performing commodity this week. Prices tanked after the EIA reported a massive 111 bcf inventory build for last week. While hot weather is on the way, it will be tough for gas to shake off this week's very disappointing storage data. In the very short term, we see a neutral-to-bearish bias before prices rebound during the summer months (see "NatGas Prices Plunge 4%, At Risk Of Breakdown After Huge Inventory Build").
Natural Gas