According to the Edison Electric Institute, eei.org, in 2011 the electric utility industry collected $371 billion in total revenues from sales to the ultimate consumer. Electric transmission revenues would have equated to a total market of $40.1 billion. Below is a graph from the EEI outlining the breakdown of the average electricity price by component for 2011: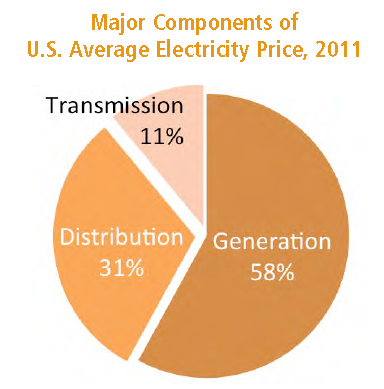 Source: eei.org
Electric utility investors should not ignore 11% of the market or $40 billion of revenues. However most do. The reason is usually because transmission assets are a small percentage of overall utility company assets and it does not get the respect it deserves.
For example, American Electric Power (NYSE:AEP) is currently the largest shareholder owned utility in the transmission business. However, last year transmission earnings provided a mere $0.09 per share out of total company earnings of $3.09. Even after investing a proposed $2.3 billion between now and 2015, transmission earnings are expected to increase to $0.39 a share, or about 11% of projected earnings.
The market is changing and more investment dollars are flowing into transmission projects. Historically, transmission investments have been the poor stepsister of the electric utility sector, but that is changing rapidly. Below are two graphs that outline the historic investment footprint, the most recent investment spree, and an investment projection going out to 2015.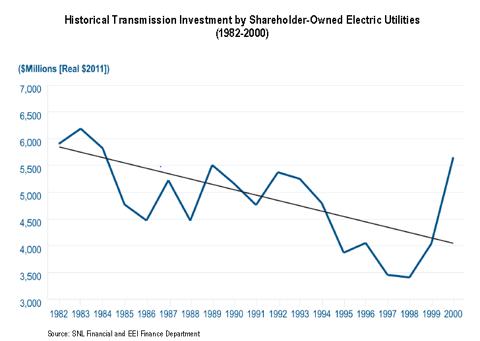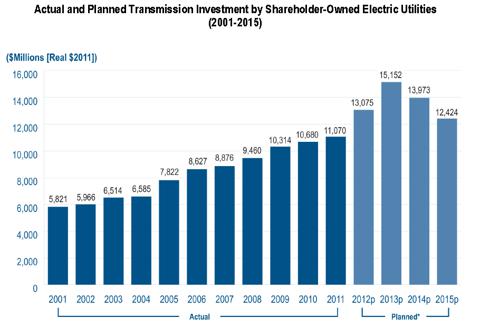 Source: eei.org
During the 18 years from 1988 to 2001, the industry spent a total of $87 billion, or an average of $4.85 billion annually, on transmission upgrades and expansions. During the 11 years from 2001 to 2011, the industry spent a total of $91.6 billion, or an average of $8.2 billion a year, almost double the average spending of the previous 18-yr period. Transmission capital budgets during the four-year period of 2012 to 2015 are expected to total almost $55 billion and represent about 16% of total electric utility capital spending projections.
This increase in capital spending matches the overall capital investment increases experienced by the industry as a whole. From the eei.org website discussing the financial state of the electric utility segment:
These investment levels are about double what they were 10 years ago. Our sector of the economy has both the highest capital-intensity and absolute capital spending level-by a significant margin-of all U.S. industrial sectors.
Under the Energy Policy Act of 2005, Congress granted the FERC (Federal Energy Regulatory Commission) the power to provide added financial incentives to offset the challenges and risks associated with building transmission assets. The unspoken goal was to bring the allowed ROE up to approximately what is earned in the natural gas pipeline industry. The FERC regulates the ROE allowed for both the electric transmission and the natural gas pipeline industries.
The increase in ROE has been accomplished thorough the "adder incentives" that have increased the allowed electric utility return on equity (ROE) from approximately 10% - 11% to 11.5% - 13.0%.
According to eei.org, FERC transmission allowed ROE is about 30% higher than the most recent average state-PUC allowed regulated electric ROE of 10.32%.
The top five companies in the transmission business are: American Electric Power, Southern Company (NYSE:SO), Duke Energy (NYSE:DUK), PG&E (NYSE:PCG) and Edison International (NYSE:EIX). Listed below is a graph outlining the Property, Plant and Equipment (PP&E) investments as of June 2011 for the top 17 companies in the sector: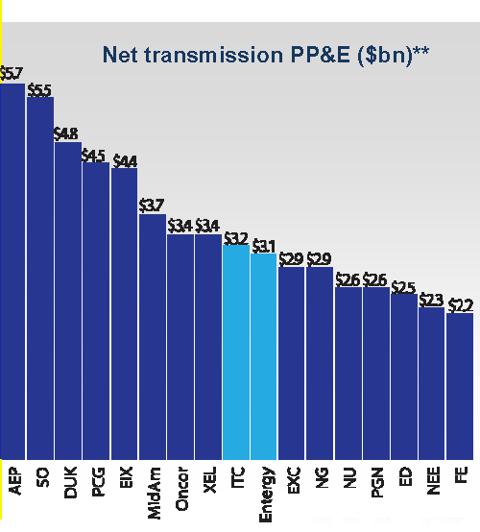 Source: ITC investor presentation
Other major shareholder-owned utilities in the transmission business are Xcel Energy (NYSE:XEL), ITC Holdings (ITC), Entergy (NYSE:ETR), and Exelon (NYSE:EXC).
These companies are spending the majority of the industry-wide capital expenditures for improving and expanding the nation's transmission network. About 76% of future projects are for connecting renewable generating facilities, such as wind and solar, and 24% are for upgrades to the network or for expansion of non-renewable generating facilities. About 56% are interstate projects with 44% being located in a single state. Over the next 10 years, eei.org expects approval and construction of 150 projects totaling $51.1 billion. There are currently 30 utility companies proposing these 150 projects and are mostly shareholder owned.
Included are a few partnerships/private companies such as Wisconsin based American Transmission Co., which is owned by public and private (municipal) electric companies in Wisconsin, Michigan, Minnesota, and Illinois. The owners include the Cities of Madison and Sheboygan Falls, WI, along with Wisconsin Energy (NYSE:WEC). Duke Energy and American Transmission Co are partners in a number of proposed projects.
In March 2013, eei.org offered an update report (pdf) of transmission projects by company, Transmission Projects: At a Glance. Electric utility investors should peruse this report and review their company's current pipeline of transmission projects. Investors may be surprised by the extent their company is involved in this higher ROE business.
However, the added ROE incentive is being challenged in court in several jurisdictions. For example, in the Northeast, there has been a suit filed to roll back the maximum allowed ROE to 9.0%. In a policy statement, the FERC has recently announced tighter compliance regulations to qualify for the additional ROE, but it has not quieted critics of the higher rates.
In an article titled Transmission Policy in Flux published in the electric utility industry magazine Public Utility Fortnightly May issue, the author states:
My taxes helped pay for Interstate 90 in Colorado, and the taxes of Coloradans helped pay for Interstate 95 on the East Coast.

Nevertheless, the core problem is that the nation has not yet embraced the value of a national electric system, and this fact has limited the opportunities for new transmission investment. FERC's efforts to promote transmission by providing a price incentive were beginning to work, but FERC seems to be backing off from those efforts in response to local pressure. FERC will need to be more aggressive in asserting its authority vis-à-vis the states in order to promote its vision of a highly efficient interstate bulk power system. The utility industry should get behind this effort-not only to reduce the cost and enhance reliability in the near term, but also because electricity delivered over the bulk power system, the core product of the electric industry, will face increasing competition in the future.
While lengthy, the article has very relevant information as it pertains to current and future battles over transmission allowed ROE. Investors focused on transmission opportunities should take to time to read the article.
In addition, there is a related article reported in Platts.com. EEI.org offers a White Paper on the issue of added allowed ROE as well and can be found here (pdf).
The following is an excerpt from the EEI White Paper: Electricity Transmission: Adequate Returns and Regulatory Certainty Are Key:
Adequate return on equity (ROE) is essential for building new transmission. The Federal Energy Regulatory Commission (FERC), which now has eight pending cases requesting lower ROEs, is reviewing its incentives policy for transmission. These complaints request that FERC reduce base transmission ROE by 100 to 200 basis points, to around nine percent. To counter pushback from states and consumer groups that the incentives are excessive, we are advocating that FERC retain the incentives that it has established under existing policy.

The current incentives policy has resulted in transmission development that ensures reliability, reduces congestion, and facilitates renewables and other generation. FERC recently released a policy statement on transmission incentives that was consistent with EEI's position. The FERC policy statement retains the full menu of incentives (including ROE adders). It also states that it will continue its case-by-case evaluation of complaints. FERC also discontinues the distinction between "routine" and "non-routine" projects.

For our members, the retention of FERC's incentives policy provides them with another important tool to assist in developing the riskiest transmission projects and associated challenges. We're also working closely with FERC on a number of other regulatory issues, including horizontal market power and its Order 1000 rule on transmission planning and cost allocation.
The "greenies" cannot have their cake and eat it too. If the goal of various branches of the US and state governments is to shut down coal-fired generating plants and replace the lost capacity with wind, solar and natural gas, then the infrastructure needs to be built to bring the new power supplies in rural locations to population centers of urban areas. To do so will require continued capital investment and the ability of utilities to earn a respectable return on their investment. In addition, few knowledgeable individuals would deny that decades of under-investment in transmission assets had a direct causal effect on blackouts and brownouts of the early 2000s. The second largest electrical blackout in world history affected 55 million people in the US and Canada in 2003 because of such under-investment.
Utility investors seeking more exposure to the benefits of higher allowed ROE should specifically review ITC Holdings . ITC is the largest transmission-only utility and is solely regulated by the FERC. The higher allowed ROE gives ITC a leg up in the regulated utility investment field as their current assets generate about 30% higher profits than their state-controlled peers do. Earnings are estimated to grow by 15% to 17% annually, fueling a projected 10% dividend growth. The company's dividend payout ratio of 30% is substantially below regulated peer-averages. In addition, ITC is in the process of a proposed merger with the transmission assets of ETR that will double its size. More information can be found in a recent SA article here.
Author's Note: Please review important disclaimer in author's profile.
Disclosure: I am long AEP, EXC, ITC, SO. I wrote this article myself, and it expresses my own opinions. I am not receiving compensation for it (other than from Seeking Alpha). I have no business relationship with any company whose stock is mentioned in this article.