Company Overview
Delphi Automotive PLC (NYSE:DLPH) is an auto components manufacturer with 118,000 employees around the world. Delphi PLC was formerly known as the entity now called Delphi Holdings. The original Delphi Corporation went into bankruptcy protection in 2005; Delphi Automotive LLP later acquired the majority of the assets, and the LLP's equity was exchanged for shares of the current Delphi PLC.
Delphi's business strategy is to ride the "mega-trends" underway in the automotive parts industry, which management believes are the need for safer, greener, and better connected offerings (explained below).
Investment Thesis
In Q1, the company had new bookings of 34% in Asia, 33% in North America, 29% in Europe, and 4% in South America. Though the European auto market has been nothing short of abysmal over the past several years, American auto-related demand has led our economy since 2010. The industry has been buoyed by ultra-low rates, improving consumer health, and significant pent-up demand evidenced by the average age of American cars on the road, which was 11 years in 2012. With the SAAR in the US to come in around 15.5 million (up 14.5% YOY) in the context of such an old consumer fleet, US auto production appears to have plenty of upside. Furthermore, given the Obama Administration's 54.5-mpg guidelines for 2025, highly efficient components are more important than ever. Asian revenues were up 8% overall in Q1, with China growing 11%, indicative of exceptional auto-related activity in that region.
Management has been remarkably focused on building shareholder value via well-timed share repurchases. The company has lowered the share count from 686 million in 2010 to 314.5 million as of Q1 2013 - a 54% decline, with the majority of shares purchased between $21-$35 (as per the 10-K). Delphi plans on buying another $525 million shares under the current repurchase program, which would buy about 10.8 million shares at current prices. Management also recently initiated a divided that equates to a 1.4% annual payout.
With strong macro and industry tailwinds, shareholder friendly management, and a valuation that offers a deep discount to both its peer group and the broader market, shares of DLPH look good for 15-25% annual returns over the next 3.5 years.
European Restructuring
Every auto company I've looked at since 2011 is dealing with issues in Europe, and is usually undergoing some sort of restructuring in the region. Delphi is no exception with Q1 restructuring costs of $32 million and another $150 million expected.
European revenues declined a stinging 17% in Q1 on yearly basis, but Delphi expects $80 million in cost savings in 2013 and another $120 million in 2014 to partially offset the continued production declines there. With European car sales at the lowest rate since 1995 and some very modest, very recent improvement in German and Spanish sales, the European market looks like it is at least in the process of bottoming.
The vast majority of the cuts will come from plant closures and layoffs, though thus far Delphi hasn't detailed how many employees it is expecting to let go.
The company is currently guiding for a 5% production decline in Europe for 2013, though CEO Rodney O'Neal sounded optimistic a few months ago when he said that a "slight uptick" is expected in Europe after this year.
Delphi's components are in every one of the top 20 selling vehicles in Europe.
China
The APAC region as a whole has been good to essentially anyone auto-related over the past several years, Delphi included. Top line growth in the region was up 14.7% in 2012, and 11% YOY in Q1 '13.
Management noted on the Q1 conference call that they've seen ~10% top-line growth in China for essentially the last decade, and that similar performance can be expected going forward. Management's confidence with regard to China is based on the facts that the company has 21 of its 33 product lines in Chinese cars, and 17 of the top 20 selling autos in China has Delphi components in it. As the market matures, some of the more high-tech offerings will see more demand.
North America
Revenues in North America were up 4% in 2012, and have risen nearly 15% since 2010. Revenues dipped 2% in Q1 as a result of weakness from their "largest customer," and the decline was also partially attributable to seasonality. With the US projected at a 15.5 million SAAR, up 14.5% YOY, Delphi should certainly see top-line annual growth in this region.
While China may be more exciting, North America is the key market for Delphi going forward given the opportunities presented by new safety and fuel-economy regulations.
In about 12 years, the American car fleet will have to average 54.5 miles to the gallon. With the average fuel economy currently at 24.6 MPG, we've got a long way to go. To get there (or at least close), auto manufacturers will likely continue to roll out an increasing amount of hybrid and electric vehicle models.
While Delphi does offer EV battery chargers and battery pack systems, it has smartly stayed out of the highly commoditized battery production business. Delphi's multiple cell 320 VDC can be used in combination with any Lithium or NiMH (nickel-metal hydride) battery around the world:

While Delphi does in fact face some competition in this area from peers like Johnson Controls (NYSE:JCI), the company seems to have a modest niche in complete, custom electronic architecture systems for hybrids.
Furthermore, none of the nine competitors that Delphi listed in their most recent presentation offered an evaporative emissions canister module designed specifically for hybrids. Though not yet fully available for sale, Delphi is currently sampling this new product as it undergoes validation. It seems like an interesting niche product, and speaks to Delphi's leadership in hybrid components: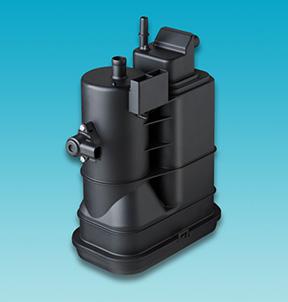 In the hybrid component space, Delphi also offers lightweight sound generators (regulations require that hybrid cars are audible), DC/DC converters (which power the car's accessories and HVAC systems), and inverters. A look through the offerings of Delphi's stated competitors shows little competition within these offerings.
The safety electronics components and systems that Delphi produces seem very innovative and practical. Out of the nine competitors, only TRW Automotive (NYSE:TRW) appears to be a competitor in the safety space. Delphi's main "passive safety" offerings are an electronic, acceleration-based sensor that controls the deployment of airbags before a crash occurs, and several airbag control units.
With regard to active safety, Delphi's lane departure warning system is a major advancement; these systems have also become a base feature in many vehicles. Another interesting product is Delphi's parking guidance system, which have become more common in consumer cars during recent years.
For information regarding future safety regulations, click here.
Here Delphi touts its award-winning technologies: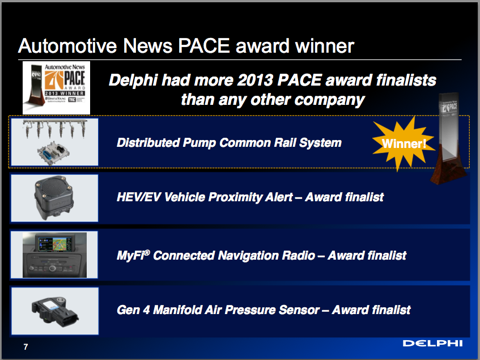 Delphi is a beneficiary of the regulatory atmosphere in the US that requires highly-fuel efficient autos and innovative safety solutions, and with several niche products and award-winning technologies, the top-line in North America should grow at a superior rate relative to competitors.
Valuation & Conclusions
Management is guiding for adjusted 2013 EPS of $4.15 to $4.51, while analysts are guiding for an average of $4.31. The "adjusted" earnings account for temporary restructuring costs. Shares of DLPH are trading at 11.36X 2013 EPS, compared to 12.9X on average for its peers (according to Capital IQ, as of 5/30/13).
2014 EPS is expected to come in at 4.93, giving the shares a 9.93 forward multiple - roughly a 30% discount to the broader market forward multiple of 14.5.
Delphi produced roughly $1 billion in 2012 FCF (15X 2012 FCF), but that number will likely come in far lower for 2013 as Delphi commits to the remaining restructuring costs. FCF grew at a 23% CAGR from $.6 billion in 2010.
Assuming 2013 EPS of $4.31, earnings per share have grown 369% since 2010, good for a CAGR of 92%. YOY EPS growth will be 12.3% in 2013. Much of this EPS growth has indeed been a result of well-timed share repurchases - which have been highly accretive to say the least - but top-line growth has been strong in North America and Asia, and that's where most of the business will be done going forward.
At less than 11.5X this year's earnings and an extremely promising outlook, it's good to see management continuing to repurchase the stock.
Delphi has considerable macro and company-specific tailwinds:
Significant pent-up demand in North America,
The continuation of strong Chinese auto production and the maturation of that market
A regulatory atmosphere that is extremely positive for Delphi given its exposure to the safety and hybrid components market
Several niche products and, with the exception of electric infrastructure, relatively little competition in its core businesses
A wind-down in the European restructuring, which will focus top-line growth on NA and China, and result in higher FCF
Given these factors, I expect the earnings multiple to expand considerably over the next 3 years as the European restructuring comes to an end and overall top-line growth resumes an 8-10% pace. Most critically, a suppressed multiple is facilitating the massive and consistent share repurchase programs, driving annual EPS growth at a rate superior to revenue growth.
Assuming below-trend EPS growth of 12% annually from YE13 to YE16, Delphi will be earning a little over $6 a share by the end of 2016.
Here are the potential returns over that time frame
12% EPS growth
10x TTM multiple = $60/share, 7% IRR (22.5% upside)
12x TTM = $72/share, 13.69% IRR
14x TTM = $84/share, 19.68% IRR
16x TTM = $96/share, 25.13% IRR (96% upside)
Even if the TTM multiple remains compressed at 10X, 12% annualized EPS growth would imply a reasonable 7% annual return, without considering the current 1.4% dividend the likelihood of increased dividend payouts.
Shares of DLPH offer an extremely favorable risk/reward profile at current prices around $49 a share. The likelihood of large-scale share repurchases mitigates the risk of disappointing top-line growth, and the return projections assume the continuation of a broader market valuation discount.
Disclosure: I am long DLPH. I wrote this article myself, and it expresses my own opinions. I am not receiving compensation for it (other than from Seeking Alpha). I have no business relationship with any company whose stock is mentioned in this article.