Although my previous articles have been about the pharmaceutical industry, I am mostly interested in high tech. I joined the SA community two months ago. Although I cannot say that it is a long time to be able to make big statements yet, I strongly feel that people are too harsh with their critiques of Microsoft (NASDAQ:MSFT). The most common argument that I have heard about the Redmond, Washington giant is that it failed to fulfill the challenges of the past decade. This is partially true, but it is too negative considering what Microsoft has accomplished during the last few years.
The main aim of this article is to discuss if Microsoft has been successful in many of its endeavors. We will also compare Microsoft to its main competitors in the market: Google (NASDAQ:GOOG) and Apple (NASDAQ:AAPL).
Windows
Windows was the first software of its kind to attain international success and was therefore the source of several challenges. When the personal computer industry exploded, Microsoft was in the display. Although Microsoft profited massively being the first international operating system company, this came with responsibilities and considerable challenges. Some of these challenges were the fight against viruses, piracy and security. Unarguably, despite competition from Apple and more recently, Google, Windows remains the leading operating system on PC by far.
Apple's OS X has been slowly growing over the past decade and, in my opinion, it does not present a serious threat for Microsoft simply because it's mainly present on expensive devices, whereas Windows comes on a wide range of devices on different cost levels.
Apart from its competitors, Google has largely failed to meet large public interest with its Chromebooks. This is one of the things to consider for people who strongly believe and defend Google. Google is a very competitive and innovative company. Although Google accomplished a stable and well accepted Android operating system, it has failed to do so with Chrome operating system. Recent attempts from Google to convert Chrome to an Android-like system are very likely to fail.
Office
Microsoft generated huge revenue of $23 billion in 2011 with the success of its Office 2010. Frankly, I was one of those expecting free competitors such as Open Office and Google Docs to significantly impact Microsoft Office's market shares since they offer all the basic functionality of Microsoft Office for free. It seems that users are more comfortable and/or more confident with Microsoft Office. And Microsoft's Office is a well-established standard today which still has the 90% of the market share. Apple has been non-existent on this segment and while Google Docs is gaining interest. I feel that it is rather widely used to read inbox documents than to create simple documents and do heavy work on them.
Phones
Smartphone OS is one of the hottest topics in the last five years. Having a good look at the chart below, it's hard to deny that Steve Ballmer made a big mistake when he underestimated the potential of the iPhone :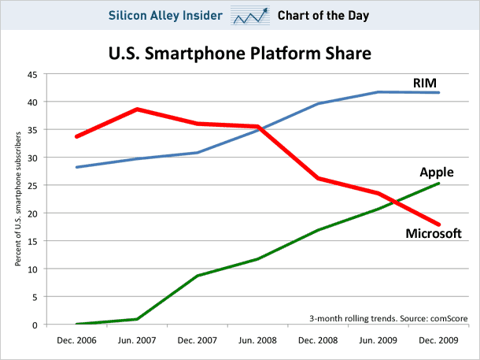 (Source : Businessinsider)
This topic was sufficiently and adequately covered by others on SA. For extensive analysis of the phone market, I strongly recommend you to read the excellent articles by Ashraf Eassa. Microsoft has gone through big troubles in the smartphone market and realized its mistakes and is carefully taking action to address it. In my opinion, is the larger part of the problem was caused due to their positioning in the smartphone market. Steve Ballmer positioned Microsoft and perhaps limited its customer habitat to only business-oriented people. We can deduce this from how he rigorously criticizes the iPhone as lacking a hardware keyboard. The iPhone targeted the average guy, mainly providing entertainment applications which were largely absent from Windows Mobile at the time of its launch.
The guys in Redmond decided to spend a lot of money and hours developing a brand new OS from ground. The results are so far fascinating and are receiving a lot of good reviews all around the world. Having said that, it's now the third operating system behind Android and iOS and it is still a negligible player in the market (at least for the moment).
And although some may disagree with that strategy, Microsoft is taking advantage of its patent portfolio to generate substantial incomes from Android sales.
Consoles and Gaming
Gaming is one of the few points people never mention about Microsoft. People are always fascinated by how the iPhone and Android devices came out from nowhere and are now a great success. The same people would also fail to accept and understand Microsoft's breakthroughs in these shaky but shallow and dangerous waters. Gaming was not an easy task for Microsoft. It was dominated by Sony (NYSE:SNE) and Nintendo (OTCPK:NTDOY) for about a decade. Do you know any other company which could have built a gaming console from ground up and sell 76 millions devices? Xbox is now a well-established and viable brand with a bright future.
But there is more. Microsoft realized and addressed the potential of casual and interactive gaming similar to the one provided by the Nintendo Wii and developed an innovative motion sensor called Kinect. Kinect sales hit 24 million units by February 2013. That's what we can fairly call a massive success.
Conclusion
In my opinion, it's wrong to say that Microsoft failed all its challenges. It maintained leadership in PC operating systems and in office suits for business. It created a successful gaming console from the ground up. Therefore, one should not underestimate Microsoft so easily.
Disclosure: I have no positions in any stocks mentioned, and no plans to initiate any positions within the next 72 hours. I wrote this article myself, and it expresses my own opinions. I am not receiving compensation for it (other than from Seeking Alpha). I have no business relationship with any company whose stock is mentioned in this article.