The immortal words of John Templeton "invest at the point of maximum pessimism" guide us when we are looking for value globally. We know a number of "conventional" fund managers and recently posed the question to them regarding whether or not they would include shipping stocks in their portfolios. Their response was a resounding no. That got us thinking that, based on this response alone, significant value probably lay with shipping stocks.
As far as fundamental valuations go, shipping stocks are up there with the most unwanted stocks in world stock markets. The median P/B ratio of shipping companies listed in the US is a mere 0.785. You may want to check out this valuation screen at FINVIZ.com. This is more or less the cheapest P/B valuations that shipping stocks have traded at since the 1970s (sorry, our data does not go back prior to 1970).
Okay, the P/B ratio is a rather simplistic way of looking at the valuation of stocks, but shipping companies are rather different animals than many other stocks. Shipping companies have "hard" or physically "observable" assets unlike many other companies (it is much easier to value a hulk of steel floating on the water than it is a brand name, a housing loan, an ore body, or a building etc).
Contrary to popular belief, if you were to have invested in a collection of shipping stocks six months ago (more or less at the height of the credit crisis) you would have been at least no worse off than if you had invested in the US stock market itself.
Yet since mid-January there has been a proliferation of commentary on how global trade continues to deteriorate and sentiment towards shipping stocks has continued to deteriorate: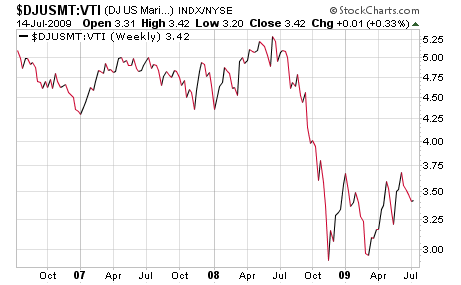 While we may be a few months off calling the relative bottom in shipping stocks, we believe that if shipping stocks have not underperformed the market over the medium term (over the last 9 months shipping stocks have performed exactly in line with the Vanguard Total Market Index) then they are highly unlikely to underperform over the next 18 months. The chart below suggests a significant relative bottom has already been hammered out over the last 9 months: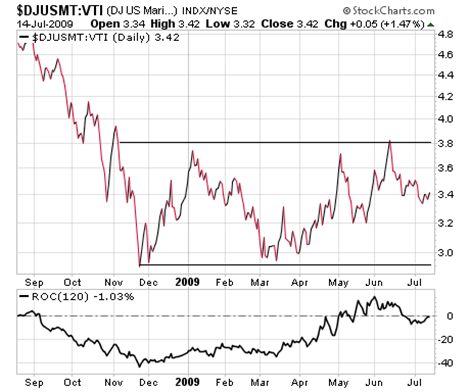 We are probably going to be lambasted for being bulls on shipping stocks, and yes we may well be wrong over the coming weeks. But we are willing to be wrong before we are right. When the outlook for shipping companies improves, their stock prices would already have increased dramatically.
We doubt that the outlook for shipping companies can get much worse and are confident that this is more or less the point of maximum pessimism for shipping companies, at least in modern times.
Disclosure: Long SEA