Scope:
Calumet Specialty Products Partners, L.P. (NASDAQ:CLMT) is a master limited partnership and is a leading independent producer of hydrocarbons operating in North America. MLPs are known for huge and stable yields and Calumet is one of them. Calumet has a market capitalization of $2.34 billion and revenue of $4.66 billion and $195 million profit in 2012. The company is known to hike its distributions to investors quarterly. So far, the distributions are increased by around 50% in the past year.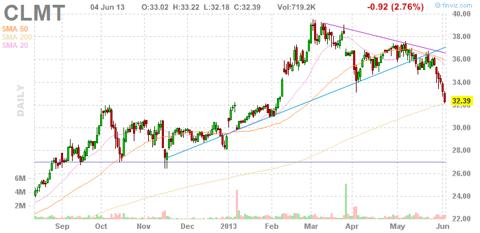 Currently, Calumet has an annualized dividend of $2.72 and a dividend yield of 7.96%. Not many stocks can beat that level of dividend. The level of dividend yield is backed up by a payout ratio of 66%. Calumet is currently trading at around $32.39 which is -18.04% away from the 52W high but is 69.27% above the 52W low. Therefore, there is more room for the stock to climb.
Moreover, Calumet has a P/E ratio of 10.74 and an EPS of 3.50, EPS of the company increased by 256.84% in the past year. Calumet has a good level of debt, $863 million, but this is covered by $1 billion in property plant and equipment. Calumet has a healthy current ratio of 1.85 and a debt to equity ratio of 0.84.
Calumet has a very diversified product range. It offers asphalt, solvents, and even gels used in personal hygiene products. Calumet is building a diesel fuel refinery with MDU Resources in North Dakota that produces more traditional fuels and should start to operate in about 20 months. The refinery will be capable of processing 20,000 barrels of crude per day and produce 7,000 barrels of diesel. Calumet is currently developing the potential in crude oil transportation and Lake Superior is considered as the loading dock to move Bakken crude oil from the fields of North Dakota and even potentially Canada.
Oil transportation rising steadily in this region and this will propel Calumet's stabilized revenue growth. Calumet is established as one of the highest yielding companies in the energy sector. The company's current operations together with the North Dakota refinery will keep Calumet's bottom line solid. Potential investors should have the confidence that due to the unwavering demand in oil and energy products, the uptrend in Calumet's revenue will continue. Therefore, the investors of Calumet have a lot to be delighted about.
Context:
Last week, shares of Calumet Specialty Product Partners LP entered into oversold territory, trading at $32.79 per share. Using the Relative Strength Index or RSI, overselling is identified when the RSI of the stock falls below 30. In the case of Calumet, the RSI is at 28 - compared to Energy Stock Channel's average RSI of 48.9, RSI of WTI Crude Oil is at 53.7, and the RSI of Henry Hub Natural Gas is presently 43.4. Currently, Calumet is trading at around RSI 25. If this trend will continue, Calumet will be a high-yielding stock on sale.
CLMT's 28.0 RSI is an indicator that the stock is oversold. This means that the price of Calumet has fallen below its intrinsic value due to high levels of selling. A bullish investor can take advantage of this market reaction and start to look for entry points on the buy side.
Catalyst:
Calumet has over 11 refineries in Illinois, Louisiana, Missouri, Pennsylvania, Texas, and Wisconsin. It has also acquired a number of companies to support its operations. Over the past few years, its major acquisitions include the Superior refinery, SynLube & TruSouth for synthetic lube oil production and specialty products packaging, Royal Purple for premium synthetic lubricants, Montana Refining and the San Antonio refinery.
Calumet continues to ingrain itself in the energy business through developing industrial products and personal care raw materials. The company is geographically diverse with successful product lines. It is also integrating operational and production synergies through its joint ventures and acquisitions. Calumet has covered refinery, storage, transportation, logistics, and distribution in its organization.
Calumet will continue to attract positive investor sentiment as long as the earnings sustain the uptrend. Investors are also very conscious about the acquisitions and its impact on the operations. So far Calumet had made proper choices in its acquisitions - making valuable purchases for operating segments that will help accrue revenue for the company.
Timeframe:
Barclays recently issued an Equal Weight rating from $33 to $36. My recommendation is to buy this stock before it reaches $36 and hold it for long-term appreciation. The dividend growth of this stock is undeniable and investors can take full advantage of this high yields by holding the stock for the long-term.
Disclosure: I am long CLMT. I wrote this article myself, and it expresses my own opinions. I am not receiving compensation for it (other than from Seeking Alpha). I have no business relationship with any company whose stock is mentioned in this article.