On June 3, 2013 I gave my 5 Bullish Signs ahead of the FuelCell Energy (NASDAQ:FCEL) Q2 2013 earnings report. I cited the large backlog as one of the reasons for my bullish views. I gave as my reasoning the following:
At the end of fiscal Q1, backlog jumped substantially from $428.1 million to $318.9 million in just 3 months. What is more impressive is that service backlog specifically jumped from $78.5 million to $149.9 million, nearly doubling in 3 months. Although historically service revenues have had negative margins, service revenues in most industries tends to generate very high profit margins as sales go up. Service revenues and gross profits may have begun to turn the corner and to start to add significantly to the bottom line.
Although backlog had a slight sequential decline of 4.4% over the 3 month period, it is still at levels nearing 10 quarters worth. More importantly as outlined above, the margins turned around as outlined in my forecast from negative gross profit margins to 5.5% positive gross profit margins, the highest gross profit margins since FCEL began commercializing its fuel cell power plants. Gross profit in dollars had a $4.6 million swing between the two periods. Service gross profit improved from a $1.5 million gross loss to a $0.2 million profit.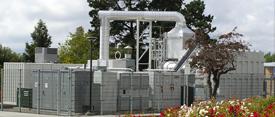 As a reminder, Direct FuelCell power plants are generating ultra-clean, efficient and reliable power at more than 50 locations worldwide. With more than 300 megawatts of power generation capacity installed or in backlog, FuelCell Energy is a global leader in providing ultra-clean baseload distributed generation to utilities, industrial operations, universities, municipal water treatment facilities, government installations and other customers around the world. The Company's power plants have generated more than 1.6 billion kilowatt hours of ultra-clean power using a variety of fuels including renewable biogas from wastewater treatment and food processing, as well as clean natural gas.
In terms of guidance, the earnings press release offered very little numerical detail and only gave a vague but optimistic outlook. In the conference call, however, were more direct details that most investors seemed to have missed. Michael Bishop, CFO of FCEL stated:
We also expect our margins to continue to expand with higher production volumes and a favorable sales mix. We are well positioned for continued global growth and to achieve profitability on an EBITDA basis, with annual production volumes of approximately 80 megawatts.
Since the company reported, it reached an annual run-rate of 70 megawatts, it's getting pretty darn close to 80, being only 10 megawatts away. Just 1 quarter prior it was at a 56 megawatt run-rate. Now I realize that some people don't consider EBITDA to be the same as profitability, it's certainly on the right and close path considering FCEL's ITDA expenses only run around $1.5 million per quarter. Much further down into the Q&A of the call:
Our guidance has been at the net income level, 80 to 90 megawatts of annual production volume gets you to net income breakeven. On an EBITDA basis, we have been talking about approximately 80 megawatts to get to breakeven on an EBITDA basis. To get there, obviously, you need margin expansion to do that. We're seeing that coming through this quarter. We would expect to see more of that.
Excellent. FCEL went to sales ramp up and margin expansion in Q2. Next up is more sales and margin expansion to get to EBITDA break-even. Then next will be positive net income. Next:
The business model has us in double-digit, low-teens margins as we get to that 80 to 90 megawatts of production volume.
Q1 ended at the 56 megawatt pace. Q2 ended at the 70 megawatt pace. Using a prorated average of 63 megawatts and $42 million for the quarter, that's around $667,000 in revenue per megawatt. Now fast-forward to the 80 to 90 megawatts of annual production, and using the midpoint of 85 megawatts would yield around $57 million in sales. Using 13% as the "double-digit, low-teens margins" and $7.37 million of gross profit would be realized. FCEL averages around $9 to $10 million in R&D, SG&A, and interest expenses per quarter so it will have to find ways to cut some overhead costs as well. The CC addresses this as well:
As we ramp in the second quarter, obviously, there's training required and there's some built-in -- I wouldn't say built-in. There are some inefficiencies relative to the overhead just to get safely and consistently to that higher run rate, which the team did, and we knew that. So you're going to get some gain from that leverage there as well.
Although there's certainly risk and uncertainties with a not-yet-profitable company such as FuelCell Energy, management continues to meet its goals they have paved the path to profitability. Increased sales, increased margins, decreased overhead, decreased inefficiencies from ramping up, and decreased training expenses are all necessary goals that are needed to be achieved for FCEL to reach profitability within the volumes stated. If any one of these components fails to materialize as planned, profitability will not be reached when expected, and the stock price may drop as a result. If these goals are met and profitability is achieved, I believe FCEL will hit the radar screens of alternative green energy fans everywhere, and the shareholders will be well rewarded. Good luck to all FCEL investors.
Disclosure: I am long FCEL. I wrote this article myself, and it expresses my own opinions. I am not receiving compensation for it (other than from Seeking Alpha). I have no business relationship with any company whose stock is mentioned in this article.