Things are happening at lightning speed over in Cincinnati and yet, investors haven't gotten the message.
Since bringing back A.G. Lafley just 2 weeks ago, Procter and Gamble (NYSE:PG) is reorganizing into 4 divisions. Other than some press documenting the change, no one commented on the quickness of the move and little was made of its implications.
In a nutshell, Procter is dividing the pie into:
- baby, feminine and family care
- beauty
- health and grooming (including pets)
- fabric and home care
Procter had been 2 global business units with 5 reported segments. The major thrust of the move - combining health and grooming and adding pet food from fabric and home care. Health and grooming alone will represent more than 25% of sales and over 33% of Procter's total profits.
This is more than shuffling offices.
The new heads of the divisions might someday succeed Lafley - especially David Taylor and Deborah Henretta who have been involved in so many different aspects of Procter's business and have seen their positions enlarged.
Moreover, Procter has gotten a bit unwieldy. This might be the start of major product changes. I think products that don't fit will be out and products from outside will be brought in. And the ones that remain will no longer be undermanaged. We could see a transformation in Procter, rivaling that seen in the 2000s.
Lafley ran Procter from 2000 to 2010 leading the staples goods company through a remarkable series of changes all the while doubling sales and increasing billion dollar brands from 10 to 23. The Gillette (2005) and Wella (2003) acquisitions stand out. However, it's easy to forget that Procter sold Jif peanut butter and Crisco shortening and Folgers in separate transactions to J.M. Smucker (NYSE:SJM) and its prescription drugs to Warner Chilicott (NASDAQ:WCRX). Procter sold off clearisil to Boots Healthcare in 2000.
Agree with the changes or not, Lafley didn't do business as usual. Bringing back Lafley isn't like bringing back JC Penney's (NYSE:JCP) Ullman. Lafley is going to disturb Procter's status quo. You can count on that.
In 2000, Lafley inherited a lackluster Procter - not too different from today's. Like now, revenue and earnings had stalled. You can see the dramatic improvement from 2000 to 2007 under Lafley's leadership:

Under Lafley's guidance, Procter outperformed the competition.
Procter bested its peers in stock performance.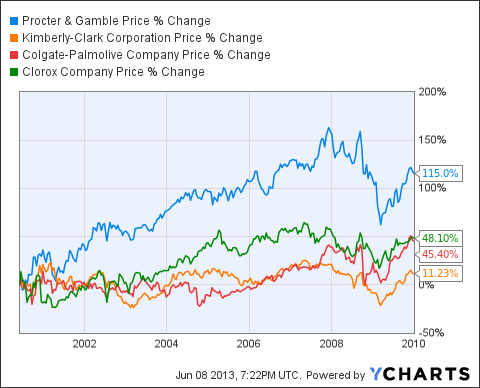 As you might expect with its aggressive acquisitions, revenue increased dramatically - far more quickly than its rivals.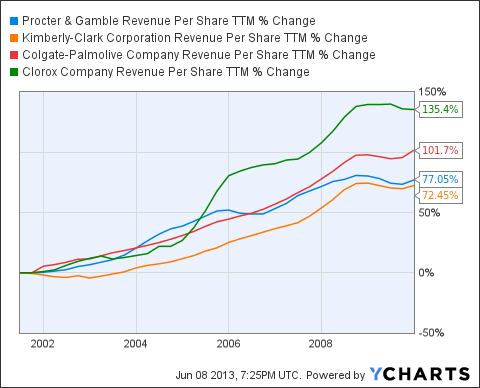 Earnings outperformed the group as well.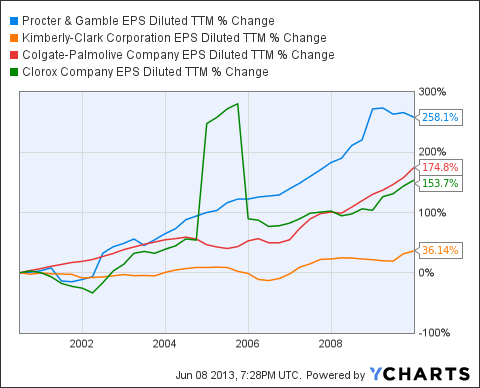 Interestingly, margins didn't suffer. Rather, they fared better than its cohort.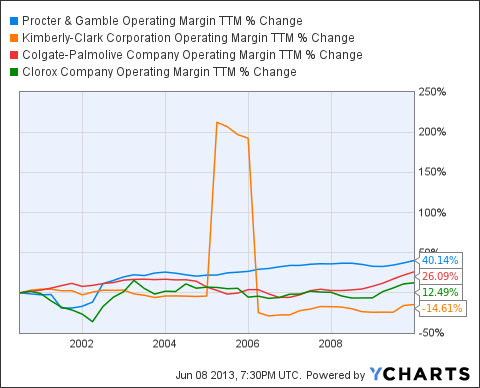 People don't change that much. Lafley made game changing moves the last time around and I believe he will do it again. While he is 66 years old, I doubt he will act as a caretaker until a successor can be found. He'll do what he does best: Big deals that shake Cincinnati up.
So what is in store for Procter under Lafley: Transformative acquisitions and sales of non-core assets.
The possibilities are endless but here are a few.
1. Lafley sells prilosec OTC, peptobismol, and metamucil. The GI group no longer fits since Procter sold its prescription drugs. And what is he going to do with them? They are dead end products with very little innovative potential and might find a home at Johnson & Johnson (NYSE:JNJ), Teva (NYSE:TEVA), or even the new Mallinkrodt, soon to be spun off Covidien (COV). Maybe, Warner Chilcott would buy them. Procter has a ton of great Vicks products here - dayquil and nightquil, for instance, with great product recognition - and I doubt he will sell these.
2. He might spin off Iams (a billion dollar brand) and Eukanuba in a separate pet division. This could become a real prize. People (like me) will spend anything to keep their pets happy and well-fed. It could be an extraordinary little company (it has 10% market share) and the market would love hearing about a stand alone pet food company with 10% market share. Or there could be an opportunity to expand. If Lafley wants to concentrate on pets, all the better (although product recalls have been concerning in the division, most recently at newly acquired natural pet food Natura.)
3. He'll spin off Duracell - another product that doesn't make sense in Procter. Duracell would make a great stand alone company on the order of Energizer (NYSE:ENR).
And - if Lafley is listening (or Ackman for that matter) - I'd suggest spinning off divisions rather than outright sales: They unlock value much better than divestments.
4. Lafley makes a major acquisition. Clorox (NYSE:CLX), perhaps? That would shake up the industry.
Procter had some of its best years under Lafley. The best may still be ahead.
Disclosure: I am long PG. I wrote this article myself, and it expresses my own opinions. I am not receiving compensation for it (other than from Seeking Alpha). I have no business relationship with any company whose stock is mentioned in this article.
Additional disclosure: The opinions in this document are for informational and educational purposes only and should not be construed as a recommendation to buy or sell the stocks mentioned. Past performance of the companies discussed may not continue and the companies may not achieve the earnings growth as predicted. The information in this document is believed to be accurate, but under no circumstances should a person act upon the information contained within. We do not recommend that anyone act upon any investment information without first consulting an investment advisor as to the suitability of such investments for his specific situation.