CSP Inc. Overview
CSP Inc. (NASDAQ:CSPI) is a cheap, cash-rich micro cap and owns a lucrative royalty-based contract with Lockheed Martin (NYSE:LMT). In addition to this, management is shifting CSPI's strategy to marry two of its separate operating segments in order to provide a flurry of cross-selling and bundling activities which will smooth historically lumpy sales trends. The strategy seems to be working as both sales and profits are growing despite the absence of high-margin royalty revenue which has been pushed out until 2014. The 2Q results, a large dividend increase, and increasing chatter of CSPI's ability to provide quarterly guidance lead me to believe management is executing flawlessly on its strategy and indicate the stock has room to run. CSPI's large cash balance, LMT contract, and recent proxy fight with North & Webster also lead me to believe it may be a buyout target.
Operating Segments
CSPI has two segments:
The systems business is a multi-computer division and designs commercial computer signal processing systems for defense and commercial markets. These systems are not reliant on any given set of processing standards and are vendor independent: they are also scalable with third-party products and should be immediately compatible with any of CSPI's future product offerings. CSPI outsources the subassemblies and keeps the final assembly and testing in-house, and then sells the systems to prime contractors. Management is focused on growing revenue here while controlling costs by extending the usefulness and marketability of its current offerings, which will keep R&D minimized for the foreseeable future.
The second segment, Modcomp, is a computer maintenance, integration services, and third-party hardware & software value-added reseller. Through Modcomp, CPSI operates in the United States, Germany, and the UK and provides solutions for storage and servers, unified communications, IT security, and consulting. This business has been evolving towards becoming a systems integrator and value-added reseller: The business itself is a crummy one and doesn't have great margins, but CSPI can integrate a wide variety of third-party components (HP (NYSE:HPQ), Cisco (NASDAQ:CSCO), IBM (NYSE:IBM), Dell (DELL), Microsoft (NASDAQ:MSFT)) into a complete solution and then install directly at the customer's site so it's a flexible and scalable business. There are follow-on revenue opportunities through IT consulting services as well. This segment sells to small, medium, and large-sized businesses in a wide variety of industries. Interestingly, Modcomp was chosen to design a network for all voice and data communications at the final presidential debate in 2012.
Historically management has kept these two businesses operating separately and they have been mutually exclusive from each other. However, there is meaningful opportunity here to start cross-selling for a couple of reasons. When one of CSPI's customers buys hardware from the systems segment, oftentimes they will require storage or security products from a reputable player like Cisco. CSPI never really made an effort to sell its networking solutions into the systems segment, as the two segments had functionally separate sales and marketing teams who weren't really trained to sell the opposing product or service category. As a result, customers would purchase a piece of hardware from CSPI and then grab the networking product from a different company, despite the fact that CSPI provides those exact solutions.
CSPI is now developing co-brand and marketing material for its sales force and has revamped its website to emphasize its integrated approach and to present itself as a turnkey provider for both hardware and networking needs. The Modcomp segment is being leveraged to enable the systems segment to become a sole source solution for CSPI's customers. The question is, why has management waited so long to do this? A big catalyst came when the former CEO and Chairman Alexander Lupinetti passed away in August. This catapulted 42-year old Victor Dellovo into the CEO role. He is definitely young, but his experience is perfect for the role: he led the Modcomp group for four years (which was ~90% of 2012 revenue) and has been entirely responsible for managing both its domestic and international businesses. Victor got the ball rolling with a more tight-knit relationship between the two segments which seems to be paying dividends as CSPI printed 2Q revenue of nearly $26m. This was the company's best quarter for revenue since 3Q 2010, and 30% higher than the average quarterly revenue rate over the last nine periods. It also represents a material deviation from what management had expected coming into 2013, as it warned investors multiple times through its 10K and conference calls that 2013 would be an especially difficult year given sequestration measures that went into effect in January.
Systems revenue was up both sequentially and yoy to $2.4m, and Modcomp grew 39% yoy to $23.4m driven by strong demand in both the U.S. and in Germany. Management sounded upbeat and was quick to pinpoint the main driver of top-line growth:
"During the past several quarters we have been enhancing our marketing efforts, working with manufacturers to obtain sales leads, and adding to our sales force. As a result, a significant portion of our growth this quarter came from new customers."
Looking into the 10Q filing also indicates that sales to three large existing customers in the IT space increased by an aggregate of $5.7m over the first half of the year while new customers in the U.S. added $3.7m. Naturally there have been some offsetting losses in business with other customers, which is characteristic for CSPI: some customers will choose to continue adding products or services while others buy a few things and then trail off on their ordering patterns.
Gross margin was down 250 bps to 22.3% (more on this shortly), but the cost story is what's really been impressive here: operating expenses were up just 12% in 2Q to $4.5m on a much larger sales base. CSPI booked a healthy 4.7% operating margin and, after paying a 38% tax rate, printed 22 cents a share in earnings.
Lockheed Martin Contract
This is where the royalty revenue from Lockheed Martin comes into play. Northrop Grumman (NYSE:NOC) manufactures the E-2D Advanced Hawkeye aircraft for the Navy, and LMT manufactures a crucial radar component that is installed in the planes. CSPI supplies computer systems to LMT in exchange for a $670K royalty fee that is generated each time a system is installed on one of the planes. This revenue has a 100% pre-tax profit margin: each installation contributes approximately 12 cents a share in after-tax earnings. Given CSPI's relatively small size and cheap valuation, this is an extremely lucrative contract for the company.
As of 2Q, management reported that parts are on order for the first lot of E-2D planes which is now in full-rate production. The parts should be shipped this year, with royalty revenues being recognized in 2014: management expects lot 1 to include production for five planes, and while the subsequent lots haven't been approved yet, they should evolve to 32 - 37 planes throughout 2018. There will also be opportunities for smaller "bolt-on" installations as orders may come up in bits and pieces over the next few years.
Assuming CSPI recognizes revenue on five planes in 2014, this will turn into ~$2m in after-tax earnings, or 59 cents a share in 2014 alone before even considering any potential income from the rest of the business, which may be firing on all cylinders at that point as the government realigns its budgets and CSPI continues to cross-sell its solutions between both segments and between geographies. The business looks like it's on pace to produce a healthy profit without any royalties this year and has a lot of "wiggle room" so to speak (more on this later), and management has mentioned they will focus increasingly on high-margin opportunities as much as possible to avoid unprofitable business. CSPI would still earn around 48 cents a share this year on $44m in revenue and a 20% gross margin in the back half of the year, both of which I'd like to assume are the worst case scenario given the strong second quarter results and improving collaboration between both business segments.
Looking out past 2014, 32 planes would turn into $12.8m in after tax earnings, or $3.75 a share in essentially guaranteed earnings over the course of the next five years. This compares to a share price of around $8.50 today, as well as $1.65 per share in net cash and book value per share of $6.79 (note I've subtracted the $9.7m unfunded pension balance in my calculation of net cash) making CSPI undervalued if you give any credit to the "as-is" business without any royalty revenues.
Proxy Battle & Takeover Attempt
On November 7, North & Webster offered $5.50 per share in cash to CSPI's Board representing a 15% premium to the stock's 60-day moving average. Apparently, the Board ignored N&W which upset it a little bit. N&W then sent a letter to the stockholders in January after increasing its position to over 133,000 shares (4% of the outstanding stock), urging shareholders to vote for four insurgent directors. They cited a variety of reasons which compelled them to submit their own slate of directors, including CSPI's historically troubling acquisition record, disparate business segments, and a flurry of other interesting data points it was able to compile over the years. The companies went back and forth for a couple of months, each issuing letters attacking the other.
Here's a timeline of the events (skip to page 5 of the filing for the preliminary timeline):
November 7th, 2012: N&W issues a letter to CSPI offering to buy the company for $5.50 per share. N&W also indicates its intent to include 4 of its own insurgent director appointees in the upcoming 2012 proxy statement and Annual Meeting.
December 13th, 2012: CSPI reports strong 4Q12 and FY12 results, boosted almost entirely by a $2.1m life insurance settlement from the death of Alex Lupinetti (the former CEO/Chairman) and a $2.6m tax benefit on the reversal of a valuation allowance. Combined, these boosted CSPI's net income by 266% from what it would be on a normalized basis. The timing of the tax valuation reversal was interesting to say the least, but ultimately had little effect on the outcome of the proxy contest.
February 1st, 2013: N&W sends a letter to CSPI stockholders urging them to vote for its director appointees, bringing up the refusal by CSPI's Board to correspond regarding N&W's buyout proposal as well as management's poor acquisition track record.
February 3rd, 2013: CSPI urges shareholders to vote for the Board, and claims N&W's director candidates have no relevant experience in CSPI's 2 primary business segments.
February 5th, 2013: N&W issues a letter responding to CSPI's letter to stockholders, stating CSPI's managers are overpaid and the company likely would have reported a loss had they not recognized the insurance or tax benefits (this not true and speaks to the cheap tactics N&W was using… CSPI would have earned a profit, albeit a small one).
February 7th, 2013: CSPI responds to N&W, defaming Samuel Kidston of N&W and commenting on N&W's history of engaging in proxy battles. CSPI also talked itself up via its FY12 performance, but made no mention of the increased earnings and only spoke to revenues, gross margin, and operating margin.
February 7th, 2013: CSPI puts out a press release announcing 2 leading independent proxy advisory firms recommend shareholders vote for CSPI's Board at the annual meeting.
February 7th, 2013: N&W announces it has revised its $7.00 per share all cash offer.
Barring the sketchy timing of the tax benefit coming immediately after N&W's initial solicitation, this entire sequence of events indicates that N&W was trying to steal the company. CSPI defended itself vigorously and while there was ~$250,000 in proxy fight costs (note this was recognized in 1H13, about a 4 cent per share EPS impact), it paid off for shareholders immensely as the stock now trades at $8.47, a 21% premium to N&W's second offer. The stock trade sideways after the proxy battle ended up May 9th when the company reported its strong 2Q results, and shares popped and crossed the $8 threshold.
The fact that N&W made its offer in the first place, having zero operational synergies with CSPI, and even went so far as to revise its initial offer upwards by nearly 30% indicates to me that they believed CSPI was extremely undervalued and wanted to steal it. The Board knew they were worth more and made the right decision not to sell the company.
This entire sequence of events was basically a gigantic vote of confidence from the Board and shareholders. The shareholder base almost unanimously elected the incumbent directors to CSPI's Board at the Annual Meeting. Upon the strong second quarter results, the Board raised the quarterly dividend by over 3x, from 3 cents a share to 10 cents. In addition, insiders and institutional players have been increasing their stakes in the company since the end of FY12. These 3 factors all signal increasing confidence in the underlying business: in addition, management is getting more and more comfortable with the idea of providing guidance, implying the underlying business is slowly but surely smoothing and moving away from its historically lumpy and rapidly changing customer and product mix characteristics as management marries the systems and Modcomp segments by co-branding products and cross-training its sales force.
Risks
CSPI has historically had a lumpy and relatively unpredictable business, which has prevented the company from issuing guidance or increasing its dividend. A sole customer (Verio) was 25% of sales in 2010: in the same year, management indicated that Verio would be reducing its sales in FY11 and was also acquiring one of CSPI's competitors to vertically source certain products. Verio was a $22.5m customer in FY10, and dropped to $8.8m in FY11 but has since rebounded to over $14m in 2012. In 2012, there was one other large customer who accounted for ~$13m in sales (15% of total). Furthermore, the Department of Defense is indirectly an $11m customer through the relationships CSPI has in place with prime contractors on the systems side of the business.
CSPI's management team is paid quite handily: in 2012, their combined compensation was $2.4m, or 36% of net income. This inflates to 130% of net income when you adjust for the insurance and tax benefits, or 8% of the company's current market cap. This came on the back of an 81% increase in performance bonus compensation
Valuation
CSPI has relied heavily on high-margin royalty revenues to bolster its operating margins the last 2 years. In 2011, CSPI recognized $1.7m in royalties and posted a slim 1.1% EBIT margin with just 11 cents in EPS. In 2012, royalties grew to $6.4m and operating margin expanded to 3.4%. Normalized FY12 EPS was $0.53, which is a nearly five-fold increase over FY11 stemming almost entirely from the increase in royalty revenues. While this did represent significant dependence on a sole stream of revenue, I believe this is the part of the story that's changing most significantly: renewed focus on making the systems and Modcomp segments work together is driving quarterly revenues to multi-year highs. Cost control and margin is extremely important for CSPI's profit margins and EPS given the low-margin nature of the business. The below scenarios for the second half of 2013 assume that R&D remains flat and management meets the midpoint of its stated goal of a 14.5 - 16.2% SG&A margin:
If revenue declines 10% yoy and gross margin falls to 21%, CSPI will earn $0.47 (14x P/E)
If revenue is flat yoy and gross margin falls to 21%, CSPI will earn $0.52 (13x P/E)
If revenue increases 5% yoy and gross margin falls to 21%, CSPI will earn $0.63 (10.5x P/E)
If gross margin increases 100 bps in any of the above scenarios, EPS will increase by approximately 9 to 10 cents. I think 21% gross margin should be the floor, as it has averaged 23% over the last nine quarters including quarters that didn't have any royalty revenues. Management has also indicated they will be committed to higher margin business and I fully expect them to follow through on that as they are aware that no royalties are coming this year and margin is crucial to EPS. Operating expenses should be stable as the business is relatively scalable and there isn't any catalyst that would drive SG&A or R&D up in the near term, especially if sales decline slightly or stay relatively flat.
Based on this sensitivity analysis, I believe CSPI will print anywhere between $0.40 and $0.70 per share in 2013 which implies a P/E between 9x and 17x. I would argue that even the higher end of that band isn't excessive given a cheap asset valuation (1.2x book value with $1.65 per share in cash), and the bolstered 5% dividend yield. The company's balance sheet is in excellent health with over $20m in receivables and a leaner inventory balance, offset by $18.6m in current liabilities and only $28m in total liabilities ($9.7m of which is an unfunded pension liability which could quickly turn into equity value if interest rates increase). The current ratio is 2.4x, and a large portion of the receivables balance has been outstanding since the beginning of the year which should be collected soon, indicating strong cash flow potential for the back-half of the year (management said a large portion of the balance is related to two longstanding customers, so there is virtually no risk in the account). Including the pension liability as debt, CSPI has an enterprise value of $22.8m and a TTM free cash flow yield of 9%.
Looking to FY14, shareholders have almost 60 cents in earnings guaranteed to them barring any major change in LMT or NOC's production schedules. What would be really interesting to see would be LMT buying out the royalty contract straight-away from CSPI. CSPI may have to take a haircut on it, but it would eliminate some uncertainty regarding the exact timing of the revenues, and CSPI could use the proceeds to fund a big dividend or buyback (both of which are currently in place… the buyback has capacity for another 200,000 shares, and management has slowly been repurchasing over the last couple of years). The Modcomp division doesn't have a fat, 100% profit margin contract like the systems segment, but it does have around $10m in cash tied up overseas that a potential acquirer could use to buy CSPI out for a nice premium.
Financials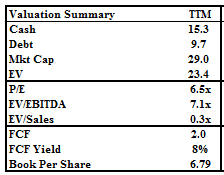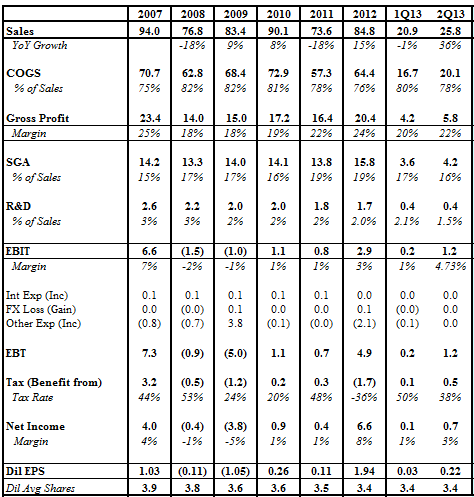 Disclosure: I have no positions in any stocks mentioned, but may initiate a long position in CSPI over the next 72 hours. I wrote this article myself, and it expresses my own opinions. I am not receiving compensation for it (other than from Seeking Alpha). I have no business relationship with any company whose stock is mentioned in this article.