June is Big for Bing
Traffic to Bing.com continues to skyrocket. The site garnered 50 million unique visitors (UVs) in June, its first full month live. As a result, more and more people are gaining interest and taking the time to learn more about what Bing has to offer - Microsoft's Bing info site, discoverbing.com, and club site, clubbing.com, received 1.3 million UVs and 759,000 UVs respectively.
Circuit City is Back
Systemax (NYSE:SYX), behemoth multi-channel computer and consumer electronics retailer and owner of popular online properties like Tigerdirect.com and CompUSA.com, purchased Circuit City's remaining assets after it declared bankruptcy in November of last year. On May 23, Systemax brought CircuitCity.com back to life and June's data shows that the site is off to a good start. While the 1.4 million UVs may only be around 13% of the traffic the site experienced when it had national brick and mortar presence (close to 8 million people per month), it represents almost 50% of TigerDirect.com's traffic (3.3 million UVs) and 40% more than CompUSA.com received in June (997,000 UVs).
With 12.4 million total combined visits in June to their three big Electronics properties, Systemax managed to attract 5% of all visits to the Electronics Shopping Sites category, more traffic than newegg.com and up in the ranks with bestbuy.com (3rd), apple.com (2nd), and dell.com (1st). The graph below from Compete's new Categories interface shows Systemax's market share of visitors within the Electronics Shopping Sites category for the three online properties over the last year.
MLB Attracts More Online Fans in May, despite NBA and NHL Playoffs
On June 30, 2009, Compete released the rankings of the top 10 sports fan sites in May 2009. Even with the NBA and NHL playoffs underway in May, Major League Baseball fans outnumbered NBA fans online more than two to one and NHL fans more than four to one. MLB.com reached more than 12,227,000 sports enthusiasts in May 2009 (up 35% since May 2008), followed by NBA.com with 5,624,776 unique visitors (UVs), Nascar.com with 3,716,636 UVs and NHL.com with 2,899,406 UVs.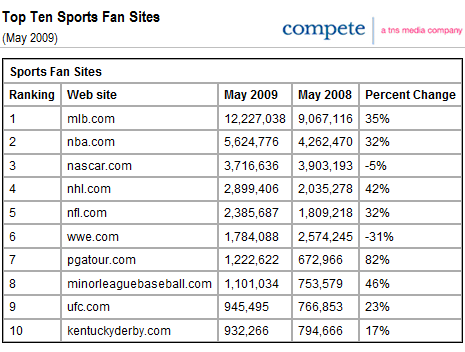 Sports fan interest among the big leagues (MLB, NBA, NHL and NFL) is also up year over year with significant increases for MLB.com (35 percent) and NBA.com (32 percent). Meanwhile, wwe.com and nascar.com visits dropped while pgatour.com and minorleaguebaseball.com cracked the top ten in May 2009.