Despite doubling its share price since the company experienced operational issues in the third quarter of last year, Express Inc. (NYSE:EXPR) still appears to have more upside potential than downside risk. Even after providing strong results in the past two quarters and making progress on several key growth initiatives, the company is still being held at least a 20% discount to fair value based on multiple methodologies.
Company Overview
A specialty apparel and accessory retailer, Express offers high quality, fashion-forward items at strong value price points to women and men between ages 20 and 30. Express was spun off from L Brands Inc., (LTD) and began trading publicly in May 2010. It currently operates 620 stores in the US, Canada, and Puerto Rico. EXPR also sells products to franchisees operating 18 Express stores in Latin America and the Middle East.
EXPR uses a Go-to-Market strategy that allows it to test a large portion of its merchandise in select stores before ordering inventory for the rest of its locations. The company also evaluates sales data on a weekly basis to make continuous inventory adjustments as needed. This strategy allows the company to quickly adapt to customers' changing tastes, and reduce the likelihood of markdowns.
Stumbling in 2012
Below is a chart showing the prior quarter's estimates for comparable sales growth and net income for each quarter from Q112-Q213.

EXPR started 2012 off strong with first quarter comparable sales growth of 4%, resulting in a double-digit percentage increase in EPS. In the second quarter the company delivered at the top of its guidance for net income, but lowered its full-year outlook. Margins were also pressured by softness in knit tops and elevated inventory in some women's categories. Testing showed women's sweaters would not perform as expected in the third quarter, which would pressure both sales and margins.
Before Q3 earnings were released, EXPR had to update its guidance for the quarter, significantly reducing projections for Q3 comparable sales growth to a drop in the mid-single digit range. This was the first quarter of negative year-over-year ("yoy") comparable sales growth after twelve consecutive quarters of positive growth. The cause was attributed to a severe drop in store traffic in September combined with increased promotional activity. While actual Q3 earnings were at the high end of the updated range, the quarter was still quite poor with gross margin dipping to 32.3%. Full year guidance was reduced again, including a projected decrease in comparable sales in the low-single digits.
The Turnaround
In the face of this rapid deterioration, management implemented several initiatives to stop the bleeding and turn the ship around. Steps included re-balancing the women's sweater assortment, introducing items in key categories at entry price points, and clearing up communication of pricing and promotional strategies. These changes resulted in a very quick turnaround as EXPR benefited from a strong customer response in the holiday season, allowing for a recovery in margins, and raising of its Q4 and full-year guidance.
The positive momentum continued into the first quarter of this year when, despite some softer foot traffic in the beginning of the quarter, customers reacted favorably to EXPR's spring merchandise. Comparable sales growth and EPS were both at the high end of guidance, despite requiring greater levels of promotion than expected, and numbers for the full year were increased. Where other companies may have experienced a prolonged negative impact, EXPR's focus on product testing and close monitoring of sales data allowed them to quickly adjust to the situation and limit the impact to only one quarter.
EXPR has a history of providing conservative expectations and actual results at the high end of projections. With strong second quarter estimates of comparable sales growth in the mid-single digit range, success in hitting the upper-end should go a long way towards convincing investors that EXPR is back on track.
Catalysts for growth
Looking forward, Express has taken several steps to drive growth in both sales and margins over the long-term.
Brand awareness
Express appears to be at a tipping point of re-invigorated brand identity and awareness where they have gained increased recognition through runway shows, enhanced TV advertising on programs targeting its key demographic, and a new loyalty program that has signed up over four million members. The company has also expanded offerings in their base product lines, as well as added new categories such as fragrances and watches, which have been well-received by customers.
Expand and improve existing store base
In the US and Canada, EXPR is closing underperforming stores, redeveloping existing ones, and opening new stores in "winning hub locations." This strategy is not focused on simply growing square footage wherever possible, but is concentrated on those high-volume malls where young adults go to socialize. For existing stores at these "hubs," EXPR is both enlarging its stores, and moving them to more prominent locations. This more targeted approach may provide EXPR with more "bang for its buck" in building sales, promoting the brand, and gaining new customers.
Online sales
Industry-wide e-commerce sales of apparel and accessories are expected to grow approximately 17% per year through 2017. This channel allows retailers to sell an expanded lineup of items not offered in stores. Express has particularly benefited from venturing into e-commerce, with sales up 48% year-over-year in Q113.

Management previously expected e-commerce to eventually make up 15% of sales, but now looks for that percentage to be even higher. At the end of 2012, EXPR brought their website hosting in-house, and expects the channel to help improve overall profit margins in the future.
Partnership with Fashion Star reality show
In early March, EXPR began a partnership with NBC's "Fashion Star" television show, which allows viewers to order product online immediately following the show. Results appear to be very positive so far with over 1 million hits to the "Fashion Star" page on EXPR's website. These hits drove sales of both the "Fashion Star" items as well as other products. Impressively, more than half of these purchases were made by first-time Express buyers.
International expansion
In 2012, EXPR earned revenue from 15 franchise locations in the Middle East and Latin America, and in 2013, plans to sign deals with two additional partners to open 13-16 new franchise locations. The company also expects the International division to be profitable in 2013.
Flagship stores.
In addition to plans for opening (net of closures) seven new stores in the US and four in Canada, EXPR also has plans for opening two flagship locations in San Francisco and New York. These stores will be 16,000 and 30,000 square feet, respectively, and are expected to result in an additional $8MM in incremental pre-opening rent expense in 2013. While management expects the San Francisco location to be open in time for holiday this year, receipt of the Times Square site has been delayed until next year, with hopes of an opening in the spring. The flagship stores also provide high exposure to large tourist populations, which are expected to support international expansion.
Discount outlets
One new strategy that seems to be working well for EXPR's peers is expanding into outlet stores. Though EXPR already operates five clearance outlets to sell distressed inventory, the company would convert these to a new model where merchandise is made specifically for the outlet stores. EXPR hired a Vice President in the last quarter to develop a business plan for the initiative, and management also noted that their guidance did not include any expenses that may be associated with development of the outlet business.
Interestingly, three of these growth initiatives (international, e-commerce, and outlet stores) are expected to provide a higher return-on-investment than that of company-owned stores. This should help offset potential margin erosion from a more competitive and higher promotional environment in the future.
Financial Overview
Margins
Gross margin decreased 180bp in 2012 to 34.6% from 36.4% in 2011. This was mainly driven by a 140bp decrease in merchandise margin due to higher product costs and increased promotions, and a 40bp increase in buying and occupancy costs. The first quarter of 2013 saw continued margin pressure due to promotions (both planned and unexpected), and deep discounts on distressed merchandise to clear inventory. Buying and occupancy expense increases were mainly driven by pre-opening rent expenses associated with the flagship locations. Given the difficult macroeconomic environment, the highly competitive nature of the retail industry, and the company's ambitious growth plans, this will be one of the most important areas for management to turn around going forward.
Though not close to offsetting the drop in merchandise margin, management's control of selling, general, and administrative ("SG&A") expenses was encouraging. SG&A expenses dropped 40bp to 22.9% of sales in 2012 despite increased IT and payroll expenses to support international expansion and e-commerce growth.
Debt
Express currently has an unused $200MM Revolving Credit Facility that expires in 2016. The company also has $198MM in Senior Notes due in 2018, carrying an interest rate of 8.75%.
Lease obligations
Driven mainly by operating leases and purchase obligations, EXPR has significant, but not unusual contractual obligations over the next several years.

Source: 2012 10-K
Stock Repurchases
In May 2012, the Board authorized the repurchase of up to $100MM of common stock. In 2012, EXPR repurchased approximately 4MM shares at an average price of approximately $16.38/share. Authorization for the remaining $35MM runs through November of this year.
2013 Guidance
From its most recent earnings release:
| | |
| --- | --- |
| Comparable Sales Growth | +Low to Mid Single Digits |
| Effective Tax Rate | 39.3% - 39.8% |
| Interest Expense | $20MM |
| Net Income | $127 - $135MM |
| Diluted EPS | $1.48 - $1.58 |
| Wtd. Avg. Shares Outstanding | 85.7MM |
| Capital Expenditures | $110 - $115MM |
Although sales are expected to grow, 2013 will see margins pressured by a higher promotional environment along with higher capital expenditures due to preparation of the flagship locations and continued investment in e-commerce.
Valuation Overview
Comparable Companies
Looking first at Express's valuation relative to some of its peers, EXPR appears to be valued cheaper than its competitors, especially for measures such as EV/EBITDA and the P/E ratio. The company does lag in its rankings related to margins, in part due to the issues in the middle of last year as described above. Margins are expected to improve over the next year as the company executes on its long-term plan. This situation of depressed margins could also be appealing to potential acquirers. Having recovered from the operational issues of last year, Express should be valued more in-line with its peers.

Source: Financial data from Google Finance, except for Est. Sales Growth from Yahoo! Finance
Comparable Transactions
In the last few months, three of EXPR's peers have agreed to buyouts by private equity firms: True Religion Apparel, Inc. (NASDAQ:TRLG), Hot Topic, Inc. (NASDAQ:HOTT), and Rue21, inc. (NASDAQ:RUE). Below is a look at these companies using the same metrics as reviewed in the Comparable Company analysis, but at a higher buyout price. This provides some insight as to the various multiples one could expect in the case of a buyout.

Source: Financial data from Google Finance, except for Est. Sales Growth from Yahoo! Finance
These three companies are expected to experience higher-than-average sales growth compared to the rest of the industry, as well as have some room to improve on margins.
Discounted Cash Flow
A discounted cash flow analysis also shows that EXPR is undervalued. The base-case model projects cash flow for each of the next ten years, and then calculates a terminal value based on growth into perpetuity. The results of this scenario suggest an intrinsic value of $25.47 per share, approximately 16% above last Friday's closing price of $21.87. This also works out to an implied EV/EBITDA ratio (using 2013 estimated EBITDA) of 7.0, a fair price in relation to EXPR's peers.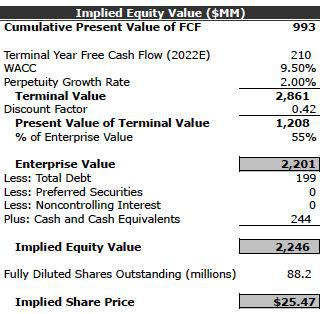 This value also matches up well with recent analyst price targets, including those of UBS, Wedbush, and MKM Partners, all who have price targets between $24.00-$25.00. Note that Zacks also recently upgraded the stock to Neutral, but has a price target of only $19.30.
Changing the assumptions used above to calculate both an upside and downside scenario provides a little more color on the possibilities for EXPR's intrinsic value.
The downside scenario, which contemplates lower sales growth (hitting only 2.0% in 2013), continued margin erosion (EBIT margin of only 11.0% every year), and higher capital expenditures, provides an estimated value of $18.17. This would be a discount of approximately 17% to EXPR's most recent close, and an implied EV/EBITDA of only 5.0.
For the upside scenario, there are slightly higher sales growth estimates (rising to 6.0% from 2014-2017), some margin recovery (EBIT margin hitting 14.0% in 2017), and lower capital expenditures. This scenario results in an estimated value of $30.91, a premium of approximately 41%, and an implied EV/EBITDA of 8.4.
Leveraged Buyout Possibility
In light of the recent buyout activity and low rate environment, it's necessary to consider the possibility of an acquisition for EXPR. Private equity is attracted to the strong cash flow yield of retailers, and are typically able to find opportunities to streamline a company's operations and improve margins. For EXPR specifically, the company's cost-of-goods-sold is an obvious area for improvement having risen from 63.6% in 2011 to 66.5% for the last twelve months. SG&A expenses are also an area where tightening usually occurs. At EXPR, stock-based compensation has more than tripled over the last three years, from $5.3MM in 2010 to $16.3MM in 2012. Future capex growth should also level off as the initial investments in e-commerce and the two flagship locations subside.
The base-case LBO scenario assumes a buyout at 8.0 times the last twelve months EBITDA, in-line with the three recent transactions discussed above. This would result in a payout to equity holders of approximately $27.90, a 28% premium to the latest closing price.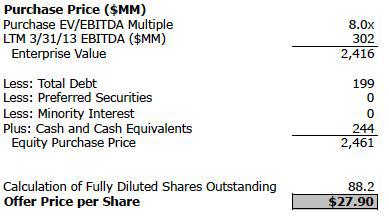 While there are numerous potential financing structures, this base-case LBO scenario assumes that equity comprises approximately 1/3 of the buyout funds, with the remainder provided by a combination of a term loan, notes, and cash on hand. This structure is very similar to the one found in the J.Crew buyout as described in its 2010 10-K.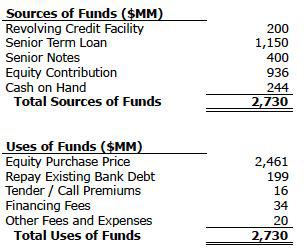 The base-case LBO scenario uses the same assumptions as the base-case DCF model above for modeling the income statement.

As one can see above, the original debt financing has a term of eight years, however, under this scenario the debt will not be completely paid off after eight years. This is a potential source of risk as the company would have to either re-finance the debt or raise additional equity, i.e. by selling part of the company or taking it public again.
Looking at the base-case scenario from the side of the acquirer, potential returns appear acceptable with an IRR of at least 17%.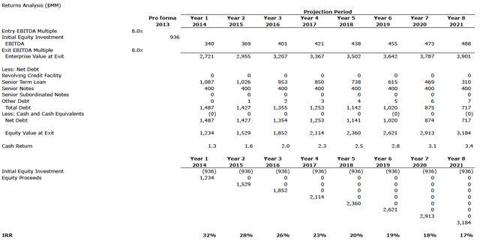 Similar to the DCF analysis, the LBO scenario can be adjusted to provide a downside and upside scenario. Using the same changes to income statement assumptions as in the respective DCF scenarios, the downside LBO scenario would still provide private equity investors a 10-12% IRR, and the upside scenario would result in the potential for an IRR over 30%.
Again, there are many variables at play here, and the value provided to both equity and buyout investors could change drastically based on different assumptions than those used above.
Valuation Summary
The chart below shows that regardless of the valuation methodology, EXPR remains undervalued. A fair value appears to be around $26.00, approximately 20% above current price levels.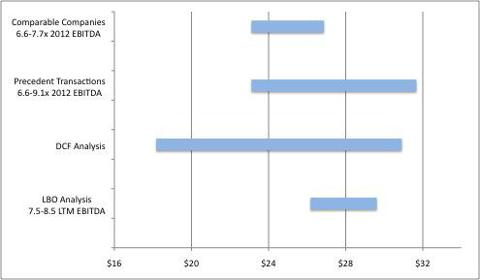 Technical Overview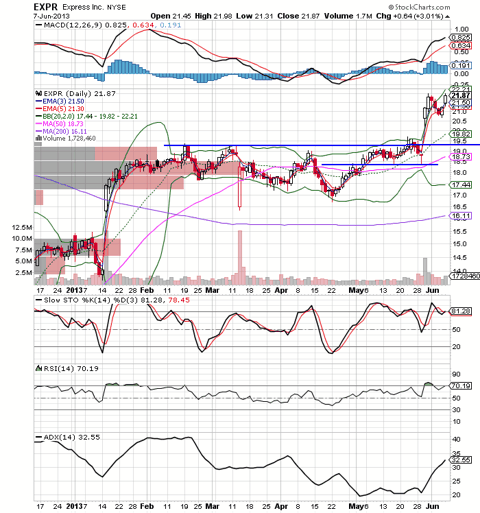 Before the last earnings release, EXPR was struggling to move past resistance around $19.40. After the release, the stock gapped up and has now more than doubled since its all-time low last November. Looking forward, the old point of resistance should now serve as support if the stock gaps down, and if it can rise above $22.00, there should be some room to run, even up to its 2012 high of $26.27.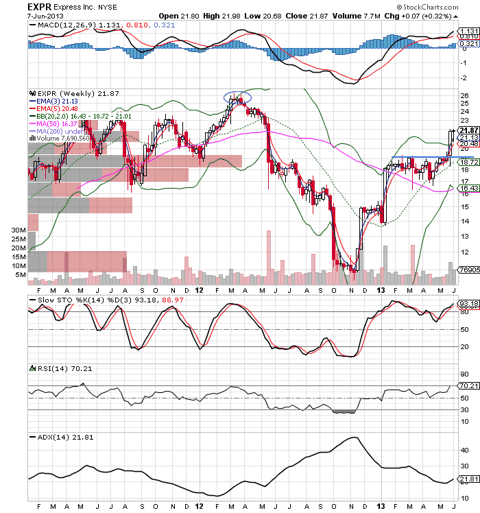 Conclusion
Upon recovering from short-term merchandising and pricing problems in the middle of last year, EXPR looks to finish 2013 firing on all cylinders. After a strong first quarter, the company should resume its practice of hitting the upper end of guidance in Q2 and for the full year. Longer-term, Express appears to have fine-tuned their Go-to-Market strategy to supply stores with inventory that customers want to buy. The introduction of e-commerce has been an immediate driver of significant growth. The company's store strategy - focusing on high-volume malls in the US and Canada, growing internationally, and opening two flagship stores in the next twelve months - should provide stronger brand awareness and bring in new customers to support sales growth. Finally, margins should recover somewhat in the second half of the year assuming product acceptance more in line with expectations, and reduced expenses related to the flagship stores.
Even after the strong rise in the stock price over the last year, Express is valued at a discount to peers and its intrinsic value. Downside risk appears to be minimal with the current price factoring in expectations that may be too low. The potential for a buyout should also help to keep prices from falling. Using reasonable, if not conservative, expectations, the estimated fair value seems to be around $26.00/share. With many potential catalysts, surprises to the upside could see the stock trade over $30.00. As Express continues to execute, the second quarter could be the turning point where investors regain confidence and push the company's valuation back in-line with that of its peers.
Disclosure: I am long EXPR. I wrote this article myself, and it expresses my own opinions. I am not receiving compensation for it (other than from Seeking Alpha). I have no business relationship with any company whose stock is mentioned in this article.
Additional disclosure: The author of the article is long EXPR stock. The valuation analyses in this article contain numerous assumptions related to the company's future operational and financial metrics. Changes to these assumptions could result in significant differences in estimated valuations.