It's often been said that the gaming industry is full of hit or miss businesses. Few game studios are ever able to produce a hit, but when they do, the chances are high that they either go public or attract considerable capital in closed rounds of funding. Zynga (NASDAQ:ZNGA) after the success of FarmVille, is the most often quoted example but the real list is longer: from Japanese Gree Inc. after the early success of its social platform to Finnish and still private Rovio, after Angry Birds.
However, it seems that if there is something harder than producing a hit, that would be producing a second, even more successful, hit. As time goes by and the MAU and cash flows that derive from their first hit start to fade away, gaming companies, especially public ones, find themselves in a critical position: either they show investors that they aren't a one-hit wonder or they suffer the consequences of an adjustment of expectations and "back to fundamentals" market punishment.
On the other hand, if the company manages to produce a second hit, the market could be very rewarding. This is a very uncommon pattern: a gaming company with a solid and tested ability to consistently develop and market App Store and Google (NASDAQ:GOOG) Play hits. It may be an extreme example, but I would like to mention here the rare case of GungHo Online Entertainment. The company was relatively successful with Ragnarok, launched first in 2001. It continued launching games and Ragnarok versions between 2011 and 2012, with little success. Until they launched a supper addictive mobile based freemium game, Puzzle & Dragons, on February 2012. A game developed by 6 people. Everything changed after that. In a few days the game became a massive hit in the App Store. After some months, it reached millions of engaged users and by the time I write this piece, it is generating about $2.5 million in revenue a day, with more than 11 million downloads. This caused GungHo's obscure stock to have an amazing +7,392.8% one year return. The company now has a ¥1.49 trillion market capitalization.
For us investors, finding a gaming company with a genuine potential for developing hits remains challenging. There are hundreds of gaming studios, both private and public, out there. Most of them count with very motivated engineers and creators. But the reality is that in the next 5 years, most of them will not be around.
I do not have a crystal ball and I am not sure about what exactly causes a game to become a massive hit. Sure, there is a lot of randomness involved. But I also believe that we can try to identify future success in a gaming company by doing a careful study of the ability the firm has to deploy a healthy cycle of product development. Specifically, I'm interested in studios that continue in the game even after failing to produce a hit, because a failed attempt increases know-how and the probability of making a hit in the future.
In this sense, Glu Mobiles (NASDAQ:GLUU) is very promising as an investment. Throughout this article, I analyze the history, fundamentals, business, value and game portfolio of Glu Mobile, looking for signals to believe that it has the ability to produce a hit in the future. Furthermore, I analyze several catalysts (from real money gambling to being the target of an acquisition) that could have a positive effect on the current stock price. As a result, I label Glu Mobile as a buy under a one year investment horizon, despite the terrible fundamentals the firm currently shows. Glu Mobile may not be a GungHo in the making, but the studio shows abundant signals that make me believe it is on its way to produce a massive hit, improve its monetization figures and eventually, enjoy the rewards that the market usually provides to successful studios.
Company overview
Glu Mobile is in the business of developing games for mobile devices. It is a relatively old company, as it was founded in 2001. In the beginning, they focused on feature phones. By 2008-2009 it started a transition towards smartphones, and this segment currently generates most of the total revenue. It embraces a "freemium" business model and it is mainly focused on creating original IP games with impressive 3D graphics. Some examples include: Contract Killer, Gun Bros, Deer Hunter, Blood & Glory and Samurai Vs. Zombies Defense. These games are available on iOS, Android, Windows Phone, Google Chrome and (sometimes) Mac OS. Its headquarters are in San Francisco. It has offices in Canada, China and Russia. It had an office in Brazil, which was closed last year. The company went public on March 21, 2007; at about $11.5 per share, getting an initial market capitalization of $327 million. The current market capitalization is less than $200 million.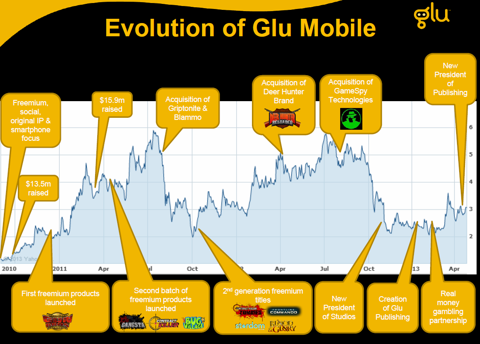 Quick facts: The company is currently under transition. They aim to embrace a new paradigm in gaming called Game as a Service, which I will explain later in detail. They are also introducing a third party developing division. The company it is not profitable, yet it is growing in revenue.
SWOT
S: 3D graphics, exposure to key markets (mobile, Asia), fast deployment, solid game portfolio (70 games), know-how, ability to build its own franchise (IP games).
W: Monetization.
O: Real money gambling, Game as a service new paradigm, possible acquisition target, new third party developers division, developing a viral hit.
T: Hyper competition, market pressure to become profitable as soon as possible.
Executive Summary
Despite not being profitable at the moment, I believe that Glu Mobile represents an excellent investment opportunity with a one year investment horizon. In a nutshell, my main thesis is that the market is not aware of the continuous progress made by Glu Mobile in the past 5 months, both in terms of audience metrics and game development. Instead, most investors tend to focus on the long term inability of the firm to break the buck. Glu Mobile may not be profitable but its MAU/DAU base has more than doubled in the past 2 years and it is making serious progress in the monetization field (an example is the monetization of the game Heroes of Destiny). At this pace, I expect Glu Mobile to enter profit zone in the next 6-10 months. Furthermore, there are several catalysts, from being the target of an acquisition to real money gambling, that could increase the return of investment.
Why the opportunity exists?
-- Efficiency: Glu Mobile has a solid portfolio of games. It employs less than 600 people and has a market capitalization of less than $200M, yet it has produced more than 70 games since December 2008. The company is very active in game releases (approximately 2 games per month), which makes me believe they have a fast deployment process.
-- Audience has more than doubled since 2011Q1: Glu Mobile's MAU and DAU are increasing at a healthy pace. The growth experience in user base has not been explosive because the firm was not able to produce a viral game so far. That being said, even at a mild growth rate, DAU/MAU have more than doubled since 2011.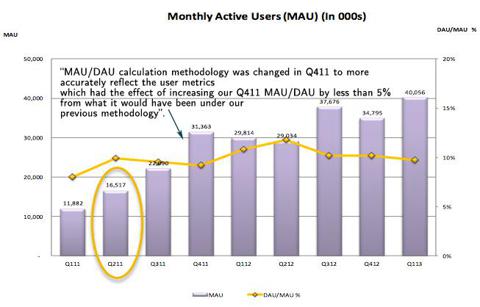 -- Exposure to key markets: To begin with, the company does not produce games for the PC or game consoles. Glu Mobile only produces games for feature phones and smartphones (including tablets). Furthermore, smartphone revenue has more than doubled since 2011Q2, making Glu Mobile practically a "smartphone" gaming company. This is great news for investors, if you consider that by 2016 "mobile" will be the primary hardware for gaming. Juniper Research projects 64.1 billion downloads of game apps to mobile devices in 2017, compared to the 21 billion downloaded in 2012.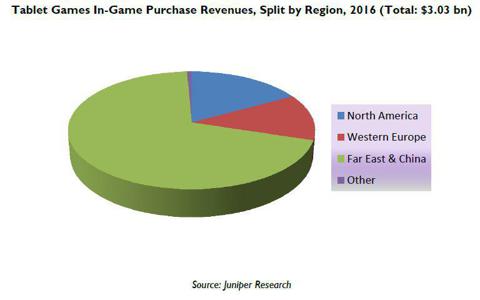 But there is more. In 2007, Asia/APAC region occupied 5% of the total revenue of Glu Mobile. The situation has dramatically changed in the past 5 years. According to the slides provided on the Analyst Day on May 30th (page 8), Asia now contributes about 30% of total revenue. And considering that smartphone penetration is still low in countries like China and India, where there are many gamers, I believe that there is plenty of room for further growth.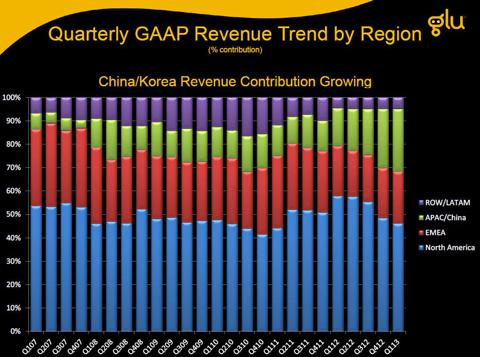 (Click to enlarge)
-- Transition towards "game as a service" (GaaS) paradigm looks promising: That's the way Glu Mobile has labeled its 2013-2014 product strategy. The necessity to shift to a GaaS paradigm became evident after the first quarter results. In 2013Q1, Glu Mobile launched 7 new products, all of them original IP games. While four of them were very successful in terms of reach (averaging as much as 40,000 new users per day), the company experienced certain user experience issues:
- The need of having clean, easy to use interfaces.
- Well balanced game systems
- Game progression
Furthermore, monetization (measured using ARPU, average revenue per user) was weak. These and many other signals suggested that Glu Mobile's games were very successful at release time but not after. Users were never engaged enough to spend money in the game. After a careful analysis, management found that in order for Glu to keep its users more engaged for longer time, it needs to stop making "single player" traditional games and start conceiving the idea of making games as a service. That's exactly the new paradigm the company has embraced. Specifically, new games are expected to:
- First of all, keep players online. Games should not be "just downloaded". Games need to have features that make it almost compulsory for the gamer to connect with other gamers. This adds virality and social mechanics.
- Present a persistent atmosphere.
- Include frequently updated contents and events.
- Introduce enough social mechanics in order to promote player interaction.
- Include e-commerce operations and analysis.
These new paradigm might sound very abstract at first glance, but it involves very concrete operations in order to increase user engagement and make games more addictive. Downloading the game should be the first step and not the last one. For example, GaaS involves addressing each gamer differently. A persistent gamer should always be identified as quickly as possible and he should be targeted specifically: he will see more game advertisement, more e-commerce buttons and different "suggested games". This involves a lot of investment in server infrastructure, as you need to analyze big data in real time to categorize your players optimally, but it also increases monetization. But it's not only about technology. There is an ongoing rebalance in organizational structure: less studios, "increasing talent density" (firing people), sharing central density (all the best studios have only one big data analysis department), streamline unprofitable teams, increase focus of senior management and investing in central services. As an example, in 2012Q4, Glu Mobile had 4 central services and 7 studios. The current organizational structure (2013Q2) is very different:
-- 2 business models in practice: In the beginning of this year, Glu Mobile announced the launch of its Glu Publishing arm. This new division works with third-party developers to help them expand their global reach. Since Glu Mobile is not anymore a first-party developer company, it can reduce risks by sharing development and marketing costs with other developers, while still collecting a 50% gross margin. While it is too early to predict success, Glu Mobile is giving many incentives to third party developers by providing help in distribution (cross promotion and direct marketing), technology (automated merchandising, in-game community), reach (translation, porting), funding (royalty advances, investments) and expertise.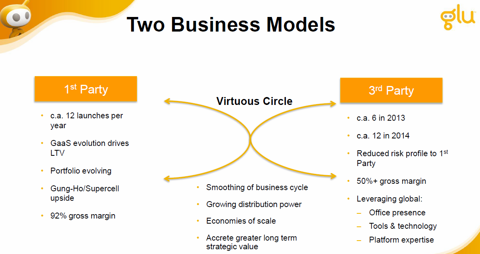 (Click to enlarge)
There are also 2 catalysts that could benefit investors: real money gambling and being a possible acquisition target. I will explain these 2 points in a separate section.
Glu Mobile's major weakness: Monetization
Of course, not everything is marvelous about this stock. It's time to introduce one of its major weaknesses: monetization. Historically, Glu Mobile has never enjoyed a high ARPU (average revenue per user) or ARPDAU (average revenue per daily active user). To show a recent example, in 2013Q1 the firm launched 7 new titles, all of them original IPs: Dragon Storm (Fantasy), Stardom: Hollywood (Pop Culture), Gun Bros 2 (Sci-fi Arcade), Small City (Casual City Simulation), Samurai vs. Zombies Defense 2 (Fantasy), Heroes of Destiny (Fantasy RPG) and Frontline Commando: DDay (WW2 First person shooter). Of these games; Dragon Storm, Gun Bros2, Samurai vs. Zombies Defense 2 and Heroes of Destiny all averaged 40,000+ new users per day.
Unfortunately, monetization metrics are far from perfect. As the graph suggests, with the exception of Dragon Storm, the new games did not monetize well. The upside is that the company tried a new monetization team with Heroes of Destiny. The team succeeded in increasing ARPDAU significantly without touching server-side tech features, like for example, data mining the user base to identify very active gamers and offer promotions to them aggressively.
This shows that Glu Mobile monetization failure is not due to a lack of quality in its games and ability to reach "critical user mass". Usually, when certain technological features (like graphics) are poor in quality, reach metrics are also poor. That is not the case of Glu Mobile. As a matter of fact, if compared with other public gaming companies, Glu Mobile has a high proportion of titles that appear in the top 200 games ranking of both the Apple App store and Google Play store. Glu Mobile's problem is related to the game concept and the lack of social mechanics. Many users see "downloading the game" as the last step. They do not spend time online when playing the game, and they do not interact with other users. This reduces user engagement in the long run and the possibilities of the game to go viral.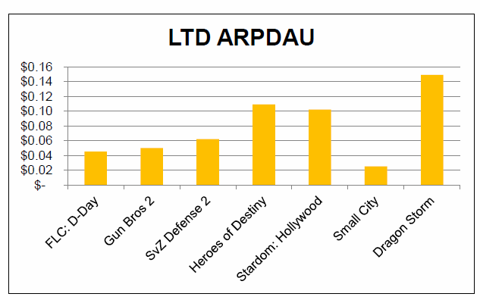 (Click to enlarge)
As I mentioned before, embracing the concept of game as a service can help to partially solve monetization issues in the middle run, while keeping excellent reach metrics. In this sense, the early success that the new monetization team had with Heroes of Destiny looks promising. By introducing GaaS features, the new team changed the focus of the game. Instead of producing single player amazing experiences, the new team focused on creating a primarily consumable economy inside the game, with deep meta-game systems and socially/competitive driven gameplay.
In this way, the concept of GaaS, which may sound very abstract at first glance, had direct consequences on the monetization of Heroes of Destiny. The following graph shows the improvement in ARPDAU:
Catalysts
-- A game hit: Glu has everything needed to develop a hit in terms of technology. Furthermore, the company is excellent at producing IP games, in terms of reach metrics. However, "single player" games do not usually become hits. The new GaaS paradigm can help to correct this issue.
In the Analyst and Investor Day presentation on May 30th, Glu Mobile gave more hints about what his future game portfolio will look like. Under the name of "Social Gaming 2.0", Glu plans to change the theme of its games, from hardcore and casual games (which bring high DAU but low ARPDAU) to more midcore focus, less casual & hardcore games (which bring more ARPDAU). It also plans to develop more games under 50MB, which can be downloaded not only using Wifi, but also using 3G. Finally, Glu will balance its 3D active mechanics with more 2D passive mechanics and introduce consumable goods and multiple spending paths in its game economies. In the past, all these features have been associated with famous games that became hits in the App Store.
-- Real money gambling: On May 30th, we came to know that Glu Mobile will allow U.S. players to win cash in one of its mobile games (via cash tournaments). Glu Mobile is not alone here. It has entered into a partnership with San Francisco startup Skillz, which will provide the technology behind this feature. The game chosen is Deer Hunter Reloaded, a hunting simulation game.
I expect more games to follow this trend. Furthermore, I think that the approach the company is taking here is very sustainable: it introduces real money gambling and at the same time, it introduces social mechanics, which tend to be very viral. Gamers will compete against each other for money.
These announcements are usually followed by improvements in upward momentum. To mention an example, when Glu Mobile announced on March 12th this year the launch of its first real money gambling game in the U.K. (a slots game featuring IP from the mobile game developer and publisher Glu's Samurai vs. Zombies Defense game), stock closed up 16.94 percent to $2.83 a share.
However, there is a medium run positive effect on profitability as well. Adding real money makes any game more interesting. This improves user engagement, monetization and, ultimately, profitability in any game studio.
-- A possible acquisition target?
Glu Mobile is attractive to giant gaming companies, with much more monetization know-how and marketing resources. These potential owners can take Glu Mobile to profit zone, while at the same time obtain artificial revenue growth and a solid game portfolio.
For those who may think that acquiring an unprofitable gaming company is irrational, there are many cases of giant gaming companies that paid top dollar for a game/studio that had already hit its peak. In the end, most of them ended up burning money, because the premium was too elevated and because metrics of the target application started decreasing soon after the acquisition. Glu Mobile offers exactly the opposite: the promise of developing a game hit in the future. Furthermore, despite not being profitable, Glu Mobile has a very decent balance sheet. For 2013Q1, Glu reported $21.2 million in cash and cash equivalents, which represents about 12% of its current market capitalization.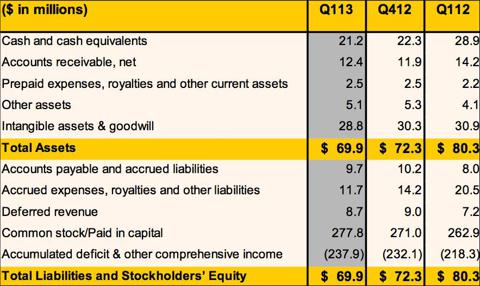 (Click to enlarge)
In his article "Glu Mobile's Acquisition Price Could Surpass $10", Brandon Osborne mentions some possible buyers, including Zynga. He mentions the recent change in business model as a crucial step in future monetization improvements. By the time Osborne wrote the article, the stock currently had an analyst growth estimate of 181% next year, and a 30% growth rate per year for the next 5 years (according to Yahoo Finance). Therefore, an acquiring company would need to pay an increased multiple on earnings due to high expectations on future growth. This could make the price target exceed $10. While I agree with most of his analysis, I do not think that all the companies he mentioned are potential buyers, specially Zynga. I think that any international gaming company looking forward to expand its business operations in North America would be more interested, because North America still generates about 50% of Glu's revenue. What is more important, many Asian giants can afford paying the premium!
Fundamentals and Valuation
Truth be spoken, from a pure value perspective, Glu Mobile is not a sound investment. This is because poor monetization has had direct negative consequences on Glu Mobile's fundamentals. First of all, in terms of operating profit, between 2005 and 2012, Glu Mobile had negative figures in every year, according to Morning Star: -76.99, -24.38, -8.31, -113.86, -18.79, -17.79, -32.08 and -25.27.
However, poor historic profitability is not only due to a bad monetization approach. We need to take a look at Glu Mobile's historic revenue to get more hints. If you look at revenue divided by its components (feature phone and smartphone revenue), you will see that until 2010 Glu Mobile was practically a feature phone mobile gaming company. Glu should have started its transition towards smartphone games sooner! The upside is that since 2010, the smartphone component has increased at an amazing growth rate. This is the main growth driver now. Also notice that since 2010, Glu Mobile has managed to revert its decreasing revenue trend.
Using a discounted cash flow model spreadsheet from Old School Value, I estimated the fair value of Glu Mobile under the following pessimistic assumptions: an average revenue growth rate of 7.8% for the next 10 years (which is equal to the average revenue growth rate for the past 10 years), a terminal growth rate of 3% and a discount rate of 12%. Under these assumptions, I obtain a fair value of -$3.41 per share. This is not surprising, considering the way the DCF model treats unprofitable companies.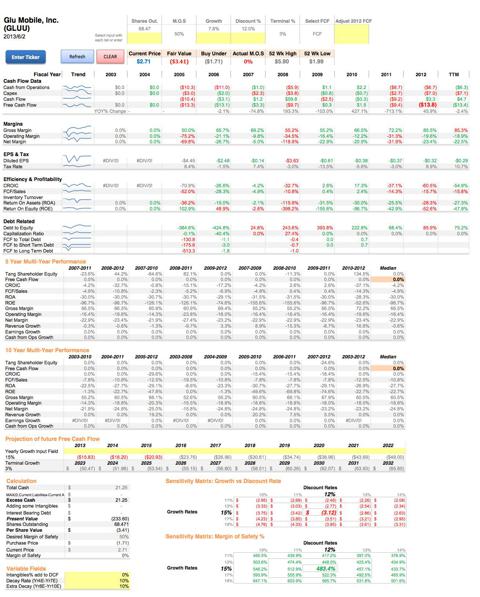 (Click to enlarge)
Variant View and Risks
-- Always keep in mind that this company is not profitable at the moment. This is because the company started its transition from feature phone focus to smartphone focus quite late and also because it employed a weak monetization approach in the past. The company has a solid transition plan but there are no guarantees that they will enter profit zone any time soon.
-- There is a risk that Glu Mobile will improve its monetization at the expense of its reach metrics.
-- Embracing the concept of "gaming as a service" in practice is very challenging.
-- Mobile gaming is a hyper competitive business.
-- Legislation about online real money gambling in the U.S. is currently not favorable to the interests of Glu Mobile.
-- Even if online real money gambling were to become legal in the U.S., there are plenty of international firms with more knowledge about this field that would enter the market almost immediately, making competition very fierce and eroding margins.
References
-- Glu Mobile finances have been obtained from Morningstar.
-- Glu Mobile Investors Relations.
-- Valuation spread sheet and FCF graph from Old School Value.
-- Presentation slides from Glu Mobile Analyst Day (May 30th, 2013).
-- Presentation slides from Glu Mobile at B. Riley & Co. Investor Conference
-- 10 K (March 15th, 2013)
-- Glu Mobile Inc. CEO Hosts Analyst Day (Transcript by Seeking Alpha)
-- Glu Mobile's CEO Discusses Q1 2013 Results - Earnings Call Transcript (via Seeking Alpha)
-- Real Money Gambling: Not Where The Money Is At For Glu Mobile (Seeking Alpha Premium Article, Kevin W.)
-- Juniper Research: Mobile and Tablets Games report.
-- Glu Mobile's Acquisition Price Could Surpass $10 (Seeking Alpha Premium Article, Brandon Osborne).
-- GungHo Online Entertainment trades in JASDAQ under the ticker 3765.
-- Gree Inc. trades in Tokyo Stock Exchange under the ticker 3632.
Final Remarks
Rating: Buy
Investment Strategy: Special situations
Investment Horizon: 1 year
Uncertainty: High
Disclosure: I have no positions in any stocks mentioned, but may initiate a long position in GLUU over the next 72 hours. I wrote this article myself, and it expresses my own opinions. I am not receiving compensation for it (other than from Seeking Alpha). I have no business relationship with any company whose stock is mentioned in this article.