Since the credit crisis hit, deleveraging and paying off debts has been a number one priority for many. In doing so, a majority are in a much stronger position financially and this will be beneficial as the economy grows. While wage rises are still few and far between, consumer spending has shown a marked increase over the last year, and with spending comes profits.
One of the first sectors to feel the benefits of consumers opening their wallets is the retailing industry and this can spur strong rising profits during periods of economic growth. While it may be premature to buy into the large cap names such as Wal-Mart (NYSE:WMT) or Target (NYSE:TGT), some small or mid cap rising companies offer a great investment opportunity.
One company that has been gaining momentum is Conn's Inc (NASDAQ:CONN). The specialty retailer currently operates 70 stores in Texas, Louisiana, Oklahoma, New Mexico and Arizona and is expanding. They sell a wide range of products from home appliances to furniture and continue to add further products satisfying customer's demands. One standout feature that separates this company from many of its competitors and provides them with a distinct advantage, is Conn's flexible in-house credit for customers. This enables them to attract low income earners who would otherwise be deterred from paying for new top of the range products.
Conn's started out as a Plumbing and Heating Company in 1934, and through understanding its customer needs they developed over the years into the fast growing retailer it is today. The quality in-house credit service that provides Conn's with a unique selling point was created back in 1964 when Conn Credit Corporation was formed. This provided accessible financing allowing consumers to purchase products they needed for their homes.
The long history of combining consumer credit and competitively priced products has provided Conn's with a robust and successful business model which is likely to catapult them further over the next few years.
Conn's Financial History
Growth has remained an integral part of the company over the long term, however it is not until the last 18 months that Conn's has become such an attractive investment.
The successful business model has always supported strong revenue and a foundation to grow on, however, margins were fairly low (common to a number of larger retailers) and debt levels were comparatively high weighing down EPS.
Conn's have closed 13 poor performing stores since 2011, and focused expanding on the most profitable layout (large 35,000 sq. ft.) and locations for new store openings. New stores have increased markedly, and they are able to be profitable within a year of opening which can compound earnings growth significantly. A fundamental support to growing earnings has been the almost doubling of gross margins over the last 3 years.
The in-house financing remains a fundamental part of the business but as the company becomes more known, this supports the growing market share amongst low income earners.
| | | | | | |
| --- | --- | --- | --- | --- | --- |
| | 2008 | 2009 | 2010 | 2011 | 2012 |
| Revenue ($m) | $824 | $891 | $837 | $791 | $865 |
| Net Income ($m) | $26 | $8 | -$1 | -$4 | $53 |
| EPS | $1.14 | $0.34 | -$0.04 | -$0.12 | $1.56 |
| Debt to Equity | | | 1.1x | 0.9x | 0.6x |
Debt has been slowly reduced over the past couple of years as margins increase and some debt has been paid off through a secondary share issue, currently there is additional liquidity of $290m if required.
The first quarter of 2013 showed the continued development in sales growth and successful store openings. Same-store sales rose 16.5% from the prior period, with all major retail segments rising in the double digits. Top performers were furniture and mattresses sales rising 73% (YoY), this sector now represents 23.5% of total products sales and looks to continue growing in the short-to-medium term towards the target of 30% total sales.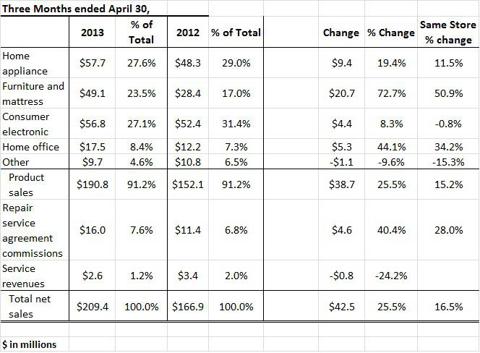 Fiscal 2014 EPS has been repeatedly increased as sales continue to beat estimates; Conn's having recently announced its quarterly earnings, it has been revised upwards again to $2.50-2.60 (representing a lower end estimate forward P/E of 20).
A Fast Growing Environment
The environment in which a business operates is fundamental for a company to successfully grow, and Conn's strong presence in Texas and southern US states should facilitate a high growth rate going forward.
Between 2011 and 2012, five out of the ten fastest growing cities in the US came from Texas. A large number of people have chosen to move to the South and there are some compelling reasons as to why.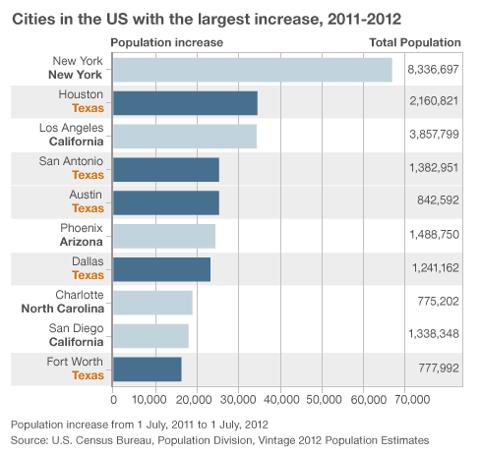 Jobs - Oil and Gas boom has driven a bulk of the job creation, however, strong growth has been seen in the Tech and Manufacturing sectors. Four out of the top 10 fastest areas for job growth for 2013 are within Texas.
Cheaper - The cost of living in Texas, Houston especially is very low relative to the mean. Utilities, transport costs, consumer prices and home prices are all below average and this provides the perfect environment for retailers.
Houses - Land and fewer regulations make the process of building a house much easier and more cost effective than many other states.
Low Tax - Texan residents do not pay personal state income tax. Texas is one of seven states that do not pay this which contributes to the low tax burden on its residents.
Texas is not the only fast growing southern state, Arizona has also seen strong growth and the store presence in these areas put Conn's in good stead to expand quickly.
A Business Model That Facilitate High Growth
The retail sector has struggled to compete with the likes of Amazon (NASDAQ:AMZN) as cheap online products have deterred customers to go in store. Not only does Conn's have competitively priced products, its unique in-house financing for customers has allowed it to generate a significant barrier to entry for the subprime earners and grow a large customer base.
Low income earners who have little disposable income would typically struggle to afford top quality branded products. The in-house credit facility allows consumers within this bracket to access its products, and as you can see below a large proportion of Conn's customers sit within this range.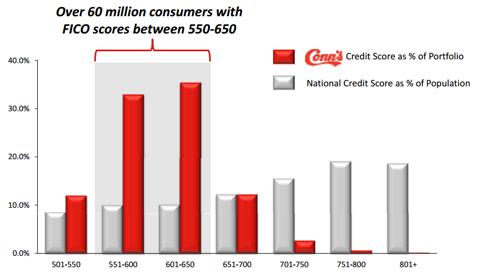 The credit facility allows customers to purchase more expensive products as a result and this is reflected through their average TV selling price of $1,001 versus the market average of $411 (as at FY2013). Furthermore, it generates a large proportion of repeat business; 76% of repeat customers have credit balances and 70% repeat customers have credit invoices.
There are two significant attributes which makes Conn's business model so successful.
Recurring Revenue - the credit facility allows low income earners to access high quality products which they would not be able to obtain elsewhere, this then generates a large proportion of repeat business.
High Barriers to Entry - Conn's has been offering in-house credit for over 45 years to subprime earners, this is unique as very few competitors offer this facility. Many other retailers would not attempt to offer similar credit due to a lack of experience and high capital requirements.
With a large repeat customer base and growing margins, Conn's has been able to exhibit strong growth and its share price has reflected this over the past two years.
The scalable business model has led to five new stores being opened in FY2013, and Conn's are targeting between 10-12 stores for this coming year as store rollouts have become more efficient. They are targeting a 10-15% new store growth rate per year with a focus on large urbanized areas to capture a wider customer base. The most recent stores are exhibiting above average sales growth, this is largely due to location. Extensive research into the most profitable markets has been undertaken before launching new stores, this has enabled Conn's to capture a wider customer base focusing on their core (low income) earners.
The following chart shows the new store model and capital requirements and return on capital time scale.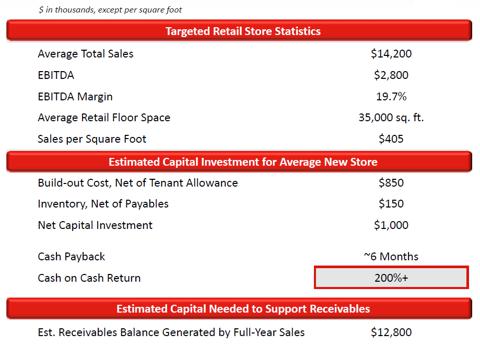 In order to drive earnings higher, Conn's have been focusing on increasing margins by targeting high cost products that offer a greater profit margin. This has been accomplished by increasing the direct purchase of goods straight from the source rather than through distributors, as a result the average transaction size has increased from $970 to $1,325. This has successfully allowed them to grow gross margins from 35.2% in 2012 to 40.3% in Q1 2013 helping drive higher EPS. One area that has seen a large increase in market share has been within furniture and mattresses, these offer larger margins and continues to exhibit strong sales growth.
Furniture and mattress retail segment is an area which Conn's are looking to expand on, adding in a wider range of products to suit customer demand. This includes dining and bedroom furniture which saw strong sales growth in Q1, rising 90% YoY.
Conn's gross margin came in line with its long-term target on the retail business segment of 40%. However, it is unlikely this will be maintained for this full year. It estimates this to average between 37-38.5% for FY2014.
The newly designed website has also helped drive online sales and an increase in credit applications. This has further room to grow and the growing store presence will help facilitate awareness.
A new focus on customer satisfaction has led to a change in the sales force training and commission based sales. As a result, customer satisfaction rose by 24% to 92% from 2011-12 which is important in driving brand image and store expansion.
Conn's Credit
In-house financing has made Conn's extremely popular amongst lower income earners, and the credit facility has shown its success in recent years driving over 70% of sales. This is integral to the success of Conn's business model and it is important to understand how they manage the credit portfolio.
Conn's uses a combination FICO scores and qualitative measures when underwriting customer applications. The average credit score of applications received is 601, and the approved average is marginally higher at 602. The typical customer's income for sales financed is $40,000, the "near-prime" earners with limited access to disposable income.
Conn's offers a number of different credit facilities; Payday Lending, Weekly Rent-to-Own, Monthly Rent-To-Own, Conn's Core Customer - Limited Available Credit and Readily available revolving credit and Promotional credit.
After the credit crisis, in-house financing requirements were tightened raising the average FICO score; however, this has now been reduced slightly as earnings growth is supportive of the marginal increase in risk.
The following chart shows the broad spread across the credit portfolio and the changes since 2009.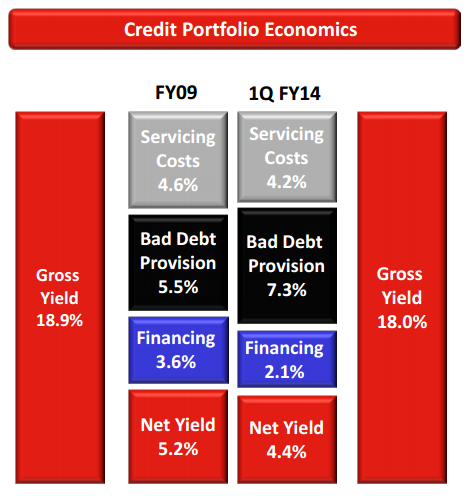 While the gross yield has fallen slightly, the operating income from the credit segment rose to $11.7m for Q1 2013, an increase of 5.5% due to rising retail sales and higher credit penetration over the last 12 months. The gross yield fell slightly due to the inclusion of promotional financing of an interest free period. The benefits of increased repayment speed outweighed the increase in yield as it allows Conn's to reinvest capital quicker.
The increase in bad debt provision is driven by higher-than-previously anticipated sales growth and the related acceleration in projected portfolio growth, rather than a rise in consumers failing to repay debt.
Headwinds
The major risk Conn's is facing are from a macro standpoint: either a significant rise in interest rates, or fall back into recession would be detrimental to the growth outlook. The low income earners would be the first to feel a squeeze on disposable incomes, and as a result credit repayment would fall, and the bad debt provision would increase.
One hurdle for fast growing businesses is managing inventories, I have seen a number of retailers struggle to meet up with demand and this can be detrimental as sales will be lost. This has already been an issue for Conn's, and inventory shortfalls accounted for approximately $2m loss in revenue for the first quarter. This is currently a priority to become more efficient in and I expect this to be under control by the end of next quarter.
As I have previously written, it can be difficult to judge fair value for a company that is in an aggressive growth phase, and as a result valuations can become too high. This does not seem the case for this company currently; however, one should keep a close eye on progression of store openings, margins, retail sales and the credit environment.
Valuation and Growth Model
The recent rise in Conn's share price to new highs of $54 following its Q1 update still offers great upside potential factoring in the future growth this company has to offer. Strong gross margins maintaining around 40% will facilitate higher EPS, and 10-15% store growth rate will allow it to compound growth going forward.
Based on the current environment and store expansion rate (conservative lower end - 10%), I calculated the share price estimate using earnings growth. Other valuation models were inaccurate; FCFF was not used due to the high spending against cash flow warping valuations. Dividend discount model was not used as Conn's currently has no yield. As gross margins have risen so much, previous earnings (2012) do not provide a realistic earnings projection; therefore the lower end estimate for this year ($88m) was used.
Lower End Valuation
2013

2014

2015

2016

Net Income ($000s)

$88,000

$106,480

$129,107

$156,648

Shrs Outstanding (000s)

35210

35210

35210

35210

EPS

$2.50

$3.02

$3.67

$4.45

Projected Net Income Per Store

$1,100

$1,210

$1,331

$1,464

Stores

80

88

97

107

Total Net Income

$88,000

$106,480

$129,107

$156,648

2016 Price based on P/E of 20

$88.98

Discount Rate (Cost of Equity)

7.90%

Discounted Back

$65.65

Current Share Price

$54

Upside

21%

Assumptions

Lower end store growth estimate of 10%

Sales growth rate 10%, conservative in current environment and forecasted GDP growth through to 2016.

Price to Earnings in 2016, based on current forward P/E on year end 2013 net income estimate
Higher End Valuation
The higher end valuation has been calculated using Conn's top end estimate for sales and store growth
2013

2014

2015

2016

Net Income ($000s)

$88,000

$116,380

$154,204

$204,101

Shrs Outstanding (000s)

35210

35210

35210

35210

EPS

$2.50

$3.31

$4.38

$5.80

Projected Net Income Per Store

$1,100

$1,265

$1,455

$1,673

Stores

80

92

106

122

Total Net Income

$88,000

$116,380

$154,204

$204,101

2016 Price based on P/E of 20

$115.93

Discount Rate (Cost of Equity)

7.90%

Discounted Back

$85.50

Current Share Price

$54.00

Upside

58%

Assumptions

Higher end store growth estimate of 10%

Sales growth rate 15%, conservative in current environment and forecasted GDP growth through to 2016.

Price to Earnings in 2016, based on current forward P/E on year end 2013 net income estimate
Based on the above estimates, the share price offers between 21% and 58% upside potential from the current price. Top end estimates factor sales growth over the next 3 years of 15%, this is still below 2013 Q1 same-store sales growth of 17%, and less so against more well placed new stores growing at markedly higher rate. Their long-term target of 200 stores may be reached quicker than anticipated and their rapid expansion is one to watch.
Share price performance over the past five years has been robust, and the previous year the share price has risen over 200% largely due to a significant rise in EPS. Margins have almost doubled since 2011 driving a majority of the rising earnings.

Conn's not only has an excellent business model built to capture the low income end of the retail market, they have a strong foothold in a fast growing part of the US which should support a strong growth rate over the next few years.
Please note. Financial Data has been sourced from quarterly earnings reports and company earnings calls.
Disclosure: I have no positions in any stocks mentioned, and no plans to initiate any positions within the next 72 hours. I wrote this article myself, and it expresses my own opinions. I am not receiving compensation for it (other than from Seeking Alpha). I have no business relationship with any company whose stock is mentioned in this article.