In an article I wrote just a few days ago, I addressed the recent "sell-off" related to most all REITs and especially the "bond-like" Triple Net version. It seems that because the Triple Net REITs are closest to bonds in terms of having contractual long-term leases, the stable and less volatile sector was hit the hardest. As I explained:
This is no argument that Triple Net REITs have seen some dizzy highs, and recently some fearful dips. Like most REITs, fortunes have reversed over the last few days as investors got spooked by Mr. Market's mention of anything related to the word "dividend".
Of course, we all know that REITs aren't bonds and presumably that has created somewhat of an opportunity for investors to seek better risk-aligned dividend options without sacrificing the same capital appreciation risk we saw a few days ago.
I always like referring to some of my older articles (especially when I call the plays and they actually work) and I wanted to remind you of the "harbinger" I wrote about back in December (2012):
Investors take caution! Cap rates have compressed to historically low levels and in this low interest rate period, one should consider the continued widening of the risk curve. Remember that investing consists of exactly one thing: dealing with the future.
So clearly "dealing with the future" is the essence of risk taking. With the last jobs report on Friday (175,000 jobs in May), it appears that there is little sign that interest rates will rise significantly in the near term. Presumably, as long as the low rate environment remains in place, investors should look for the best "risk adjusted" REITs to own; that means the ones that offer a strong dividend as well as a fairly priced value proposition.
Let's take a look at the Triple Net valuations today (as you can see I include the broader definition of Triple Net REITs to include some Industrial and Free-Standing Retail REITs):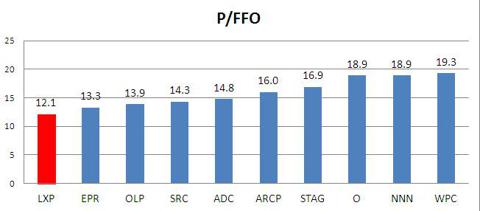 It is clear to see that Lexington Realty Trust (NYSE:LXP) has the lowest P/FFO (Price to Funds from Operations) multiple in the Net Lease sector. In addition, the $2.6 billion (market cap) REIT appears to becoming less visible company (in terms of size), especially when compared with the wave of growth and recently announced mergers with American Realty Capital Properties (ARCP) and CapLease (NYSE:LSE); as well as the announced combination of Spirit Realty Capital (NYSE:SRC) and Cole Credit Property Trust II.
Could Lexington be another takeover target? After all, the Triple Net industry is amazingly hot right now and the recently announced CapLease deal ($2.2 billion) should provide attractively accretive income for ARCP (the proposed new buyer) investors. As the list of possible buyers gets larger, it's clear that the importance of "scale" brings more meaning to the Triple Net industry and we are now seeing the giants beginning to form.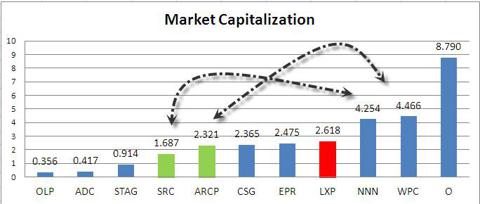 Lexington Property Trust: A Well-Positioned Target
Lexington Realty Trust was formed in 1973 and commenced operations as a REIT in 1993 (IPO was October 12, 2993). Lexington has 224 properties and the company has originated an impressive portfolio of facilities leased to numerous small, medium, and large companies operating in a broad range of industries including energy, finance, insurance, technology, automotive, healthcare, telecommunications, retail, media, consumer products, and aerospace/defense.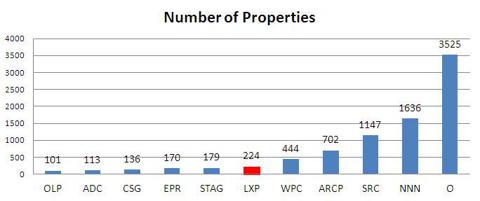 Lexington has a diverse property base that consists of 116 office properties (15.7 million square feet), 60 industrial properties (21.6 million square feet), 31 retail/specialty properties (1.7 million square feet), and 13 multi-tenant properties (2.2 million square feet).

This diversified portfolio of assets mitigates the binary nature of tenant default risk, providing an investor with comparable multi-tenant risk, but at a higher yield. Here is a snapshot of Lexington's portfolio: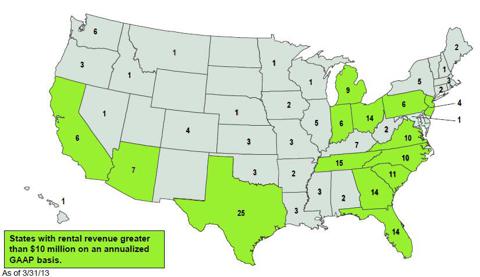 None of Lexington's tenants comprise more than 3% of overall revenues and the largest of Lexington's tenants is Metalsa Structural Products Inc., with around 2.8% of gross revenues. Other major tenants include Bank of America (NYSE:BAC), Baker Hughes Inc. (BHI), Federal Express Corporation (NYSE:FDX), Wells Fargo (NYSE:WFC), and Swiss Re America Holding Corporation (OTCPK:SSREY).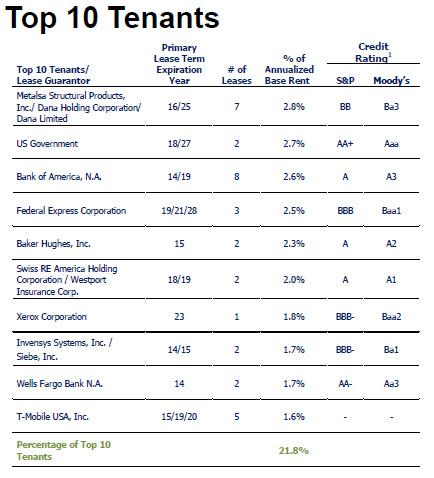 Given the large percentage (48.8%) of investment grade rated companies, I would think that Lexington's larger peer group would find the portfolio highly attractive. Given the focus on improved credit quality, W.P. Carey and Realty Income seem to be the best candidates since these two REITs are striving to increase investment grade rated exposure.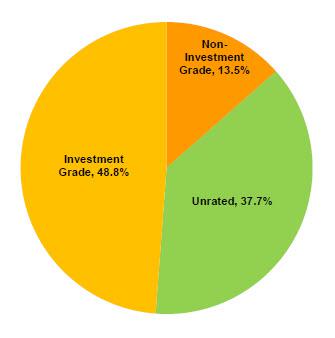 Also tenant retention is an equally important attribute and Lexington's balanced lease rollover schedule provides an important element to a "would be" investor. The company has around 2.1% of single tenant rent expiring in 2013 and it has mitigated some of the lumpier expirations due in 2014. In the first quarter of 2013, Lexington leased (or extended leases) on 427,000 square feet, of which 144,000 square feet was related to suburban office properties (and 164,000 square feet of leases expired and were not renewed).

Lexington Realty Trust: The Value in the Brand
One of the biggest differentiators for Lexington has been the strategic deleveraging and accretive acquisition initiatives. By selling non-core and under-performing assets, Lexington has been able to recycle capital to provide full value optimization. In addition, Lexington has continued to pay down its secured debt making the balance sheet much more efficient.
Lexington has trimmed its portfolio by completing over $50 million of dispositions so far this year and the company is targeting $100 million to $150 million of disposition activity in 2013 with the net proceeds invested in new acquisitions.

One of the primary differentiators for Lexington has been its external growth strategy. By originating assets "organically" Lexington has been able to produce higher risk-adjusted returns. For example, Lexington has four build-to-suit projects underway for an aggregate value of around $111.2 million (of which $48.2 million was invested as of 3/31/13).
In addition, Lexington has a forward commitment for $39 million (with a Q4-13 delivery date). In March (2013) Lexington acquired a facility in Houston, Texas for $81.4 million and the company says (source: Investor Presentation) that it has a pipeline of approximately $200 million of potential deals (with a weighted-average initial cap rate of approximately 8.2%).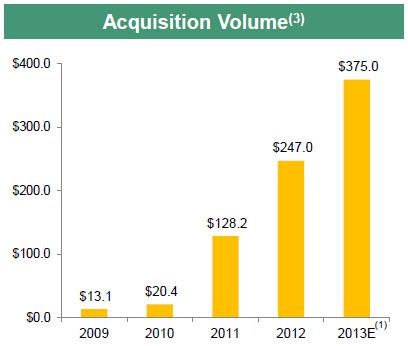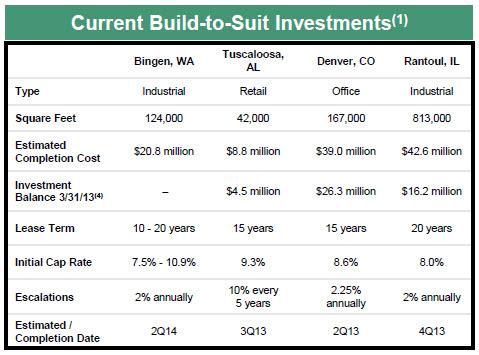 As Will Elgin, Lexington's CEO, explained during the most recent (Q1-13) earnings call:
Based on our investment pipeline of good prospects, we anticipate 50% greater volume compared to last year. We believe that this increased investment activity will contribute meaningfully to our company's funds from operations in 2014 and beyond. The opportunities we are currently working on are supported by long-term net leases at going in cap rates of between 6.5% and 9%, typically with annual escalations of 2% to 3%.

However, we can give no assurance that these expectations will be realized. Currently, we expect the build-to-suits will have the largest allocation of capital in 2013, but we believe there are attractive opportunities in sale/leaseback and in first mortgage lending on single-tenant properties.
If I were buying Lexington today, I would be focused on the asset origination attributes. Since ARCP has announced that it is acquiring CapLease, a similar REIT with a development-based management team, I would not expect ARCP to "double down" and invest in a competing development platform. However, Realty Income and W.P. Carey do not have the same personnel in place and that could provide "alpha" …
Lexington Realty Trust: Balance Sheet Looking Better
As noted above, Lexington has been recycling assets and the deleveraging efforts have been paying off. Staring with debt-to-market cap, Lexington has significantly improved its level of debt from 70.99 in 2008 to 37.33 (as of Q-13).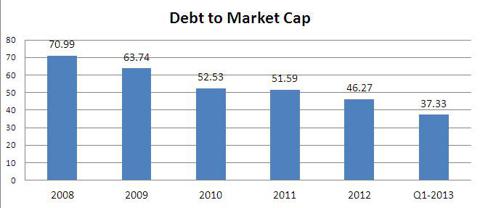 However, compared to the overall peer group, Lexington still has more leverage than most others.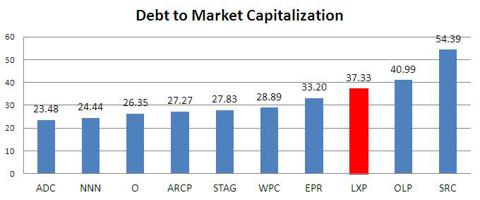 Lexington has been taking steps to position the company to access the bond market and possibly achieve an investment grade rating. More than half of Lexington's net operating income is unencumbered and secured debt has come down (less than 23% of gross assets). The unencumbered NOI and asset pool and the secured debt metric have been the best in quite some time.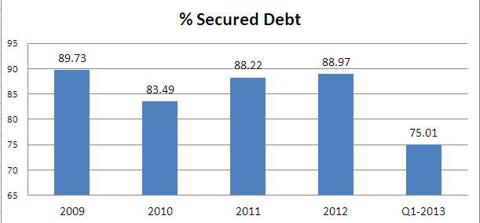 Total debt consists of $1.694 billion (as of March 31, 2013) including $1.269 billion in mortgage debt, $41 million in convertible mortgage notes, $129 in trust preferred, and $255 million term loan (due 2019).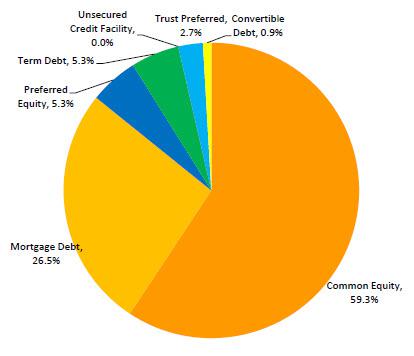 Lexington has common equity of around $2.83 billion (as of March 31, 2013) and two preferred issues: Preferred C (6.5% coupon). Preferred D was recently retired.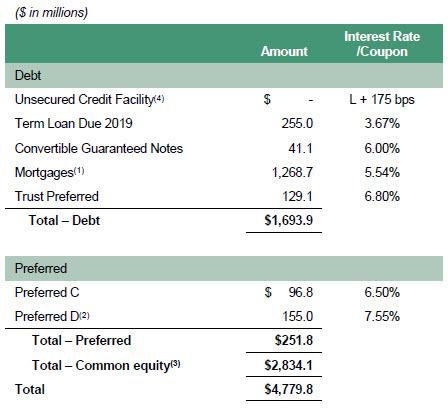 Since commencing its deleveraging platform (in 2008), Lexington has reduced leverage by over $1.4 billion, a signal that the rating agencies are likely to appreciate. Debt was reduced from $3.04 billion (in 2007) to around $1.69 billion (as of March 31, 2013).

In addition, Lexington has well-laddered debt maturities (most all is fixed-rate). During the quarter, the company retired $168.6 million of secured debt which had a weighted average interest rate of 5.5% and subsequent to quarter end, Lexington retired an additional $177 million of secured debt at a weighted average interest rate of 6%.

Lexington has significant opportunity to refinance its debt and reduce debt service payments. During the period 2013-2015, Lexington has balloon maturities that total around $445 million at a weighted-average rate of 5.5% with a current pay rate of 8.7%. (of course, Realty Income also has a war chest of capital that could be used to pay off all of the debt).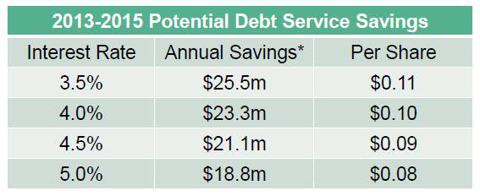 Lexington Realty Trust: A Compelling Income Play
Lexington has been able to maintain a consistent occupancy ratio by expanding its weighted average lease term to 7.5 years (compared to 6.3 years a year ago). Of course, that is still not the 11-12 year average that Realty Income, American Realty Capital Properties, or W.P. Carey enjoys.
Perhaps that is the reason that one of the larger peers (REITs) has not made a run at Lexington (yet); however, as the law of averages improves (for Lexington), I suspect the other REITs will notice. As evidenced by the more recent deals, Lexington has been successful at "moving the needle" quicker. Here is a snapshot of Lexington's occupancy level compared with the peer group: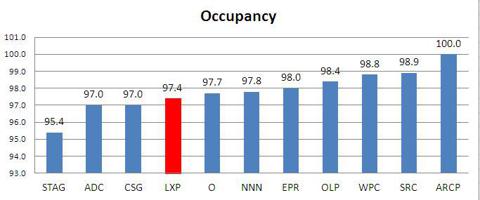 Prior to the Great Recession, Lexington was able to generate strong cash flow and Funds from Operations (or FFO); however, when the financial meltdown and weakened credit markets worsened, Lexington's cash flows suffered. Upon further examination, we can see that Lexington was forced to make a significant dividend cut in 2009.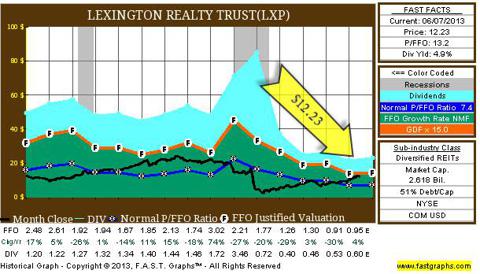 Here's the dividend history:

Today Lexington appears to be very reasonably valued based on traditional measurements of valuation regarding a REIT. As noted at the outset, Lexington has the lowest P/FFO multiples in the Peer Group (12.1x) and based upon reasonable valuation metrics that include fair value relative to its income (the pinkish purplish line on the graph), and its intrinsic value based on funds from operations (FFO - the orange line marked with an F) I find conclusive evidence that Lexington has a sound "margin of safety."
Lexington did start growing its dividend in 2011, and both the dividend and funds from operations have grown rapidly since as depicted on the graph below. (Chart provided by FAST Graphs™) Note: The shaded blue area represents dividends paid and the black line is the price.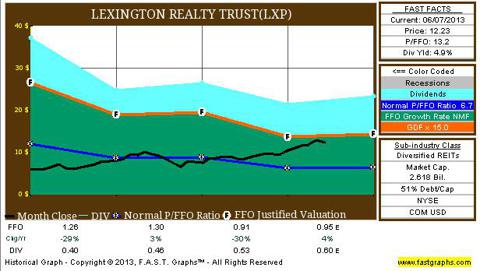 During the first quarter, Lexington's funds from operations as adjusted were $0.25 per share and the company FFO per share guidance for 2013 is in the range of $1.01 to $1.04 per share.
In regards to dividend increases and since the financial crisis, Lexington has increased its taxable income by over 50%. With a conservative FFO payout ratio of 60% (see chart below), I expect to see Lexington continue to grow its dividend. As Patrick Carroll, CFO of Lexington, explains in the recent (Q1-13) earnings call:
We think the taxable income will be higher next year than it is this year. We believe that the free cash flow of the company that we pay dividends and that will be greater than taxable income. So, as we look at how our cash flow covers our dividend, there should be, I think very strong coverage next year.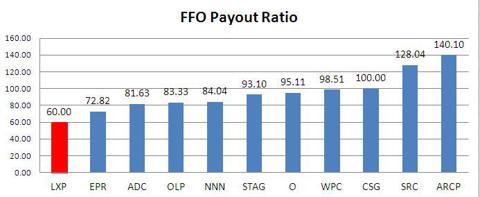 Lexington's current dividend yield is 4.91%.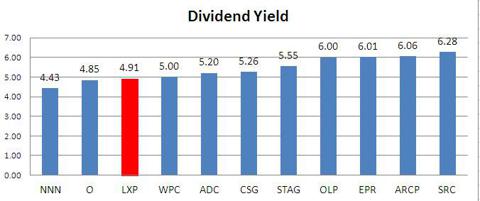 Is Lexington a Buy?
Given the modest P/FFO multiple (12.5x), improved balance sheet fundamentals, sustained occupancy, and risk-adjusted acquisition pipeline, I consider Lexington a BUY. In fact, I included Lexington in my "Ben's Bargain" box that is included in The Intelligent REIT Investor newsletter. Over the last year, Lexington has held up well with a total return of 56.18%.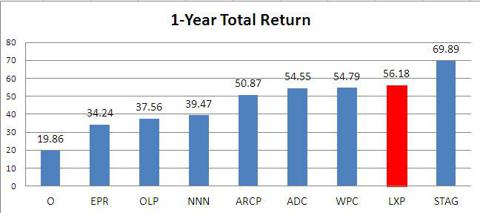 And since the financial meltdown, Lexington has performed at high levels with a total return of over 168%.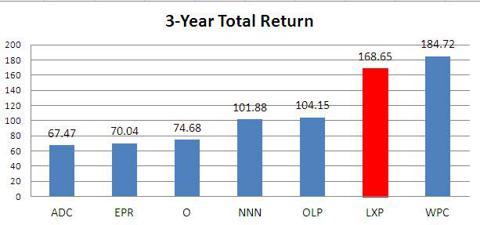 The shares are trading today at $12.23 and I see considerable upside in Lexington as the wave of Triple Net consolidation continues. The management team has done a terrific job at simplifying the balance sheet and recycling non-core assets. As Columbia University's Joel Greenblatt framed the "margin of safety" concept:
it's about figuring out what something is worth, and then paying a lot less for it.
Said yet another way, the "margin of safety" is the essence of value investing because it is the metric by which hazardous speculations are segregated from bona fide investment opportunities. Clearly Lexington is the cheapest Triple Net REIT today and what it does not have in yield or diversification, it makes up in value.
Lexington is a "diamond in the rough" and I'm sure that I'm not the only investor (or REIT) that sees the "wide margin of safety" and the benefits for investing in a company with low risk and greater potential for gain. Indeed Lexington is summed up as a REIT with "a favorable difference between price on the one hand and indicated or appraised value on the other."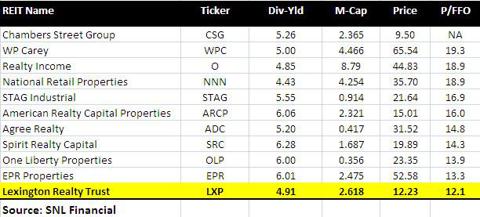 Source: SNL Financial, Lexington Investor Presentation, FAST Graphs
Other REITs mentioned: (NYSE:CSG), (NYSE:NNN), (NYSE:STAG), (NYSE:ADC), (NYSE:OLP), and (NYSE:EPR)
Disclosure: I am long O. I wrote this article myself, and it expresses my own opinions. I am not receiving compensation for it (other than from Seeking Alpha). I have no business relationship with any company whose stock is mentioned in this article.