For the most part, I've always been pretty happy to sit on the sidelines and let people smarter than me invest in gold. It isn't that gold doesn't interest me. My problem is that I have no idea how to value it with any precision. How do you value something that has no real use?
Other commodities -- like oil, natural gas, and agriculture -- are vital for the world's economies and human survival. Those, I think, have to be worth at least the marginal cost it takes to produce them. Gold, on the other hand, looks pretty and seems to be what people flee to in times of panic and high inflation. Most of the world's gold sits in central bank vaults and is not used for anything.
My avoidance of gold has resulted in me missing this bull market:
Click to enlarge images.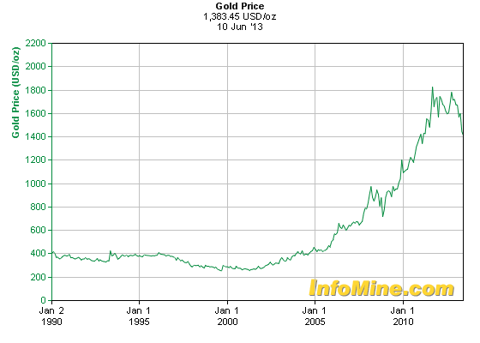 There aren't many places that would have been a better place for my money over the last 10 years than gold. But over the past six months the price of gold has dropped pretty dramatically. Gold is down over 20% from its high point as of today.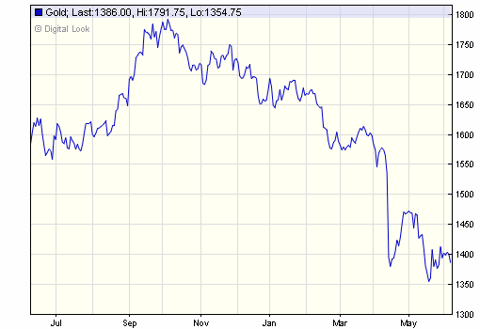 Is the bull market in gold over? Are we heading lower still?
Market observer Nouriel Roubini thinks so:
The run-up in gold prices in recent years -- from $800 per ounce in early 2009 to above $1,900 in the fall of 2011 -- had all the features of a bubble. And now, like all asset-price surges that are divorced from the fundamentals of supply and demand, the gold bubble is deflating.

At the peak, gold bugs -- a combination of paranoid investors and others with a fear-based political agenda -- were happily predicting gold prices going to $2,000, $3,000, and even to $5,000 in a matter of years. But prices have moved mostly downward since then. In April, gold was selling for close to $1,300 per ounce -- and the price is still hovering below $1,400, an almost 30% drop from the 2011 high.

There are many reasons why the bubble has burst, and why gold prices are likely to move much lower, toward $1,000 by 2015.

Roubini goes on to say gold continues to be John Maynard Keynes' "barbarous relic," with no intrinsic value and used mainly as a hedge against mostly irrational fear and panic. I agree with much of what Roubini says about gold, but I'm not sure I agree that the price of gold is going to fall. In fact, it could very well be that gold is going to go a lot higher.
While we have yet to see even a whiff of inflation, the fact is that central banks worldwide have been engaged in unprecedented easy money policy for over five years now. Japan is even now cranking it up another few notches. The pump is primed for currency devaluation and serious inflation, which is the type of environment where gold theoretically should shine as an investment.
That is why I feel inclined to side with the very smart hedge fund manager David Einhorn, who in his first quarter letter to investors said the following about gold:

David Einhorn Q1 2013

Now every major central bank is fully engaged in aggressive, unconventional policy. It seems that as each bank implements a new experiment without immediate consequence, the new policy is deemed safe, if not effective. Other central bankers notice and, acting in the philosophy of 'Anything you can do, I can do better,' take turns in one-upmanship. This serially correlated behavior smacks of bubble mentality. But investors are currently complacent about the unintended consequences of central bank money printing, and like most investment cycles and fads, this will persist until it doesn't. Under the circumstances, it is curious that gold isn't doing better. (emphasis added)

But perhaps the best idea is not to have a naked long gold position. Maybe a better way to go about this would actually be to short gold and go long gold mining stocks. Because while gold has had a bit of a rough ride over the past year, the junior gold miners have been absolutely destroyed.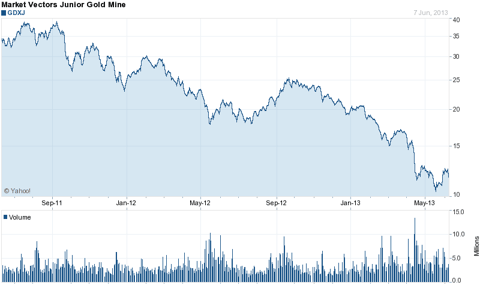 Gold is down 25%, while Market Vectors Junior Gold Miners (GDXJ) is down more like 70%. If gold turns around, these numbers could reverse on the upside with gold stocks (especially the small ones) significantly outperforming the commodity itself. I think this junior gold miner could be a very nice long position to pair with a short of the SPDR Gold Trust ETF (GLD), which holds 100% physical gold bullion.
It seems to me that the junior gold mining stock prices are already discounting much lower gold prices. Even if gold drops further, this could be a profitable trade as the junior miners may drop less than the commodity itself. If gold moves higher, I think this will be a very profitable trade as any sign of life could send the stocks in this sector shooting up quickly.
I'm certainly no gold bug, but if there was ever a time when gold makes sense as an investment, this has to be it. The actions of central bankers worldwide have my thinking much more aligned with Einhorn than with Roubini.
Disclosure: I have no positions in any stocks mentioned, and no plans to initiate any positions within the next 72 hours. I wrote this article myself, and it expresses my own opinions. I am not receiving compensation for it (other than from Seeking Alpha). I have no business relationship with any company whose stock is mentioned in this article.