Summary
The market had quite a strange week last week, dropping and running up within days and throughout the week. The market had low volume and was choppy on a lot of headline development. This week, the market should get a change of pace as we have a lot less going on in the market. Things slow down with limited data, virtually no earnings, no Fed developments, and most of the major data points coming out of Europe and Asia. After a lot of volatility, look for a consolidation week to get things settled down in the market.
Chart Overview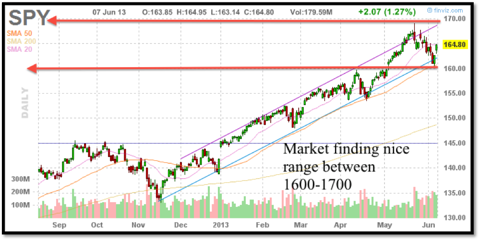 As we can see from the chart above of SPDR S&P 500 (NYSEARCA:SPY), the market is finding a nice range rather than strong up or down trend. There is good strength at 1600 and 50-Day MA, while the market has resistance at the 1700 level. Expect the market to stay in this range for some time until something significant develops with the Fed and potential QE taper and/or some other unexpected news. The Dow Jones (NYSEARCA:DIA) looks very similar.
Economic Data
| | | | |
| --- | --- | --- | --- |
| Date | Data Report | Market Expectations | Previous Report |
| June 11 | Wholesale Inventories - April | 0.2% | 0.4% |
| June 12 | Crude Inventories - 6/8 | N/A | -6.3M |
| June 13 | Initial Claims - 6/8 | 345K | 346K |
| June 13 | Continuing Claims - 6/1 | 2973K | 2952K |
| June 13 | Retail Sales- May | 0.1% | 0.3% |
| June 13 | Export/Import Prices - May | N/A | -0.5%, -0.2% |
| June 13 | Business Inventories - April | 0.2% | 0.0% |
| June 14 | PPI - May | 0.1% | -0.7% |
| June 14 | Industrial Production - May | 0.1% | -0.5% |
| June 14 | Michigan Sentiment - June | 83.0 | 84.5 |
It is not a super busy week for economic data, but we do have some key reports to watch. Things do not really get started until Thursday when we get jobless claims, retail sales, export/import prices, and business inventories. Retail sales are probably the biggest report of the week. Expectations are for them to come in at just slightly above neutral. The report is very important for the market to get a good idea of how consumers spent in May. On Friday, we have key Industrial Production as well as the first June reading of Michigan Sentiment. Industrial numbers are key because they have been weak for a couple months now and need to get better. Look for Retail Sales and Industrial Production to give the market some push in either direction, based on results.
Foreign Markets
Outside of the USA, Europe and Asia will be key to start the week with not a ton of data points or earnings to get the market going. We start the week with Chinese Consumer Price Index, Industrial Production, and Retail Sales. Additionally, we get Japanese GDP on Monday, which should give us a good look at how "Abenomics" are doing for Japan. Additionally, on Monday, attention should shift to Europe for Euro-Zone Sentix Investor Confidence and Italian GDP. On Tuesday, we get the Japanese Bank of Japan Rate Decision with press conference from President Kuroda. The BOJ report is very important, as the Japanese markets have not done well during the last couple weeks, and the BOJ should address that. On Thursday, we get the ECB Monthly report, which should give attention to what is going on in Europe. Some are looking for the ECB to start easing of their own, so this could be he moment for that.
Earnings
| | |
| --- | --- |
| Date | Key Company |
| June 10 | Pier 1 Imports (NYSE:PIR) |
| June 11 | Ulta Salon (NASDAQ:ULTA) |
| June 12 | HR Block (NYSE:HRB) |
| June 12 | Men's Wearhouse (MW) |
| June 12 | PVH (NYSE:PVH) |
| June 14 | Smithfield Foods (NYSE:SFD) |
This week is a lull in earnings again, but we have some sector-specific reports to watch. The key reports to watch for the week are HR Block, PVH, and Ulta. HRB will be reporting their big quarter with the tax season results, and the company is expecting to see around 13%+ growth in revenue along with nearly 20% growth in earnings. It could be a very big quarter for the company, and we would expect to see positive movement if they beat the results that are expected. PVH and ULTA will give us good looks at consumer spending in retail. Both companies are solid growth names, and we believe that the names could help the retail industry.
Fed Outlook
The Fed is the key to the market right now. QE taper is the "soup du jour" for the market, so the developments around tat will be very impactful to the market. Friday's jobs number left QE taper less likely than before. The unemployment rate rose while job created was only slightly better than expected. It left the market feeling better, but it was not strong enough to scare the market into taper. This week, the market gets one speech, and that is all. St. Louis President Bullard will talk on Monday, and his comments will be key to start the week. Look for the taper conversation to continue to be key to the market
Conclusion
It is a light week here at home, which is what the market just may want because it allows for the market to shed off some volatility that has been hitting the market. The keys will be Asian and European data along with developments for the Fed's taper. Overall, though, it is a quiet week, and we would expect to maintain the range that has been set in the chart overview.
Trades
Ticker: Amazon.com (NASDAQ:AMZN)
One stock we like heading into this week is AMZN. The company does look ready to move, and it has some near-term as well as long-term catalysts to continue to add value. The company is not as overvalued as the PE shows, and we like the company's continued dominance of the online world. First off, let's take a look at AMZN's value.
The company's future PE sits at 86.5. We tend to look for value at 15 and below in future PE. We like to see growth stocks at 20-25. So, in that perspective AMZN looks quite overvalued. Yet, if we look at prices/sales, the company sits at under 2.0. We look for value at 2.5. What is the situation here? AMZN has been putting a lot of revenue into building up its infrastructure of distribution centers, funneling money into its Kindle program, and adding new features. Those expenses have reflected in a very low level of net income.
Right now, gross margin is 25% and net margin is 0%. We believe operating expenses will decline substantially over the next five years. If they stay the same at $15B for the next five years and the company continues to grow revenue at around 1%, the company will make $100B in 2017. With a 25% gross margin, they sit at $25B. Subtract out $15B for operating expenses, and you get an EPS at 22.0. That would put the PE for AMZN at around 12. That rate is very attractive. Revenue growth should be stable, and the question then becomes costs of doing business. We believe these will stay relatively flat. Even some slight increases will not hurt this quick model we have presented. Now, this scenario is probably best case, but AMZN could grow more than 10% as well. With new attractive features like same-day delivery, Amazon Prime video services, and server growth.
The near term catalysts for AMZN we believe are several things - international growth, groceries, and advertisements. The latter may actually be a huge growth product for the company. According to Financial Times, the company should grow ad revenue to $800M from $600M in 2012. That growth should continue to expand as the company moves into new markets and grows their business. Ad revenue is a microcosm of the company's growth potential. The company, additionally, is beginning a more aggressive approach into international markets. The company just launched a website in India, is debuting the Kindle in China, and it plans to launch an e-commerce business in Brazil. Some of these foreign markets have thriving e-commerce sites already, but we believe with AMZN's knack for service and delivery strength, the company can have success there.
Finally, the company is launching a grocery business. AmazonFresh will be launched in LA and San Francisco later this year, and if it continues to do well, the company will look to 20 more areas next year. We believe the potential here is great because of the company's same-day delivery and the American markets move away from brick 'n' mortar businesses. Getting groceries delivered with consistency could be big potential.
Look for the stock to break out if it can get over $280.
Buy Point: $280
Target: $300, $320
Ticker: Green Mountain Coffee Roasters (NASDAQ:GMCR)
We continue to like the looks of GMCR. The company has had a very solid run as of late, and we believe they have a lot of strength underneath them right now that makes them attractive moving forward for investors. Value has become much better for the company from its first major run up, and the company appears to have seen great stabilization in its K-Cup business and has earnings back on track.
GMCR has seen firming of prices as of late. According to Longbow, the company has done surveys at retailers and seen very solid price maintenance as of late. There was some fear that prices were going to be cut or needed to be cut for GMCR, but that does not seem to be the case. The company saw a big pop at the beginning of May when the company announced its latest earnings. In that report, the company announced EPS at 0.93 versus 0.73 expectations, but they missed on revenue slightly. The company guided for Q3 to come in at 0.71 - 0.78 EPS versus 0.65 expectations. The most exciting part of the deal was a long-term partnership between GMCR and Starbucks (NASDAQ:SBUX) was struck. Under the new deal, SBUX offerings will triple on the Keurig brewer. Financial terms were not disclosed, and the deal was likely less favorable for GMCR with such a large number of private labels now on the system.
Growth, overall, is there for GMCR. They are not growing at the same rates as they used to, but they are still up over 10%. With a future PE sitting at 20, EPG at 1.35, and price/sales under 3, the company is not overvalued at all for a growth stock. Further, the company has done very well in recent market weakness, holding the 70 line strongly.
Moving forward, the company is expected to see around 13% growth in revenue in 2013 and in 2014, and if the company can maintain price stability, margins should remain strong. Coffee prices have also dwindled, so margins should actually be expanding.
We like playing GMCR with options. Near-term upside remains questionable due to an uncertain market, so we like a bull put spread. In this way, we can make money if GMCR goes flat or even declines slightly. Additionally, we can take on stock at a lower price. If it advances, we also make money. 70 has been great support, so we like the 70/67.50 bull put spread for Jul20, worth around 30% right now.
Trade: GMCR, Jul20, 70/67.50 Bull Put Spread
Max Gain: 30%
Disclosure: I have no positions in any stocks mentioned, and no plans to initiate any positions within the next 72 hours.
Business relationship disclosure: The Oxen Group is a team of analysts. This article was written by David Ristau, one of our writers. We did not receive compensation for this article (other than from Seeking Alpha), and we have no business relationship with any company whose stock is mentioned in this article