Over the last 18 months or so, I have been one of the most bearish out there when it comes to Deckers Outdoor (NASDAQ:DECK). Deckers, if you don't recognize the name, is the company that is most known for the UGG brand. The company also owns the Teva and Sanuk brands, but UGGs account for most of the revenues.
I initially got bearish in late 2011 when Deckers was above $90, as it appeared we were headed for a warm winter. Deckers was seeing large rises in sheepskin prices, the main input in its products. Growth also appeared to be slowing down, and this trifecta of events definitely worried me. Deckers had a rough winter, and 2012 was not the greatest of years for the company. Expectations were cut many times, and the stock lost about 75% of its value from its high. Deckers has issued below analyst expected guidance for six straight quarters now, one of the reasons why I've been so bearish on the name.
Deckers' shares didn't bottom until we dropped below $29, and have nearly doubled since. The 2013 revenue forecast wasn't terrible, while the earnings per share forecast was a little light. Deckers is a profitable business, and the solid cash they generate has allowed them to buy back a substantial amount of shares in the past year or so. Even though expectations haven't changed much, shares have rebounded, large part in thanks to a fair amount of short sellers covering.
As we approach the end of Q2, I'm here today to see where Deckers stands. As Deckers starts to work on its fall selling season, I'll preview some expectations and cover a few scenarios for the rest of 2013. In the end, I'll show why this stock could have some upside if Deckers just meets expectations, but significant upside if this company can deliver, something it hasn't been able to do recently.
Mitigating costs / expanding opportunities:
As I mentioned above, one of the biggest factors in Deckers' fall was the rise of sheepskin prices. In 2010, Deckers posted a strong gross margin figure of 50.24%. That number came down to 49.30% in 2011, and plunged to 44.69% in 2012. It's hard to overcome a fall like that, especially for a company like Deckers that is expanding its own retail presence, which leads to higher operating expenses.
On the Q1 conference call, Deckers talked about an opportunity that they've been working on, which is known as Pure. Here is their exact quote from the call:
Now before moving to questions, we want to expand on our discussion about Pure. As we discussed in our last earnings call, our innovation team has delivered on a challenge that's been underway for some time, namely, to develop additional materials that would allow us to deliver the comfort for which the UGG brand is known, while helping to mitigate the unpredictability of material costs. The material is called UGG Pure, which is a wool pile textile, created by crafting wool fibers and weaving them into a durable backing that allows us to deliver a plush and consistent sensory experience. We're introducing UGG Pure into the footbeds and linings of some of our products beginning in April in our own concept stores, and in late May, in our wholesale channels. With UGG Pure, we believe that we'll be able to lower our product cost and pursue profitable new growth opportunities, some of which were previously not economically viable. As I said on the last call, UGG Pure gives us another important key to further unlock the lifestyle nature of the UGG brand well beyond footwear. While we're excited about the flexibility we believe UGG Pure can potentially provide, I think it's important to keep this development in context. We will expand UGG Pure into other products in our line over time. As a reminder, our classic collection is currently constructed using mostly premium twin-faced sheepskin, not tailor-grade sheepskin. So while UGG Pure will offer some near-term cost savings, we'll still be heavily dependent on sheepskin for the near term. We'll be able to update you on our expected sheepskin cost basis for fiscal year '14 when we report third quarter results in October.
There are two items above that investors should key on. First, getting down the reliance on sheepskin, where prices can swing heavily in both directions. Deckers has guided to 2013 gross margins of 46.5%, which would be approximately 180 basis points of improvement over 2012 levels. Some of that can be attributed to Pure, while they've also stated that sheepskin prices have come down somewhat, in terms of the Fall 2013 lineup. But as they mentioned above, the company will still be heavily reliant on sheepskin prices. There will be some near-term cost savings, but this will be a gradual process, and investors should realize that.
The other item is the ability to "pursue profitable new growth opportunities, some of which were previously not economically viable." Deckers is constantly looking to develop new and innovative products. The company has been heavily reliant on UGG sales in the past, sometimes more than 94% of total sales for a quarter. If they can expand their other product lines, getting the reliance on one line down is definitely needed. That's why I gave Deckers so much credit for the Sanuk purchase, which was extremely well timed and has provided a nice revenue stream. I only wished they had made another acquisition instead of buying back a ton of stock, but that has benefits as well.
Expanding store count / operating expenses:
I've mentioned that Deckers has expanded their retail footprint quite extensively recently. At the end of Q1 2012, the company had 46 retail stores worldwide. At the end of Q1 2013, the company was up to 78 locations, and more are coming this year (mostly international). In terms of square footage over that time, the company has increased from 134,000 to 215,000 square feet.
Expanding into these retail locations has come at a short-term cost, however. Deckers has seen a large increase in operating expenses, especially with a number of stores being opened late in 2012. One thing you must understand about Deckers is the seasonality of the business. Most of their revenues come in the second half of the year, but their operating expenses are mostly spread out evenly throughout the year. This is why operating margins are weak in the first half of the year, and earnings per share are being pressured in the first half of 2013. In 2010, Deckers had operating margins of 24.88%, but those were down to 13.22% in 2012, and the company guided to just 12.50% this year. Part of that decline had to do with the decline in gross margins, but they have certainly increased operating expenses. Operating margins will look a lot better in Q3, and especially Q4, than they do in Q1 and Q2, and the company has been losing money in Q2 in recent years. Another loss is expected this year in Q2. Going forward, it would be nice to see this company improve its operating margins. Deckers did say that they would be targeting new stores with operating margins in the mid 20s, as opposed to older stores in the mid 30s, so investors should realize that the nearly 25% operating margins we saw a few years ago will be tough to achieve again. But if this company can get from an expected 12.5% this year to 15% or even 17% over the next couple of years, it could mean a lot on the bottom line.
Just think about it this way. In 2012, Deckers had an operating margin of 13.22%, and earnings per share of $3.45. If Deckers had been able to get that operating margin to 15.00%, using a comparable ratio of net income to operating income, they could have added somewhere between 40 and 60 cents to earnings per share. That would have been tremendous, given that they had earnings per share of more than $5.00 in 2011.
Projecting some possibilities / discussing assumptions:
As we approach the end of Q2, it's time to look towards the rest of 2013. As I noted above, this is a very seasonal business. You have a large amount of sales in the back half of the year, so projecting individual quarters is lumpy. That's why I'm looking at full year ones. So in a table below, I will provide three scenarios, and explain how Deckers has some decent potential upside.
Let me start with the scenario I titled "Normal" below. In this scenario, I used Deckers' most recent guidance for my assumptions:
Revenue growth of 7%.
Earnings per share growth of 5%.
Gross margin of 46.5%.
Operating margin of 12.5%.
Tax rate of 32%, which is taken from Page 22 of their most recent 10-Q filing.
A couple of quick points for the "Normal" scenario. Using the above mentioned inputs, I estimated "other income" as well as a diluted share count. Since Deckers guided to 5% earnings growth, I used rough numbers for these two inputs to get an earnings per share figure of $3.63, approximately 5% growth. In 2012, Deckers had a full-year diluted share count of 37.334 million. As that count has continued to come down thanks to the stock buyback, I have estimated 35 million shares for the full year count in 2013.
So the first table will show you the assumptions I used (diluted share count in thousands, so 35 million shares for "Normal"). I already discussed the normal case above. For both the "Best" and "Worst" cases, I decided to leave the tax rate the same. I did this because the tax rate is not necessarily a "performance" metric. Things like revenue growth, gross margins, and operating margins have to do with performance and execution. As for the other income number, the $2.5 million expense helped me get to that 5% earnings per share growth number. I used a flat number for the best, and a $5 million expense for the worst. This number shouldn't have too much of an impact in the end, as compared to some of the other inputs.

I decided to use a 3 percentage point spread for revenues. I didn't want to be too dramatic, and for the most part, my revenue range is about the same size as the current analyst average ($1.49 billion to $1.58 billion). I do think that Deckers will show some growth this year, thanks to new efforts like Pure plus the additional retail store count. However, if things don't go well, they won't hit the 7% mark. At this point, I personally don't think the company will have a huge year, which is why I wouldn't think anything more than 10% revenue growth is possible right now.
For gross margins, I went with 100 basis points in either direction. Deckers locks in sheepskin prices a fair amount of time ahead, and they've already told us that the Fall 2013 lineup features lower sheepskin prices. Combine that with other improvements, like Pure, and you should see a nice increase in gross margins this year. Even my worst case is an improvement of 80 basis points on the year. Because they know a lot of these costs well ahead of time, I trust that their 46.5% figure for gross margins is fairly accurate, which is why I did not use a tremendous spread. At this point, the biggest determination for gross margins will probably be product mix and whether or not they need to have huge sales.
I used the same basis point spread for operating margins, which is a much wider range on a lower percentage basis. Operating margins will be a key to watch going forward, as I covered extensively above. Don't be surprised when you see operating expenses in Q2 be a massive percentage of sales, as they are likely to be. With fixed expenses hurting more in the slower revenue quarters, Q1 SG&A (operating) expenses were almost 46% of revenues. Q2 will likely be even higher than that, as those store openings continue to be digested.
The final assumption to discuss is the share count, which I partially discussed already. I use a lower share count for the normal and best scenario, because I'm assuming the company will be more likely to buy back stock when things are better. Obviously, higher net income means better cash flow, and you need cash to buy back stock. Deckers had approximately $79.3 million left on its buyback at the end of Q1. Now, you could make the argument that they would potentially buy back more stock if results are worse, because in that case the stock should be lower. However, I disagree to a point, because if things are bad, they could always get worse (which we saw in 2012), and they'll have less cash. For now, I'm assuming that they'd be more likely to buy back stock when business conditions are better. I don't think that's outrageous.
Scenario results:
So here is the table with the results I have for the three scenarios. I will discuss the price to earnings multiple I have determined later.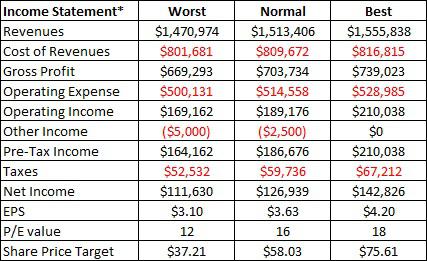 *Dollar values in thousands except for EPS, P/E value, and share price target. Numbers may appear off due to rounding.
So let me start with the "normal" value. I assigned a P/E of 16 because the current analyst median price target is $61.00, and the current average estimate for EPS is $3.70. That means that the average analyst multiple is a slightly above 16, so I've rounded down to be a little conservative. My estimate is a little conservative, but still implies 8.6% upside here, and this assumes EPS of just $3.63. The analyst average is currently at $3.70, so there's flexibility for a little more upside if they just meet current expectations. That would also mean that Deckers beats its current earnings per share guidance.
If Deckers can come through with my best case scenario, with $4.20 in earnings per share, I think there is the potential for 40% upside. Deckers would prove that 2012 was just a bad year, and investors will start to trust this name even more. You would also see a bit of short covering, which I'll get to in more detail later. Also, this would help the company to buy back more stock, further reducing the share count.
You may wonder why I gave them such a low P/E value for the worst case scenario. My reasoning is simple. If Deckers continues to disappoint, investors will become extremely frustrated with this name. You could potentially be looking at two bad years in a row, and thus I've put a significant discount on the name. Remember, this company did over $5.00 in earnings per share in 2011, and that was before the buyback even started. At just $3.10 for 2013 in my worst case scenario, combined with a buyback that has significantly boosted earnings per share, the stock just wouldn't be worth that much in my opinion. You can't keep failing like they have been, should this case turn out to be true.
A continued short squeeze:
One of the reasons I thought Deckers could go higher was that more short squeezes were possible. At the end of Q1 2013, Deckers had just under 34.45 million shares outstanding. At the latest update on short interest data, in the middle of May, 9.89 million shares were short. That represents almost 29% of outstanding shares.
That seems like an extremely high percentage, and it is. But one thing you must realize is that nearly 40% of short sellers have already covered! Just six months ago, more than 16.28 million shares of Deckers were short. Investors have been starting to trust Deckers more and more, but there still is a large short base. As you can see from the chart below, we're at a 9-month low in short interest, but this name still has a lot of shares short. That means that any good news could lead to a short squeeze, and a rather large one as well.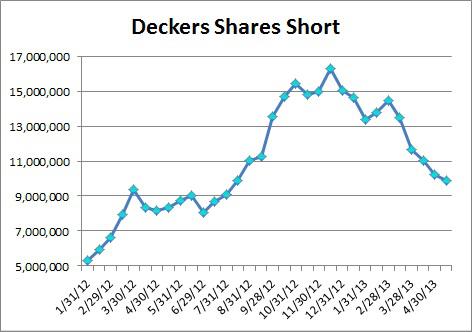 Deckers' average trading volume over the past three months is about 1.08 million shares, meaning it would take nine full trading days worth of volume for all shorts to cover. However, if you go back to the start of May, the average volume since then is just 703 thousand shares a day. If short sellers are forced to cover, it could get ugly for them, and rather quickly.
Last one to recover?
A couple of weeks ago, I wrote about the momentum bubble being back. There have been a bunch of momentum stocks that raced higher in 2010 and early 2011, only to come crashing down, and quite spectacularly. These names included Green Mountain Coffee Roasters (NASDAQ:GMCR), SodaStream (NASDAQ:SODA), and Netflix (NASDAQ:NFLX), just to name a few. I didn't put Deckers on this list, and it will soon become clear why.
The reason is that Deckers has not enjoyed the kind of rebound that these other names have, not to the same degree as of yet. The table below shows each name's pre-collapse high, how much it fell to the low, and how much it has rebounded. I've also included how much these names are still down from their highs.

*Green Mountain hit an after-hours low just above $15 after one quarterly report. These are intra-day trading prices.
Deckers might not have had the largest drop, but it definitely has had the smallest rebound. This name is still more than 55% off its all-time high, and that's thanks to some poor results in the past year and a half. Deckers was above $60 in late April, representing more than a double from its low, but a fair amount of the rally has been lost. Should Deckers' results start to improve a little, investors might start to pile back in, just like they have for many other names.
Potential risks:
I can tell you how much upside there is to any name, but I also showed you the potential downside if Deckers disappoints. No business is without risk, and in this section, I'll break down some potential risks when it comes to this name.
The first risk is fashion risk. Deckers is an apparel retailer, and a fashion company. Those UGG boots that they are known for could easily fall out of style. There have been plenty that have called UGGs a fad, and like any style product, that contains some risk. Deckers has been looking to mitigate this risk by expanding its product lines. Sanuk was a great acquisition, and we'll see what UGG Pure brings as well.
The second risk is economic or luxury risk. Deckers' products are premium ones, more expensive than just your basic pair of winter boots or slippers. Right now on their website, you can find slippers that go for $140, with a fair amount of models at $100 or more. These are not your $10 slippers that you can get at the mall. During the holiday season last year, they had women's boots that fetched nearly $900. Deckers' products are high quality, but they are high cost as well. If the economic picture worsens, these premium products could be at risk. Deckers might not be able to sell some of them, or might have to significantly discount certain products. After the warm winter in 2011-2012, there were a fair amount of closeout sales, and that really hurt margins and earnings.
An update on Q2 expectations:
Deckers guided to Q2 revenues that would be flat compared to those in Q2 2012. On an earnings per share front, they guided to a loss of $1.10, compared to a $0.53 loss last year. Deckers stated, and I've spoken to this above, that the 24 store openings have led to extra operating expenses. Those expenses are mostly fixed, which hurts in the lower revenue quarters, and Q2 is Deckers' slowest quarter.
At the moment, analysts are a little more optimistic on Q2 for Deckers. The current revenue estimate of $179.02 million would represent 2.6% growth from last year's $174.44 million. Analysts are looking for a loss of $1.04, six cents better than Deckers' guidance. With analysts looking for a slightly better quarter, if Deckers just meets their own guidance, it will be a disappointment. Shares could pull back then.
Final Thoughts:
Deckers was one of the most beaten down names over the past two years. While the name has recovered a bit, the stock is still well off its highs, after a series of guidance disappointments. While Deckers may not be growing revenues at the 20% levels we saw a few years ago, the company is working to overcome several challenges. Should they just meet current expectations, the potential for upside is there. If the UGG brand can deliver this fall, tremendous upside is possible. Deckers still has a solid cash generating business, which should allow them to buy back more stock, and that could chase a large short base away.
Disclosure: I have no positions in any stocks mentioned, and no plans to initiate any positions within the next 72 hours. I wrote this article myself, and it expresses my own opinions. I am not receiving compensation for it (other than from Seeking Alpha). I have no business relationship with any company whose stock is mentioned in this article.
Additional disclosure: Investors are always reminded that before making any investment, you should do your own proper due diligence on any name directly or indirectly mentioned in this article. Investors should also consider seeking advice from a broker or financial adviser before making any investment decisions. Any material in this article should be considered general information, and not relied on as a formal investment recommendation.