Needs
A primary function of an economy is to supply goods and services to meet the wants and needs of its consumer population. During tough times like we find ourselves in today, needs generally override wants.
Therefore, it is logical to assume that consumers will forgo luxury in favor of basic needs during recessions. Food, shelter and finally clothing make up the most basic realm of human needs.
As it pertains to discerning women shoppers, style will however remain a deciding factor in what clothing and fashion options they choose. Women enjoy feeling good about how stylish they are, and an argument could be made that style is as much a need as it is a want.
Established Markets
Coach (NYSE:COH) is the top luxury accessories brand in the U.S. with a commanding fifth of the almost $9 billion market for handbags over $100.
Prior to the current recession this sub-segment experienced strong growth as one of the best performing categories at retail. Thanks to its multi-channel growth strategy, Coach has outpaced industry growth as it has gained significant market share over the period 2002-2008.
The Coach brand is also very popular in Japan where it's estimated that the Japanese consumer makes up almost 40% of the global luxury handbag market. Coach continues to gain market share in Japan with a goal to increase its current 13% market share to 15% or greater over the next five years.
Developing Markets
Developing markets led by China where Coach has 27 locations represents a huge future growth opportunity for the Coach brand. Coach's five-year goal is to capture up to 10% of the Chinese market. According to Andre Cohen, the recently appointed president of Coach China:
The company has tremendous momentum, a clearly articulated vision and well defined strategies in place for continued growth in the (Chinese) region.
Fundamentals
Founded in 1941, Coach, a top designer and marketer of luxury handbags and accessories has an enviable track record. Since going public in 2000, Coach has grown earnings at a compounded rate of 37.4%.
Since that time, earnings per share have increased from $.11 per share to a peak of $2.08 per share in 2008. The $1.92 per share consensus estimate for fiscal 2009, although some 7-8% lower than 2008, is still the second most profitable year they have ever achieved. See Figure 1 below.
Figure 1: Coach 10 Year EPS Growth (see short video)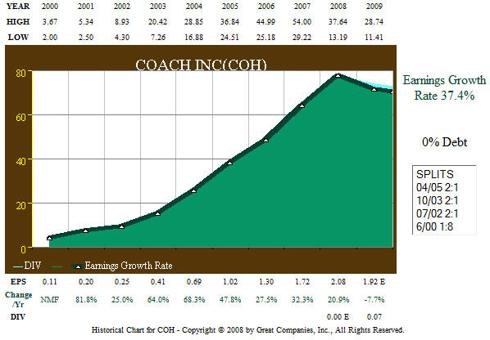 Low Valuation
In Figure 2 we overlay stock prices to earnings and see that through fiscal year 2007 stock prices closely correlated to earnings. The drop from a peak of $54 per share in calendar year 2007 to a low of $11.41 per share in early calendar year 2009 was, in our view, an extreme over-reaction driven by fear. The recovery in price to its current approximately $25 level although very strong is in our opinion just the beginning.
With no debt on the balance sheet and strong cash flow generation, we feel that 13 times earnings represents a compelling valuation for this high quality company given strong prospects for global growth as world economies stabilize.
Figure 2: COH 10 Year EPS Growth Correlated to Price (see short video)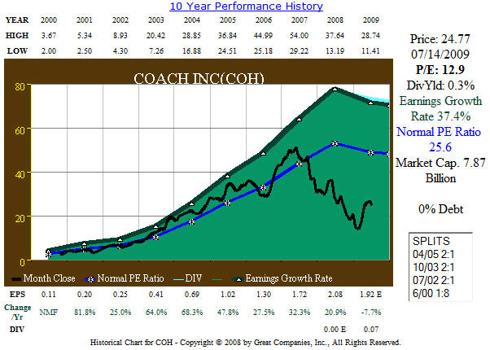 Even at today's depressed valuations, Coach has richly rewarded shareholders since going public in October of 2000. During a period where the stock market as measured by the S&P 500 lost over 35% of investor capital, Coach shareholders saw their assets grow over eight-fold.
Figure 3: COH 10 Year Price Performance (see short video)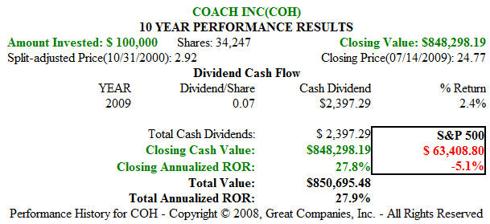 Even though the throes of the worst recession the world has experienced in modern times, Coach has performed remarkably well as a business. Although gross margins have fallen from the 80% range to 75% in 2009, they are nevertheless quite strong.
With the highest operating margins in the industry, and substantial cash flows, the company should be able to comfortably maintain its expansion goals through internally generated funds.
The excellent management team at Coach is proven to possessing a high level of knowledge and understanding of its customer base through superior customer research. As a result they have sustained a healthy business model by pricing their products as accessible luxuries while opening their market to "aspirational" buyers. Customers who were buying the $2000-plus European luxury brands can still feel good with a stylish and high quality Coach purse at the $150 to $500 price points.
A steady stream of innovative new offerings adds to their allure. This not only keeps the competition at bay, but keeps the brand alive and customer mindshare strong.
Poised for Growth
For the long-term oriented investor, we believe Coach is clearly an industry leading business. We are confident that as the world economies improve, Coach is poised to resume above-average earnings growth for the foreseeable future.
At its current price, which is attractively aligned with is True Worth™ valuation, Coach should prove to be an excellent choice.
Also, on April 21, 2009 Coach announced that its Board of Directors had voted to initiate a cash dividend at an annual rate of $.30 per share. The important factor is that Coach with its strong balance sheet and high cash flows has real assets underpinning its stock price. Its upscale luxury appeal at reasonable prices makes it fairly immune to economic conditions.
This solid economic foundation should provide shareholders both a strong margin of safety and an opportunity for attractive returns as well.
Full disclosure: Long COH at the time of writing.