The Panama Canal expansion is due to be completed in early 2015. It is a subject occasionally referenced in the press or by investment professionals. As a manager of a partnership that is building out a portfolio of residential real estate assets in the South East U.S. it is a topic that I decided to delve significantly deeper into given how impactful it will be for this region.
It is of huge potential significance to U.S. trade routes, shippers, railways, truckers, manufacturers, U.S. supply chains, logistics companies, agrarian exporters, owners of industrial and residential real estate as well as investors. It has a postive bearing on many stocks including CSX (NASDAQ:CSX), Norfolk Southern (NYSE:NSC), Eastgroup properties (NYSE:EGP), Prologis (NYSE:PLD), Swift Transportation (SWFT), Expeditors EXPD and Conway (NYSE:CNW). Please note this article is based off a presentation I did on the subject available here.
The Panama Canal is undergoing a $5.2 billion expansion project due to be completed in early 2015. It will enable a doubling in the tonnage of trade that can transit the Canal as well as a 160% expansion in the ship size that will be able to transit the Panama Canal.
At present Panamax ships, which carry up to 4,800 TEU (20-foot containers) can transit the Canal. Post expansion that increases significantly to 12,500 TEUs as Post Panamax and Super Post Panamax ships will be able to transit the Canal. In terms of bulk carriers, LNG carriers and oil tankers there will be a commensurate uplift in terms of ship size that will be able to transit. It is a major global bottle neck being removed and will allow up to 600m tons of freight to pass through the Panama Canal from approximately 275m at present.
Figure 1: Ship Dimensions that can transit pre and post expansion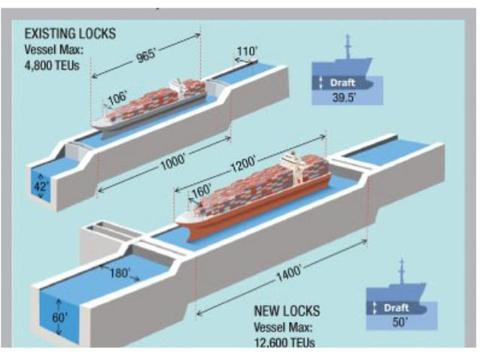 In terms of relevance to the U.S., it will have a dramatic impact on Gulf & East Coast ports as it effectively allows much larger ships to directly call on these ports. Many of these ports are near major East Coast and Midwest population centers.
Figure 2: Direct routes from Asia to East Coast Ports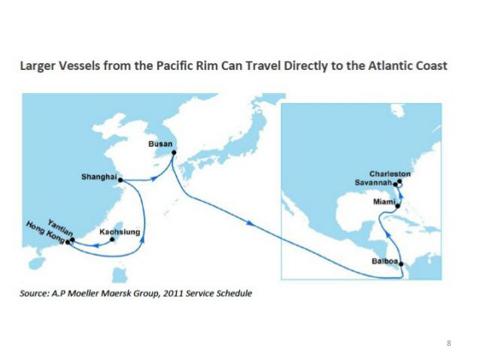 The Panama Canal expansion will open up many East Coast and Gulf ports to significant traffic and trade as shown in the figure below.
Figure 3: East Coast & Gulf Ports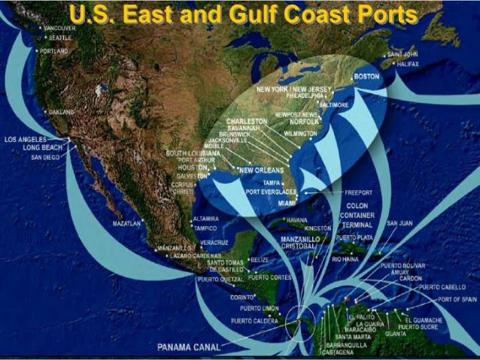 Imports into the U.S.
At present 80% of Asian imports comes into the U.S. via the West Coast and are then transported via the U.S. inter-modal system to the East Coast. However with the Panama Canal expansion this is likely to change dramatically leading to major implications across the spectrum.
Average freight transit times from Asia to the West Coast is 12.3 days. It then takes an average of six days to transit to the East Coast via the U.S. inter-modal system, so 18.3 days in total. Freight from Asia directly to the East Coast via the Panama Canal takes 21.3 days, however there are significant cost savings to be had for shippers and their customers from using an all water route.
Additionally an all water route is much more reliable and this is important for importers. The expansion will relieve congestion at the Panama Canal; this can be significant as during busy periods it is not uncommon for ships to wait 10 days to transit at a waiting cost of up to $50,000 per day.
Implications for U.S. Ports
East Coast and Gulf ports are gearing up to be Post Panamax ready. This is defined as having a channel depth of 50 feet net of usable tide as well as sufficient docking and crane facilities. Ports and railroads are deepening harbors, raising bridges, improving tunnels and railways, increasing dock facilities and installing new cranes to accommodate larger ships and much greater cargo volumes.
According to the U.S. Army Institute for Water Resources the East Coast ports most likely to benefit will be those that serve as 'interstate retail distribution centers for Asian imports such as Norfolk, Charleston and Savannah.'
Figure 4: Major U.S. Ports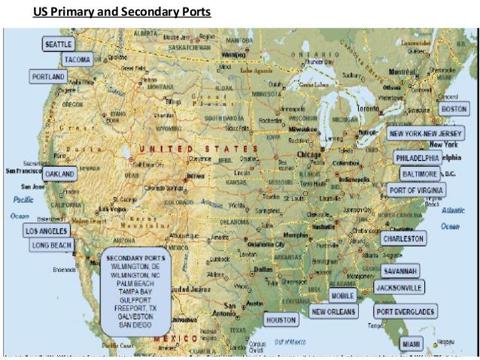 Select East Coast and Gulf ports that should be Post Panamax ready
by the time the Panama Canal expansion is completed include New York, New Jersey, Norfolk, Baltimore, Charleston, Houston, Miami, and Mobile. Savannah, will be ready for 2016. Other U.S. ports likely to be Post Panamax ready after 2015 include Wilmington, Jacksonville, Tampa, andl New Orleans.
Implications for U.S. Railways
The need for the U.S. inter-modal system to remain competitive and able to transport a larger volume of cargo is spurring investment.
CSX has its National Gateway Project, which is expanding inland capacity to handle extra cargo. It is creating a more efficient double-stack route between Mid-Atlantic ports and the Midwest. It is also investing in dock facilities at ports like Savannah, and Baltimore.
Norfolk Southern's Heartland Corridor project is enabling double-stack freight by increasing clearances through 30 tunnels between Virginia ports and the Midwest. It will take 250 miles off the route from Hampton Roads, Virginia, to Chicago.
Norfolk Southern is also investing in its Crescent Corridor route to connect Louisiana to New Jersey. It will enable containers to move more efficiently from the Gulf Coast to major distribution and population centers.
Figure 5: Norfolk Southern's Crescent Corridor Route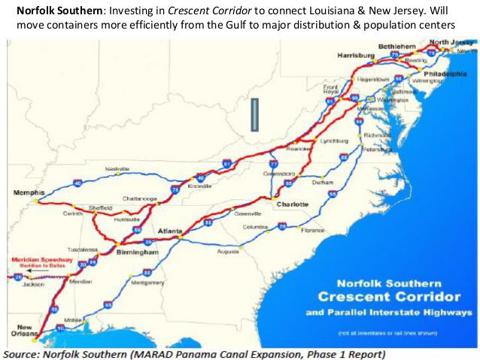 Implications for Exports of Bulks from U.S.
The Lower Mississippi ports like Mobile, Alabama, and New Orleans, Louisiana, are significant for the export of bulks, ores and grains, which are brought down by the river; 40 million tons of grains are brought down the Mississippi river each year for export. In fact grains is very significant for the traffic that crosses the Panama Canal; they account for 25% of all traffic flowing from the Atlantic side to the Pacific side. Petroleum products and chemicals account for a further 30% of this traffic. It highlights the potential for exports of such products to increase dramatically post expansion. It is estimated that the ability to use larger cape size ships for transporting grains to Asia from the Gulf could reduce the transport costs by as much as $0.35 per bushel.
The Shale Gas revolution in combination with the Panama Canal expansion has scope to significantly increase LNG exports and chimes in nicely with the recent permission granted to build a major LNG export terminal in Texas.
Implications for U.S. Supply Chains
Retailers and manufacturers will have to remake supply chains to benefit from the reduced cost and higher reliability of transit to East Coast and Gulf ports, which are near major population centers. Investment in distribution centers and manufacturing plants near growing South East and Gulf transit hubs is happening and will increase, for example:
Ashley Furniture noting the export opportunities from the Mid-Atlantic region and frustrated by rail freight delays at Chicago, built a 3.3m manufacturing and warehouse facility in North Carolina.
Airbus (OTCPK:EADSF) is building a plant in Mobile, Alabama and Boeing (NYSE:BA) is investing in Charleston, South Carolina.
Industrial REIT firms such as Prologis and Eastgroup are investing in industrial and distribution assets near East Coast and Gulf ports to benefit from increased demand.
Implications for South East U.S. Cities and Ports
The Panama Canal expansion should be a boon for the South East and Gulf regional economies and cities. Port cities such as Charleston, Savannah, and Norfolk, are set to benefit.
Aside from the ports cities, Charlotte, North Carolina, will also benefit as a regional economic hub and a major freight and transport distribution center between the coastal ports of the Gulf and Mid Atlantic region and the population centers of the East Coast and Mid West. Charlotte is connected to Charleston, Savannah, and Wilmington, by Norfolk Southern Railway and freight line capacity is being expanded on these routes.
Heavy Investment is under way in Charlotte, in anticipation of the positive impacts from the expansion. A new inter-modal center at Charlotte-Douglas Airport will connect to Norfolk Southern's 'Crescent Corridor' Rail Freight services allowing up to 250,000 container throughput capacity per annum.
Company and Stock Implications
The Panama Canal expansion will be a significant boon for railways and truck companies active in South East and Gulf region. CSX and Norfolk Southern have exposure as well as listed truck companies such as Swift Transportation.
Logistics firms will benefit as more complex freight patterns and transit options increase their customers' desire to have a third party handle complicated logistics. This would benefit firms such as Expeditors and Conway.
Increasing demand for manufacturing bases, distribution centers and warehousing facilities will benefit industrial REITs active in the Gulf and Mid-Atlantic regions. Eastgroup and Prologis have exposure here.
Residential Real Estate in cities that are impacted will also benefit. Suppliers of port and rail infrastructure and equipment will benefit. Shippers who can reallocate ships to new routes will benefit as well as agrarian companies who export from the U.S.
Bulk, container and freight markets will be severely disrupted resulting in huge winners and losers. I would welcome any contributors' further thoughts, ideas on specific companies as this is obviously a broad investment theme that will touch many businesses.
Disclosure: I have no positions in any stocks mentioned, and no plans to initiate any positions within the next 72 hours. I wrote this article myself, and it expresses my own opinions. I am not receiving compensation for it (other than from Seeking Alpha). I have no business relationship with any company whose stock is mentioned in this article.