The healthcare sector is a favorite for many dividend investors as they typically have decent yields and cash flow to support the dividend. Today we look at 3 healthcare stocks that still have a low yield, but are growing quickly. We look at the revenue, earnings and cash flow growth to determine if these healthcare companies can continue to grow their dividend payments and offer opportunity for dividend investors to get in while they are still undervalued.

Source: Gurufocus.com
Aetna, Inc (NYSE:AET)
Company Background. Based on its website, Aetna was founded in 1853 in Hartford, Connecticut. Aetna is one of the nation's leading providers of healthcare, dental, pharmacy, group life and disability insurance, in addition to employee benefits. It also recently acquired Coventry Health Care.
Growth Prospects. Taking a look at revenue growth, net income growth and cash flow growth, it looks like it will be difficult for Aetna to continue to grow its dividend at a rate 51%.

Source: MSN Money
As the table above shows, revenue was up 12% from 2008-2009, but then was negative from 2009-2011, before providing positive growth of 8% in 2012. In the same period, earnings appeared to have an opposite pattern, AET saw a decline of 7% in 2008-2009, a large jump in earnings from 2009-2011, before declining almost 17% in 2012.
In addition, free cash flow has been pretty flat in the last 5 years.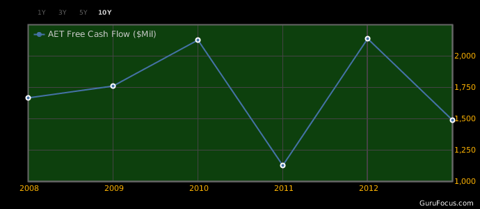 AET data by GuruFocus.com
After seeing a drop of almost 50% from 2010-2011, cash flow has stabilized at $1.5B, lower than where it was 5 years ago.
United Health Group Inc. (NYSE:UNH)
Company Background. United Health Group is the most diversified healthcare company in the United States.
Growth Prospects. Positive growth numbers color United's performance, with revenue growth stable, ranging from 7.5% to 8%. While UNH's net income and EPS growth are slowing, it is still financially strong.

Over the same period, UNH's cash flow has performed similar to its net income - steady growth that appears to be slowing.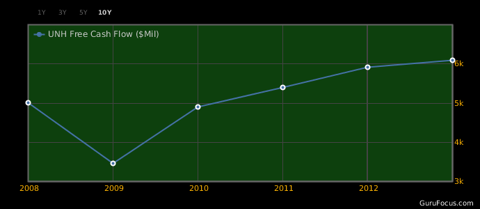 UNH data by GuruFocus.com
Overall, the data seems to suggest that UNH will be able to maintain its 66% percent growth rate in the short term, but if the trends on net income and free cash flow remain the same, then that rate will likely slowly decline.
AmerisourceBergen Corporation (NYSE:ABC)
Company Background. Headquartered in Valley Forge, Pa., it is one of the world's largest pharmaceutical services companies serving global markets with a focus on the pharmaceutical supply chain, handling about 20% of all of the pharmaceuticals sold and distributed throughout the country.
Growth Prospects. From 2008 until 2011 revenue growth was positive with a healthy jump of 8.4% in 2011. In 2012 however, revenue was on the decline in year 2012, showing a negative growth of -0.64%. In the same period, net income and EPS showed positive growth from 2008-2009, with a large jump in 2010. From 2010 forward, the trend has been negative with net income only growing 1.8 in 2012.

Source: MSN Money
Cash flow took a big hit from 2008 to 2009.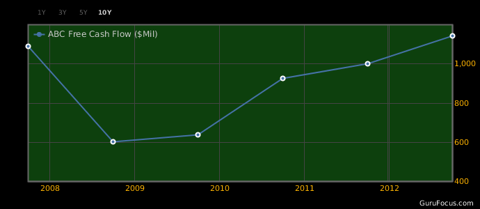 ABC data by GuruFocus.com
Since then however it has been steadily increasing, leading us to believe ABC might be able to maintain if not grow its 48% dividend growth rate, so long as the revenue and earnings growth trend turns around in the near future.
Recommendation
Dividend payments with the three companies are all safe with positive free cash, but may experience trouble if performance of revenue and net income keep on declining annually. UNH proved to be the strongest of all three, garnering the highest numbers in all three benchmarks used in this analysis. As such, we believe of the three, UNH, with the highest dividend growth rate also has the best chance of maintaining if not accelerating its dividend amount compared to its peers.
Disclosure: I have no positions in any stocks mentioned, but may initiate a long position in UNH over the next 72 hours.
Business relationship disclosure: Black Coral Research is a team of writers who provide unique perspective to help inspire investors. This article was written Hans Centena, one of our Senior Analysts. We did not receive compensation for this article (other than from Seeking Alpha), and we have no business relationship with any company whose stock is mentioned in this article. Black Coral Research is not a registered investment advisor or broker/dealer. Readers are advised that the material contained herein should be used solely for informational purposes. Investing involves risk, including the loss of principal. Readers are solely responsible for their own investment decisions.