The U.S. housing meltdown that led the country into the Great Recession is now leading the recovery. The year 2013 raises a broader question for the U.S. and the global economy, whether an improving housing market can turn a still lacklustre American recovery into something more robust. There is no doubt that recent evidence on both house prices and sales is promising. Though housing prices are still 30% below the peak levels witnessed in 2006, the U.S. housing market has show strong signs of recovery over the past two quarters. Now let us look at the fundamental factors supporting a reversal of fortunes in the housing recovery.
1. Mortgage rate at historic lows: Low mortgage rates have contributed to a housing rebound more than six years after the bubble burst. The cost of financing has fallen steadily over the last few years and is hovering around the 4% range. The 30-year loan hit a record 3.31% rate in November 2012.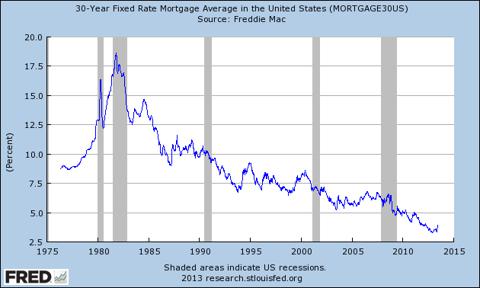 2. Recovery supported by rising affordability: Improving household balance sheets would lay the foundation for more spending, which in turn can lead to a virtuous cycle of more business investment and hopefully more jobs. Near record low interest rates as the U.S. central bank tries to foster faster economic growth are helping households to reduce their debt, which should free them to take on more debt or spend more freely.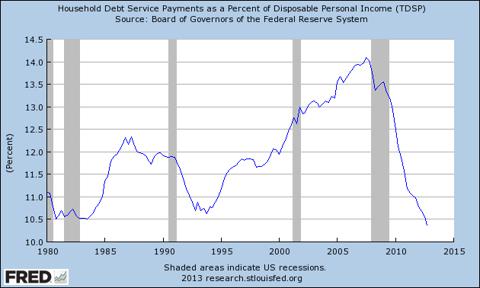 3. Improvement in Affordability: Thanks to very favorable mortgage rates and prices, housing affordability has remained quite high. Nationwide housing affordability held near historic highs in this year's first quarter of 2013.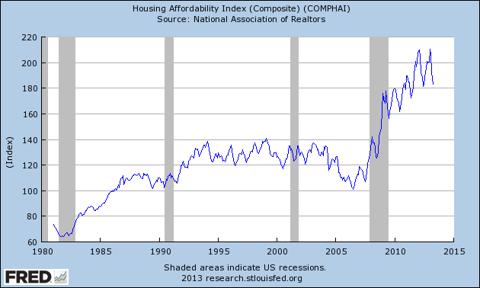 4. Strong rebound in home prices: The S&P/Case-Shiller Home Price Indices posted their highest annual returns since 2006 and home prices in all 20 cities posted annual gains for the third month in a row. Twelve of the 20 saw prices rise at double-digit annual growth.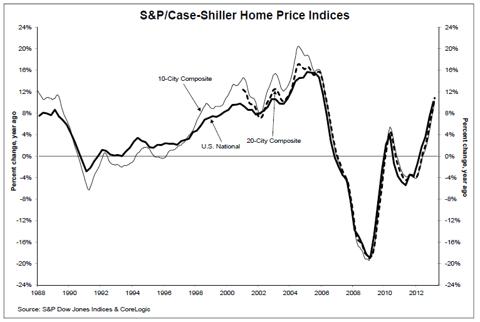 Also, mortgage lending is receiving support at both the sides - the growing confidence that house prices have hit a trough is creating renewed interest from buyers and the Fed's buying these as part of its latest Quantitative Easing (QE) program. Though the purchases are part of the effort to support the housing market, it has in all guises been a blessing for banks.
All the evidence has forecasters believing the housing market will make a meaningful contribution to U.S. growth for the first time since the word sub-prime entered the global vocabulary five years ago. It is a conviction hardened because U.S. households have shrunk their debts. After peaking at 134% in the Q3 07, the ratio of household debt to disposable income reached 113% in Q3 2012. Economists at Standard Chartered estimate housing and construction will add 0.5% to U.S. growth in 2013 - not to be sneered at when the economy is expected to have clocked up growth of just over 2% last year.
According to CNBC, home builders are near multi-year highs, rallying two to three percent, as home prices surge on improving demand and limited supply. Housing has been an economic bright spot for the U.S. with home builders, building materials, and home furnishing companies all benefiting from the recovery. The U.S. Home Construction ETF (NYSEARCA:XHB), which includes holdings like Home Depot (NYSE:HD), Pulte Group (NYSE:PHM) and Lowe's (NYSE:LOW), is up 20% YTD, outperforming the S&P 500 (NYSEARCA:SPY), which is up 15 percent. Investors can also look at Wells Fargo (NYSE:WFC), the nation's largest mortgage lender. The other two banks that are even more heavily leveraged to housing are First Republic Bank (NYSE:FRC) and Texas Capital Bancshares (NASDAQ:TCBI).
Disclosure: I have no positions in any stocks mentioned, and no plans to initiate any positions within the next 72 hours. I wrote this article myself, and it expresses my own opinions. I am not receiving compensation for it (other than from Seeking Alpha). I have no business relationship with any company whose stock is mentioned in this article.