We have written in the past about the Facebook (NASDAQ:FB) phenomena coming to an end with the youth migrating to other platforms. Our FB coverage left off in late November with our article "Facebook Lock-Up: Levitating Shares Defy Empirical Evidence". Yes it's been awhile, but it seems that levitation has come to an abrupt end. We think this resembles what happened to Yahoo (YHOO) after the euphoria of the Internet boom wore off. Let's look at YHOO's historical stock chart: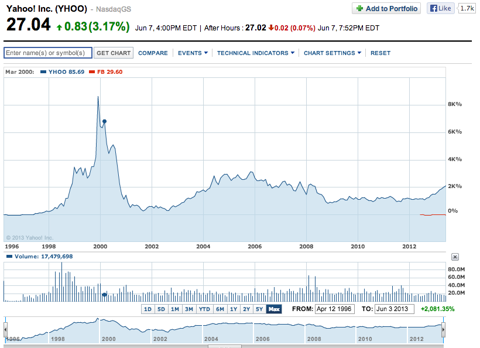 (Click to enlarge)
As we can see for the past five years, YHOO shares have been stuck in a range with a high of $28.93 and a low of $11.51 despite the magic that Carl Icahn provided along the way. With Marissa Mayer being hired, it seems things seem to be moving in the right direction and the stock is quickly approaching its 5 year high water mark. With the recent purchase of Tumblr, Yahoo seems to be seriously looking to regain their cool factor by announcing that Tumblr founder David Karp would be left in charge here:
"Marissa Mayer promised not to "screw it up," a comment undoubtedly aimed at the sensitive community of Tumblr fanatics."
Comparing FB to YHOO on their share charts shows them to be diverging first when Marissa came on board in July '12 and more recently since late April 2013: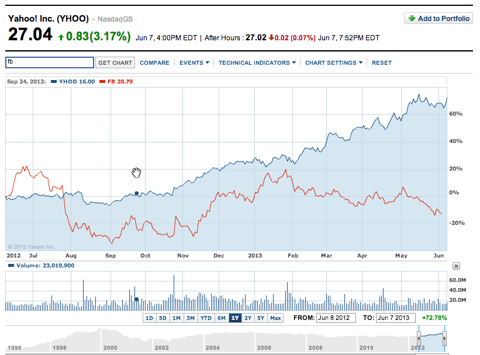 (Click to enlarge)
Facebook shares are falling despite the drop in its short interest as reported by Nasdaq: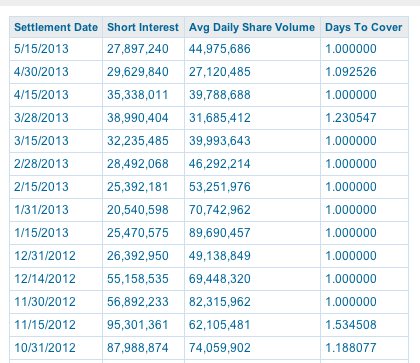 This is a very bad sign as hedge funds may soon smell blood in the water with tens of millions of shares still in the queue to be sold by employees and others. We scoured SEC docs to see what insiders have been doing with their shares and took this snapshot of their SEC recent Edgar page: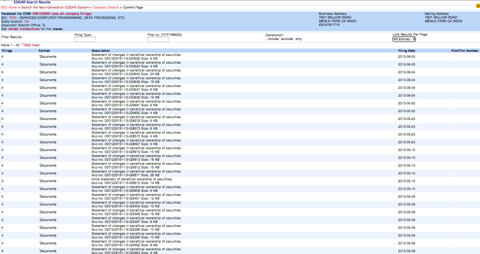 (Click to enlarge)
We think seeing Form 4 filings like those above are what investors should get used to because there are many employees and insiders with stock options and restricted stock units - RSUs - that are now free to trade. This cloud may be putting a lot of pressure on the FB's share price.
Moving right along, we examined the DEFA14A proxy filing for shareholders eligible to vote at the upcoming June 11th, 2013 annual meeting. Here is a snap shot of the voting rights for inside shareholders:
What we conclude from this filing is the shareholder meeting is merely a formality. As shown above, CEO Zuckerberg has 53.5% voting power and pretty much calls all the shots. Investors should buckle themselves into their seats and go for a ride in the Facebook roller-coaster. To be sure, Zuckerberg has created a vast eco-system that has been remarkable. But the question seems to be re-surfacing is: "How much is Facebook worth in light of all of the coming competition?"
Finally, we need an accurate share count of Facebook shares to see what the current market capitalization is for the company. We think the best document to show this from their SEC filings is the 8k filed in September 2012 and this excerpt in particular which may be dated and subject to an update from the company:
Employee RSU Acceleration; Tax Withholding; and Post-Acceleration Capitalization

We have granted restricted stock units (RSUs) to our employees, including our named executive officers, and members of our board of directors. RSUs granted prior to January 1, 2011 (Pre-2011 RSUs) under our 2005 Stock Plan vest upon the satisfaction of both a service condition and a liquidity condition. The liquidity condition will be satisfied six months following our initial public offering (NYSEARCA:IPO). Under settlement procedures applicable to these awards, we are permitted to deliver the underlying shares within 30 days before or after the date on which the liquidity condition is satisfied. We disclosed in the prospectus relating to our IPO that this date would occur between 151 to 180 days after May 17, 2012. We currently expect that two trading days following the announcement of our third quarter 2012 financial results, we will vest and settle outstanding Pre-2011 RSUs for which the service condition has been satisfied and that are held by employees who are employed by Facebook through October 15, 2012. We currently expect to announce our third quarter results on October 23, 2012, which would result in an expected vesting and settlement date of October 25, 2012. The shares would be eligible for sale in the public markets as of market open on October 29, 2012, as described further below.

On the vesting and settlement date, we plan to withhold and remit income taxes at applicable minimum statutory rates based on the closing price of our common stock on the trading day immediately prior to the vesting and settlement date. We currently expect that the average of these withholding tax rates will be approximately 45%.

To settle these RSUs, assuming an approximate 45% tax withholding rate, we anticipate that we will net settle the awards by delivering an aggregate of approximately 124 million shares of common stock to holders of Pre-2011 RSUs and withholding an aggregate of approximately 101 million shares of common stock. The 101 million shares that are withheld by us as a result of the net settlement of Pre-2011 RSUs will no longer be considered for accounting purposes to be issued and outstanding, thereby reducing our shares outstanding used to calculate earnings per share. These 101 million shares will become eligible for granting as new awards or shares underlying new awards under our 2012 Equity Incentive Plan.

Assuming the price of our common stock at the time of settlement was equal to $19.09, the closing price of our Class A common stock on August 30, 2012, we estimate that the aggregate tax obligation for the settlement of these RSUs would be approximately $1.9 billion. The amount of this obligation will vary depending on the closing price of our shares on the trading day immediately preceding the vesting and settlement date, the actual tax withholding rates at that time, and changes in the number of our then-current employees holding Pre-2011 RSUs as of October 15, 2012. We intend to fund these tax withholding and remittance obligations by using our existing cash and borrowings from our credit facilities. We currently do not expect to conduct any offering of our equity securities near the initial RSU settlement date to fund this obligation, nor do we currently expect to conduct an offering in connection with the expiration of "market stand-off" or "lock-up" restrictions in the fourth quarter of 2012.

After giving effect to the net settlement described above (and based on shares, options and RSUs outstanding as of August 30, 2012), we will have on the net settlement date:

| | | | |
| --- | --- | --- | --- |
| | • | | 912,321,482 shares of Class A common stock outstanding; |

| | | | |
| --- | --- | --- | --- |
| | • | | 1,354,219,182 shares of Class B common stock outstanding; |

| | | | |
| --- | --- | --- | --- |
| | • | | 113,711,519 shares of Class B common stock issuable upon the exercise of options outstanding under our 2005 Stock Plan and 2012 Equity Incentive Plan; |

| | | | |
| --- | --- | --- | --- |
| | • | | 60,000,000 shares of Class B common stock issuable upon the exercise of an option held by Mark Zuckerberg; |

| | | | |
| --- | --- | --- | --- |
| | • | | 173,795,517 shares of Class B common stock and 5,481,080 shares of Class A common stock subject to RSUs outstanding under our 2005 Stock Plan and 2012 Equity Incentive Plan; and |

| | | | |
| --- | --- | --- | --- |
| | • | | 22,999,395 shares of Class B common stock issuable upon completion of our acquisition of Instagram, Inc. |
The grand total for FB shares is 2,642,528,175. At the closing price on 6/7/2013 of $23.29, this share count yields a market-cap of $61,544,481,195, which is more than double Yahoo's $29 billion.
---
Monday June 10th, FB got a boost from investment bank Stifel with an upgrade to buy:
Stifel Nicolaus upgraded Facebook (NASDAQ: FB) from Hold to Buy with a price target of $29. Analyst Jordan E. Rohan thinks investors are already discounting fears about declining engagement and poor ad efficacy. In addition, he sees upside from a number of catalysts, including inclusion into the S&P 500, back-to-school seasonality, monetization of Instagram, and new products and advertising formats.
We don't recommend shorting FB as we have in the past at these levels because there is a large vested interest by many brokerage firms to keep FB stock in the $20s and above because of the $38 IPO price. However, we do not recommend buying and holding the stock based on the real competition coming from the likes of YHOO and others in the near future. If you are looking for a social media play with a comeback story, YHOO could be setting itself up for a nice move to the upside as its short interest has doubled this year alone: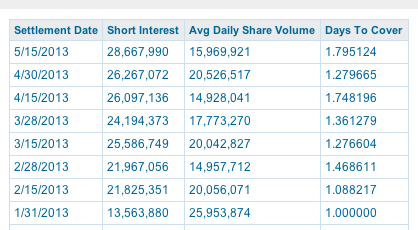 In conclusion, we think Facebook certainly is here to stay. But we think it subject to up and comers in the social media space and therefore investors should avoid buying FB until there is more clarity on insider selling and competition.
Disclosure: I have no positions in any stocks mentioned, but may initiate a long position in YHOO over the next 72 hours. I wrote this article myself, and it expresses my own opinions. I am not receiving compensation for it. I have no business relationship with any company whose stock is mentioned in this article.