"Anyone with money can buy stocks, but only smart people can sell them." Ted Weisberg.
This sardonic statement points out that the primary issue for investors is deciding when the best time to sell is. Selling may cause you to give up future gains. Not selling can leave you exposed. Without knowing what the market's future is, can there ever be a right answer? There are a lot of glib sayings flying about acting as guidelines of when to sell, such as "Bulls make money, bears make money but pigs get slaughtered," "You can never lose money by taking a profit," and "The trend is your friend." These are generally unhelpful, often times are contradictory, and serve mostly to confuse the new investor.
I have been transitioning from swing trading only a few companies to managing a diversified dividend-growth portfolio of a much larger size. With a swing trading approach, I did not need a specialized sell strategy. If the trade went against me, I sold at a specific price target, risking only one percent of my total portfolio value on any one trade. When I purchased, I had a specific price target at which I would sell based on technical analysis, waiting usually between three days and three weeks for the target to be reached. It was not complicated and there was very little emotion involved in the action of selling, though lots of fear and stress involved in the waiting. This was a successful strategy in making gains in my total portfolio value, but I found it quite unsatisfying. Often after I sold, the stock price would continue to climb, or soon after selling at a loss, the share price would recover and realize the nice gain I foresaw in the charts. (I occasionally cry over spilled RY) I began to understand the big winner was the brokerage collecting the trading fees, and as I read about a long-term DGI approach, I became interested and soon my transition began.
A dividend-growth investor's sell strategy is much more involved. I wish I could report I have a well-oiled business-like sell plan all laid out, but that is not yet the case. I still have a lot to learn, but being able to participate here on SA as an avid reader, and to receive feedback on my journey through contributing has been invaluable. You can read about my transition in my previous articles.
There are many conflicting viewpoints of when to sell, even within the DGI community, but there are a couple of major reasons dividend-growth investors sell, including; the company is 'overvalued' and the position is 'overweight'. This sounds so straightforward, but the definitions and the details are passionately debated. Exactly when is a stock "overvalued" and a position "overweight"?
For example, one of my best-performing and one of my longest-owned (still less than two years, though) companies is Enbridge (NYSE:ENB). I sold half of my 30%+ position this January, and half again in April, leaving me with an average sized position. Have I made a mistake? Or was this prudent protection and diversification?
Although Peter Lynch would never be considered a dividend-growth investor, his advice on when to sell in "One Up on Wall Street," has been the most helpful for me so far. Maybe that is because his fundamental principle is the same as with dividend-growth investing; "I don't believe in predicting markets. I believe in buying great companies - especially companies that are undervalued, and/or under appreciated." p. 88
As the market has continued to rise, my concern for my other overweight positions has risen as well. I decided to trim my first purchase, Ford Motor (NYSE:F), and cut two-fifths of my shares mid-March for a capital gain of over 50%, bringing it more in line with the majority of my other positions, though it is still my fourth-largest holding at 5% of my portfolio. By the way, all of these holdings are in a registered retirement savings account, so no capital gains tax have been, or will be, incurred. I was becoming concerned about holding such a large position in a cyclical company in a topping market. Since then it has continued its upward moves and in reading "One Up on Wall Street," I wonder if I have mowed down one of my flowers. Mr. Lynch states that he rarely sees remarkable progress in stock price in less than three years. Have I given up too early or carefully pruned?
Mr. Lynch remains fully invested in the market and focuses on evaluating the fundamentals and prospects of each company for his decision making. "Over the years I've learned to think about when to sell the same way I think about when to buy," and "In nine cases out of 10, I sell if company 380 has a better story than company 212, and especially when the latter story begins to sound unlikely." p. 251
Newly armed with this strategy in mind, I sold Keyera Corp (OTC:KEYUF.) a mid-stream oil and gas with an admirable chart purchased last spring at $41.50. I sold half of my shares last week at $61.35. Many of the pipelines have become substantially overvalued and Keyera had grown to 13% of my portfolio.
Keyera is a favorite of Canadian income investors because of the steady utility-like chart combined with a comfortable monthly dividend. Its yield has been substantially trimmed to 3.6% by the significant rise in share price. However, a quick glance at the FAST Graphs chart gives an investor reason for caution. I think we have found our definition of overvalued.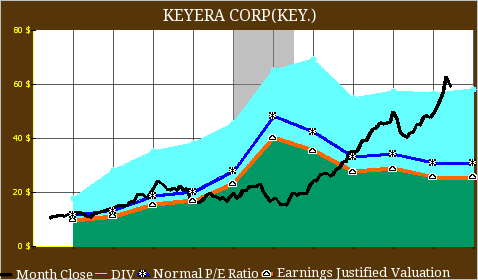 Even at half of my previous number of shares, it is still my 2nd largest position. Maybe I should have sold more. The only one larger now is my last substantially oversized position; McDonald's (NYSE:MCD) at 10%.
I knew with each of the previous sales that I would buy other companies, but I did not have specific ones in mind, just another one of the host of names on my quickly-dwindling watchlist. This time is different. The proceeds from the Keyera sale will allow me to purchase two new companies: Chevron (NYSE:CVX) and Textainer Group Holdings (NYSE:TGH). Both of these companies are undervalued in comparison to their earnings.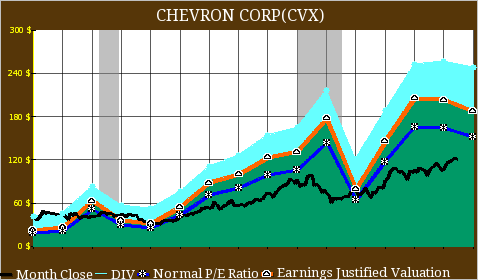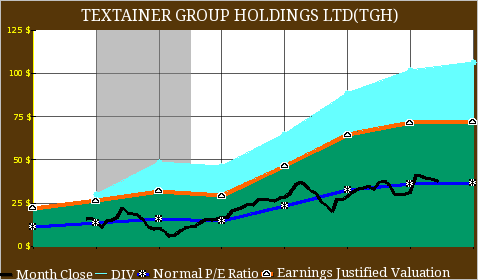 Keyera Corp's shrinking yield has provided me with the opportunity to increase the income of my portfolio with this trade. I'm trading in a 3.6% yield for the average of Chevron's 3.3% and Textainer Holdings' 5.0%, which is 4.15%. Since I haven't yet purchased these replacements, awaiting an attractive entry point, that figure will not be exact.
My portfolio's year-end goals in contributions, growth and diversification have already been met, with one more still lagging and outstanding - income from dividends. Those year-end targets are still attainable as I continue to invest.
Is it time to sell? For me, now was the time to sell half of my substantially overweight position in Keyera Corporation. It reduces the risk of my portfolio by halving the exposure to an overvalued, substantially overweight position, diversifying into two names, while increasing the income of the portfolio. This to me, is a good time to sell.
It is time to sell most of my other 30 holdings? Emphatically, "No!" I'm trying to accumulate positions in quality companies in order to generate a growing income stream for retirement. Peter Lynch encourages me to hold on to a position for several years to really see how the story will play out. He writes:
"When it comes to predicting the market, the important skill here is not listening, it's snoring. The trick is not to learn to trust your gut feelings, but rather to discipline yourself to ignore them. Stand by your stocks as long as the fundamental story of the company hasn't changed." p 83
Sir John Templeton once said the only time to sell is when you need the money.
When I'm tempted to sell I will ask myself why selling seems so compelling.
Have the fundamentals of the company changed?

Have the prospects of the company changed?

Have I given this company enough time to perform as I expect?

Is this company overvalued?

Is my position substantially overweight compared to the average in my portfolio?

How does this action improve my portfolio?
If there is not a compelling reason for selling, the best course of action is to stay the course, waiting and watching.
Disclosure: I am long ENB, F, OTC:KEYUF. I wrote this article myself, and it expresses my own opinions. I am not receiving compensation for it (other than from Seeking Alpha). I have no business relationship with any company whose stock is mentioned in this article.
Additional disclosure: I intend to initiate positions in CVX & TGH soon.FAST Graphs used with permission from creator, Chuck Carnevale.