A mortgage investment corporation is an investment and lending firm/vehicle designed specifically for mortgage lending (primarily residential mortgage lending). Share ownership in a mortgage investment corporation enables you to invest in a company, which manages a diversified and secured pool of mortgages. Investors outside the U.S. hold more than $194 billion of mortgage bonds without government backing, or 21% of the market.
Global Exposure
European banks and governments were forced to sell assets to raise capital or repay taxpayer-funded bailouts. Investors sought riskier, potentially higher-paying securities as central banks globally pressure yields on safer debt. U.S. home prices are climbing at the fastest pace in seven years. Demand for non-agency bonds went up along with subprime debt returning 12.7% after a rally of greater than 41% in 2012.
Despite the economic hiccups of the past, there are two mortgage investment firms with strong dividends and attractive valuations, which investors should take a look at.
Valuation Summary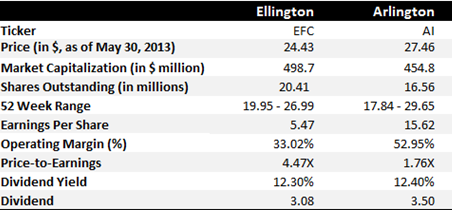 Source: Capital IQ
Ellington Financial (NYSE:EFC)
Company Background. Ellington Financial is a specialty finance company that specializes in acquiring and managing mortgage-related assets, including residential mortgage backed securities. EFC competes with Fannie Mae (OTCQB:FNMA), Freddie Mac (OTCQB:FMCC), Hkex and Invesco.
Earnings and Revenue Performance. EFC earnings and revenue have been rather serendipitous over the last three years.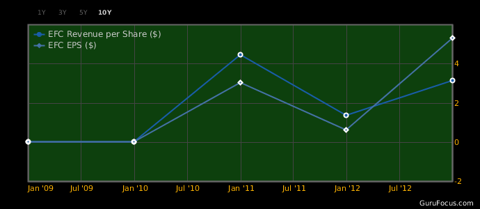 EFC data by GuruFocus.com
Since the drop in 2012, EFC has grown its revenue and earnings and witnessed a staggering increase in earnings estimates on the back of strong fiscal first quarter 2013 results.
Shares of this mortgage investment company rose 15.6% year to date. Over the last few weeks, one out of two estimates for 2013 has been revised upward by Zacks Consensus Estimate by 14.8% to $3.44 EPS. Additionally, one out of two estimates stepped up over the same time frame, weighing on the Zacks Consensus Estimate by 2.0% to $3.00 per share.
Dividend Performance. According to the most recent Dividend Channel "DividendRank" report, EFC has been recognized as a top 25 dividend stock. In its stock universe, EFC shares showed attractive valuation metrics and profitability measures. Its recent share price of $26.79 has a P/B ratio of 1.1X and an annual dividend yield of 11.20%. Meanwhile, the average sector dividend yield is 3.9% and trades at a P/B ratio of 2.1X. It also cited the strong quarterly dividend history at EFC, and favorable long-term historical growth rates in key fundamental data points.
Below is a long-term dividend history chart for EFC: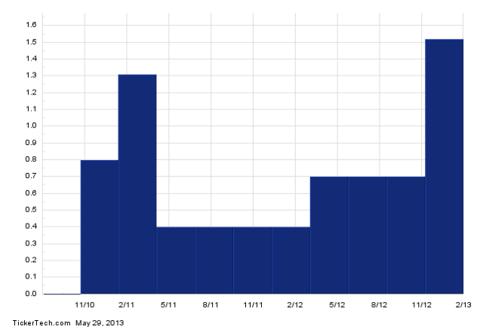 Rating. Although it merits further research, EFC is one to consider buying. EFC has an attractive evaluation and strong dividend history.
Arlington Asset Investment
Company Background. Arlington Asset Investment (NYSE:AI) has a market capitalization of more than $400 million and operates as a mortgage REIT that invests in residential mortgage backed securities, both agency and non-agency.
Investment Portfolio. An estimated 82% of the company's fourth quarter 2012 investment portfolio is composed of agency securities, while the rest is private label or non-agency. Within the agency portfolio, a large portion consists of 30-year fixed rate mortgage securities. Hence, it can be classified as a hybrid mortgage REIT.
Earnings, Revenue and Free Cash Flow. AI has successfully stabilized its revenue, EPS and FCF per share since the 2008 meltdown.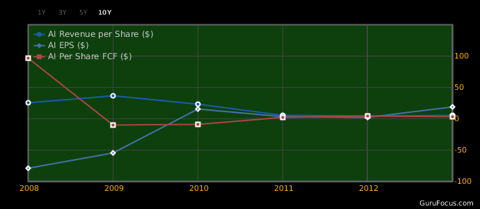 AI data by GuruFocus.com
In the most recent year, it looks like AI could be ready for growth with both earnings and revenue increasing in 2012.
Dividend Performance. AI was able to deliver stable core income historically, which is why its dividend distribution has also been stable compared to its competitors.
The company generated core income of $1.25 for the fourth quarter of 2012, outpacing the quarterly dividend distribution of $0.88 per share. The company has retained its current dividend rate since June 2011, which increased by 17% year-on-year.
Rating. AI is also one to consider buying as well. With a reported book value of $35.47 per share and the stock is hovering at $25 per share, it is trading at roughly a 25% discount to its fourth quarter book value. Its peer MFA Financial (MFA) is within 4% of book value. As such, AI appears to be attractively valued when compared to its peers from a hybrid mortgage REIT perspective.
Disclosure: I have no positions in any stocks mentioned, but may initiate a long position in AI, EFC over the next 72 hours.
Business relationship disclosure: Black Coral Research, Inc. is a team of writers who provide unique perspective to help inspire investors. This article was written Hans Centena, one of our Senior Analysts. We did not receive compensation for this article (other than from Seeking Alpha), and we have no business relationship with any company whose stock is mentioned in this article. Black Coral Research, Inc. is not a registered investment advisor or broker/dealer. Readers are advised that the material contained herein should be used solely for informational purposes. Investing involves risk, including the loss of principal. Readers are solely responsible for their own investment decisions.