When the media throws around the term, "Great Rotation," they are generally referring to the mass rotation of investor capital from bonds to stocks. Even with the blanket media coverage of the topic, however, is there actually a "Great Rotation?" At this point, it appears not. However, money is shifting elsewhere. See below for the changes occurring right now in the bond and equity markets, which could help portfolio performance in the months ahead.
Bond Bottom? The Rotation From Bonds To Stocks?
Still watching the total returns of their bond funds rise, or at least remain flat, due to redemption and yield payouts, most bond investors do not realize that bond prices reached their highest point (and yields their lowest) last summer. Since that time, both Moody's Baa bond yield and even the 10-year Treasury yield have attempted to break to new lows, failed, and then pushed to the upside. A technician would most likely call that a bottom.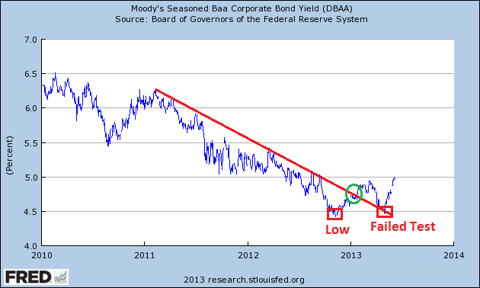 However, the point of this article is not to forecast bond yields, as a bottom in yields can take ages to develop. For a bear market in bonds to start, bond investors must lose faith in their holdings and then begin to sell en masse. In addition, with net cash flows into bond mutual funds, as provided by the Investment Company Institute, still positive, registering an estimated $18.32 billion inflow for May, a sudden, sharp, bear market for bonds still appears unlikely. For those curious, yes, there are also positive inflows into equity mutual funds for the past several months.
The Great Rotation Within Equity Markets
What is occurring though, as a result of the rising bond yields, is a fundamental shift within the equity market. Consider the following scenario, understanding the premise that all opportunity costs must be considered when making investments. A low-risk bond is yielding 3% and a slightly higher risk, but low growth utility stock is yielding 5%. If that bond yield suddenly jumps to 5%, all other things equal, and is still considered low risk, investors will prefer the bond yielding the same over the utility stock. To them, it's the same reward with either security, but the bond has lower risk. That leads to selling in the utility stock.
This is occurring now, as investors have been running away from previously treasured, relatively richly valued, high-dividend defensive stocks, and moving into the cyclical sectors, largely forgotten since 2012 and now relatively undervalued.
Think of Cisco (NASDAQ:CSCO), with its current yield of 2.80%, its price/earnings (P/E) ratio of 13.6, and its (price/earnings)/growth ratio ((NYSE:PEG)) ratio of 1.47 and compare that to Johnson & Johnson (NYSE:JNJ), which has a yield of 3.10%, a P/E ratio of 23.1, and a PEG ratio of 2.49. Given that information, and that information only, an investor seeking to maximize his potential gains would more than likely prefer Cisco over Johnson & Johnson.
In a broad sense, each of the relative strength charts below show the changes in market leadership, from so-called noncyclical, high dividend sectors such as utilities and consumer staples, to cyclical sectors such as technology and energy. For those in need of a refresher course on how to read a relative strength chart, click here to go to an educational article on StockCharts.com. For those who want the abbreviated version of the lesson, in the following charts, a rising line means the chosen Sector SPDR ETF is outperforming the S & P 500, a declining line means that the S & P 500 is outperforming the Sector SPDR ETF.
First, consumer staples (NYSEARCA:XLP), with A P/E of 17 versus the S & P 500, with a P/E of 14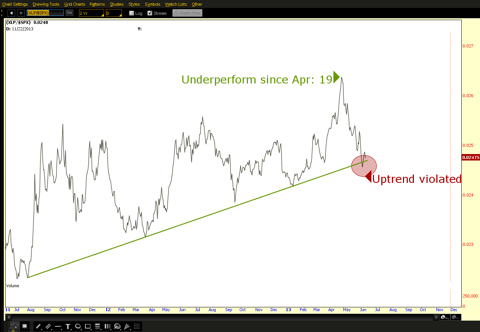 Next, utilities (NYSEARCA:XLU) with a P/E of 16 (was over 20 at one point)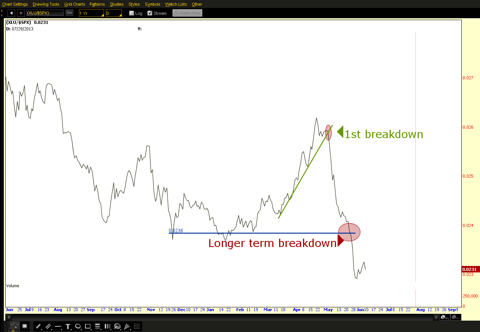 Real estate (NYSEARCA:IYR), with a P/E of 30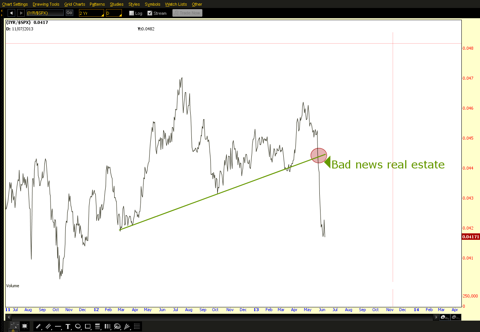 Next, the cyclicals. First up is technology (NYSEARCA:XLK), with a P/E of 14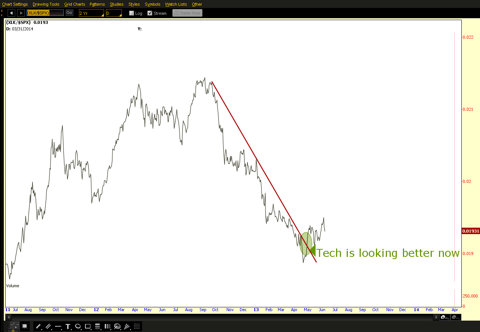 Then energy (NYSEARCA:XLE), with its P/E of 13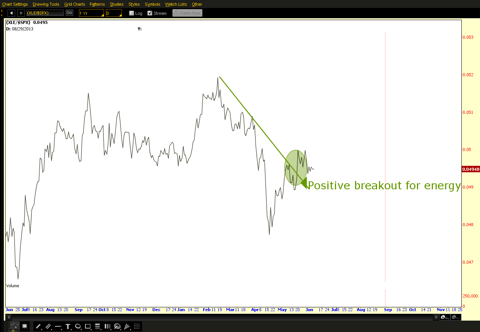 And of course, finance (NYSEARCA:XLF) and consumer discretionary (NYSEARCA:XLY) have both been outperforming the S & P 500 for months now.
As is the conclusion of many articles on Seeking Alpha, the lesson to learn from these new developments is to understand that the market tomorrow is not the market of yesterday. Investors must be innovative and willing to change. High yields are not confined to traditional, now overvalued, sectors, and in an environment of rising interest rates (which is too early to declare), all high dividend and low growth stocks will suffer. Listen to the market friends, and reap gains in sectors showing weakness while sewing new capital in the ones which are showing renewed strength.
Disclosure: I have no positions in any stocks mentioned, and no plans to initiate any positions within the next 72 hours. I wrote this article myself, and it expresses my own opinions. I am not receiving compensation for it (other than from Seeking Alpha). I have no business relationship with any company whose stock is mentioned in this article.