Ingram Micro (NYSE:IM) is a hard stock to categorize. With a market capitalization of $2.9 billion, it is too big to be a small cap (market cap<$1bn), yet is too small to be classified as a true large cap (market cap>$10bn). It has a broad consumer base yet generates low revenues from this base. Consequently, it is a question mark in the BCG growth-share matrix.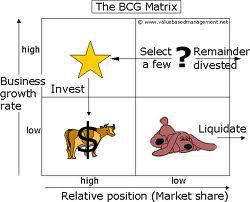 Whether there is value for the investor lies in if Ingram Micro will become a star or a dog. It is an attractive investment if it will go on to become a star as it will have a high market capitalization in a fast growing industry. However, no investor would want to invest in it if it is on the path to becoming a dog, as then it would generate barely enough cash to support its market share.
Its margins are very thing, a TTM operating margin of just 1.14% of sales, and a net margin of 0.67%, which would suggest it is on a path to becoming a dog. However, with a forecast 12-month PEG ratio of 0.79, a market cap of less than $5bn a 3-year EPS growth rate in excess of 15%, and a debt/equity of just 30%, Ingram Micro satisfies 4 out of 5 of the usual criteria for stock selection. The only area it fails in is the high degree of institutional ownership (93.08%). The company's 3-year average revenue growth is also very high (8% compared to an industry average of just 2%) and its price-to-book ratio of just 0.8 further illustrates its potential to outperform the market.

data from Morningstar
Over the last decade, Ingram Micro has more than doubled its book value, expanding through intermediaries (resellers in this case) to sell its products to a larger audience. Consequently, Ingram's network and reach are global. It has also taken advantage of the cloud revolution which could provide dividends over the long run and it has a low cash conversion cycle, allowing it to quickly increase its investment in its supply chain if necessary.
Ingram has also exposed itself to the global marketplace, expanding into the fast growing economies in Asia and Latin America and doing business in a variety of currencies. This has fueled revenue growth, having said this, it has not seen the same growth in its operating margins and net margins. However, it has allowed Ingram to stay competitive when its competitors such as Avnet (NYSE:AVT) have struggled to deal with the prices set by their suppliers.
Operating in the tech industry, especially as an intermediary, is a hard task. However, Ingram since the recession have proved that they have the capability to continue to grow their revenues and capture market share from their competitors. Ingram's quick entry into non-US currencies, expansion into the developing economies and recent acquisitions of BrightPoints and Aptec evidences their resolve to stay competitive. Therefore, I would argue that Ingram Micro is worth a look at as it is on the way to becoming a star rather than a dog.
Disclosure: I am long IM. I wrote this article myself, and it expresses my own opinions. I am not receiving compensation for it (other than from Seeking Alpha). I have no business relationship with any company whose stock is mentioned in this article.