Energy XXI Limited (EXXI) engages in the acquisition, exploration, development, production, and operation of oil & gas properties onshore in Louisiana and Texas, and offshore in the Gulf of Mexico.
EXXI has several catalysts, which should move the stock:
Excellent Reserve Growth
Excellent realized prices and attractively hedged
Trades at a significant discount to NAV
Shareholder friendly
The combination of these factors could easily push EXXI to $35/share by the end of 2013 for a ~6.5 month gain of 37%. Before examining these catalysts in more detail, a brief company overview is presented.
Company Overview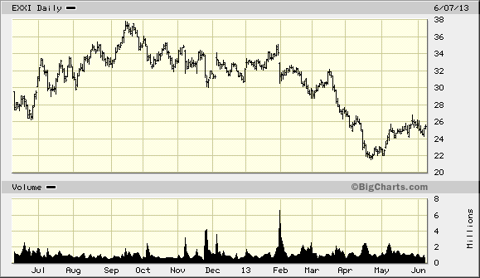 EXXI = $25.47
Mkt Cap = $2.2 billion
Shares Outstanding: 87,700,000 (fully diluted)
EPS (TTM) = $2.07
P/E (TTM) = 12.3
Div (Yield) = $0.48 (1.9%)
(Per share data Courtesy of Yahoo Finance)
NOTE: The slides and information shown below were taken from Energy XXI Chairman and CEO John Schiller's presentation at the UBS Oil & Gas Conference on May 23. You can access the audio webcast here. Drink some coffee and have your pencil and paper ready before you attempt to listen: Schiller is a sharp-as-a-tack fast talking oil man.
EXXI's has two complementary strategies:
Acquire & Exploit
Explore & Grow Organically
EXXI acquires and exploits primarily mature oil-producing properties on the Gulf of Mexico ("GOM") shelf. The company adds value to these properties by performing extensive reservoir field studies and subsequently optimizes production with low-risk drilling programs.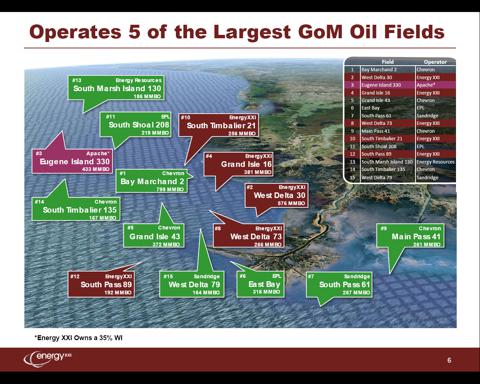 The exploration program is designed for future organic growth and includes high impact ultra-deep shelf prospects. The company also has promising joint ventures with Exxon Mobil (NYSE:XOM) and Apache (NYSE:APA).
Energy XXI has completed five major acquisitions totaling approximately $2.5 billion since its founding in October 2005. The company now has ~120 million BOE of proved reserves and about 50,000 boe/day of current production, 60% of which is oil. As shown in the slide above, Energy XXI operates or has an interest in 6 of the 11 largest oil fields in the Gulf of Mexico.
Reserve Growth
Energy "21" has grown reserves from 53.1 million boe at year-end 2010 to 119.6 million boe at year end 2012. The company's reserve replacement ratio ("RRR") for the last 3 years has been:
2010: 383%
2011: 424%
2012: 119%
Pro Forma (as of 6/30/2012) reserves are 135 million boe with PV-10 = $4.468 billion. That is twice today's market cap.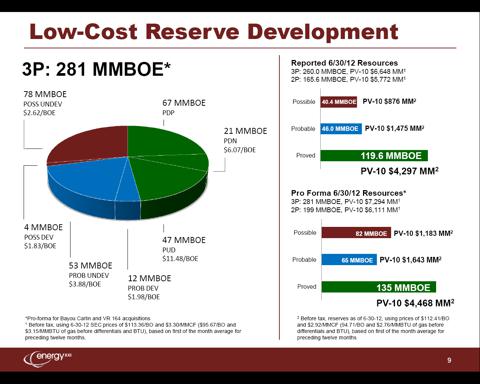 Acquisitions have played a prominent role in Energy 21's reserve growth. In November of 2010, the company bought GOM properties from Exxon Mobil for $1.01 billion. At the time, it was a huge deal for EXXI: it boosted both reserves and production by more than 70%. But debt was issued and some of it was high yielding. In the aftermath and excitement of the deal, shares went from $25 to $35 and it has been bouncing around in that same range ever since. It is at the low-end of the range now.
While much of EXXI's reserve growth has come via acquisitions (i.e. debt), ongoing low cost production (primarily oil) has enabled the company to cut its net debt/cap in half from 88% in Q1 2010 to 44% in Q2 2013. While still a tad high, I do not believe this reduction was recognized by the market.
Realized Prices and Hedging
The company's main product, Heavy Louisiana Sweet crude ("HLS"), trades roughly in line with Brent oil prices and at a significant premium to WTI. That said, when Brent approached $118/barrel, CEO Schiller said the company jumped in and hedged most of 2013's production with a $106/barrel floor. The company has averaged $109/barrel so far in 2013. More detailed information on the company's hedging program can be seen in the following slide: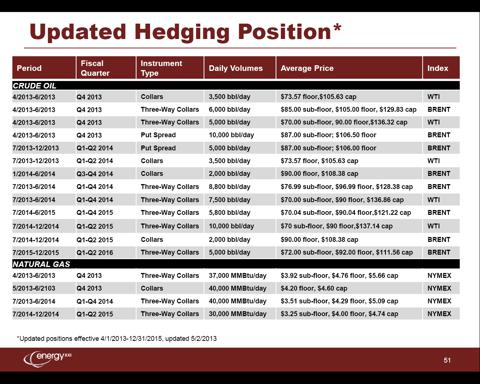 Discount to NAV
The main reason to consider investing in EXXI today is its large discount to NAV. The stock has dropped from $38/share in October of last year to around $25. The slide below (note the 4/29/13 date) sums up the situation: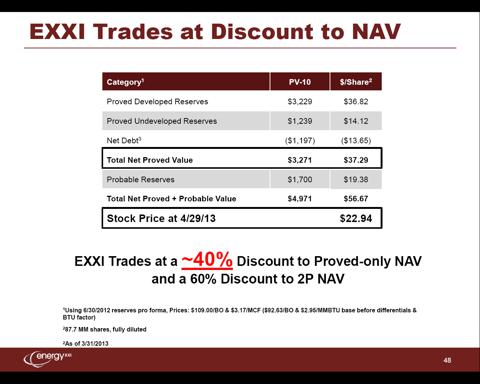 If we use the same PV-10, debt level, and $37.29/share total net proved value as shown in the slide, and simply adjust the NAV discount for the difference in today's $25.47/share stock price, we come up with:
32% discount to Net Proved Value
55% discount to Net Proved + Probable Value
Any way you care to look at it, EXXI appears to be vastly undervalued.
Shareholder Friendly
As a result, the company has shifted from spending its money on acquisitions to rewarding shareholders and putting its own money where its mouth is (or at least its slides...).
On May 6th, the company announced it was increasing the dividend on common shares to $0.12/share - a 71% increase. In addition, the company also announced the Board of Directors authorized the repurchase of up to $250 million in value of the company's common stock from time to time, in one or more open-market transactions. During the UBS conference, CEO Schiller said the company had already purchased $1 million dollars worth of shares at an average price of around $25/share.
Joint Ventures
The Vermillion 179 is a 50/50 joint venture with XOM. It has 7 highly prospective areas on 54.500 acres around a salt dome. A recent report on Worthington Energy's (WGAS) VM179 lease shows combined Gross Total Reserves for VM179, both Proved and Probable, of 2,129.7 Mbbl Oil and 4,237.9 MMSCF Gas. Worthington's VM179 is adjacent to Exxon's producing VM164 #A9 well.
The JV's Merlin prospect is scheduled to spud this month. CEO Schiller said: "Salt domes such as Vermillion have potential to hide hundreds of millions of barrels of oil at relatively shallow depths in a basin that was picked over -- that many thought was picked over long ago."
In March the company entered into an agreement with Apache:
....to explore for oil and gas pay sands associated with salt dome structures on the central Gulf of Mexico shelf. The area of mutual interest (AMI) includes several salt domes within a 135-block area. In addition, Energy XXI acquired a 25 percent working interest in 19 non-producing primary-term leases with Apache. A new wide azimuth seismic program is underway to define the potential within the AMI, covering approximately 633,000 acres.
According to CEO Schiller, the Apache JV is about obtaining better seismic to reinterpret salt and looking for reserves that have been hiding in the shadows of the salt. EXXI had great success at their Main Pass field reinterpreting the salt, and as a result discovered the Onyx well. EXXI invested just over $16 million and put 3 wells on production from sand previously thought to be pinched out by the salt. Those wells have already produced 2 million barrels of oil, throwing off more than $200 million of cash.
Risks
As usual with oil exploration and development companies, downside risks include:
A sustained drop in oil prices
Dry hole or other drilling related issues
Governmental interference like the ban on drilling after Macondo
The company's hedging program addresses the first issue, at least for the next 6-8 months. From a drilling perspective, the company is really getting the most out of technology, is operating in mature fields, and has shown the ability to ring out low-cost barrels from its properties. A large spill in the Gulf is always a risk. However, in the aftermath of Macondo, and seeing the toll it took on both BP (NYSE:BP) and the environment, one would like to believe companies in the region are working extra hard to prevent a similar event from happening again.
From a technical perspective, the downside seems to be $22, where the shares seemed to have bottomed in April. It bounced nicely off $22 in May on a spike up in volume.
Stock Outlook
In addition to the company buying back shares, executives are too. Barron's noted two executives recently purchased shares worth $195,000. A Forbes article, after noting past earnings misses and some poor drilling results, reports several brokerages recently upgraded the stock with the high being a $38 target. This website shows Raymond James has a $39 target and Howard Weil is at $42.
Summary & Conclusion
EXXI is undervalued by at least 30% compared to net proven reserves. And this for a company that CEO Schiller says will grow production by 10-15% this year - the majority of which is oil that is very nicely hedged. The company has shown expertise in ringing out value from mature fields and has recently announced dividend and share buyback programs that should provide additional incentive for investors.
Even if the stock traded up to $35, as I predict it will, the company will still trade at a ~40% discount to net proved+possible reserves. JV's with highly respected partners working over very promising acreage have large upside potential for Energy 21.
Being so undervalued, EXXI could be a juicy takeover target for a mid or large sized oil company looking to pick up excellent reserves on the cheap.
The oil business is somewhat like blackjack. You place your bets and play your hand. It takes skill. And some luck. But while evaluating "Energy 21's" assets, fundamentals, and financials for this article, I decided to place my own bet on EXXI. The company appears poised to draw a face card to a holding 6 & 5. That's "21" and it wins the kitty. And I want to be in on it.
EXXI is a BUY.
I will leave you with an overview of the company's balance sheet: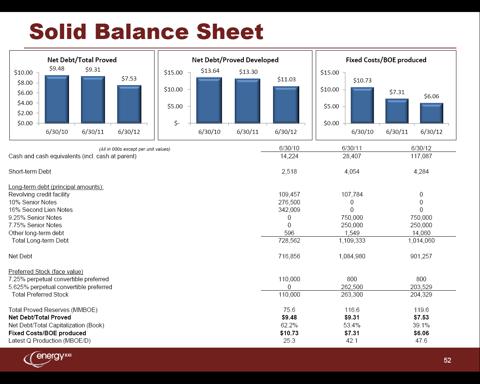 Disclosure: I am long XOM. I wrote this article myself, and it expresses my own opinions. I am not receiving compensation for it (other than from Seeking Alpha). I have no business relationship with any company whose stock is mentioned in this article.
Additional disclosure: I am an engineer, not a CFA. The information and data presented in this article was obtained from company documents and/or sources believed to be reliable, but has not been independently verified. Therefore, the author cannot guarantee its accuracy. Please do your own research and contact a qualified investment advisor. I am not responsible for investment decisions you make. Thanks for reading and good luck! NOTE: I may buy shares in EXXI over the next 24-48 hours.