A month ago in "How To Play A Stock Market Bubble" (May 13), I laid out a framework which has guided my trading since. I made the distinction between a sustainable bull market and a bubble and argued that we may be in the latter. I then outlined some ground rules for conservatively profiting from a bubble and some specific plays for doing so.
Over the last two weeks, a correction has given us the entry I've been waiting for. The catalyst was testimony by Fed Chair Bernanke which raised concerns about "tapering" on May 22. "Tapering" means a decrease from the $85 bil/month stimulus the Fed is now injecting into financial markets. These concerns led to a two week, 5% correction. However, a successful test of 1600 and the 50 DMA on Thursday has reignited animal spirits.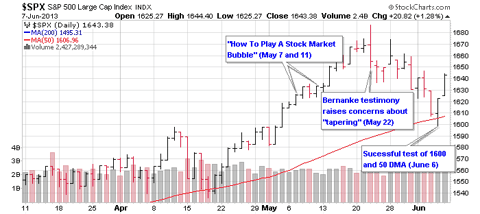 In addition, two "Goldilocks" numbers from important economic reports last week suggest the Fed may not be ready to taper just yet. The May ISM Manufacturing Survey came in at 49 while the May Jobs Report showed the economy adding 175,000 jobs. Both of these numbers suggest tepid growth in which the economy is muddling along but not strong enough for the Fed to pull back. That is what is meant by the term "Goldilocks."
The key event on the calendar is the next Fed decision on Wednesday, June 19. If the Fed strikes a hawkish note, all bets are off. However, should they refrain from suggesting imminent tapering that may well give the market license for a scorching summer rally. The absence of news and many market players taking time off could create a vacuum in which the direction of least resistance continues to be up - at least until early July and the next round of important economic reports as well as 2nd quarter earnings.
I continue to like the Wisdom Tree Japan Hedged ETF (NYSEARCA:DXJ) as the best way to play the bubble. That's because while there are now concerns about the Fed tapering, the BOJ is just getting started and its level of stimulus is proportionally much bigger. This is a high beta play that promises to give us the most bang for our buck and a 22% correction over the last two weeks has provided the entry I've been waiting for.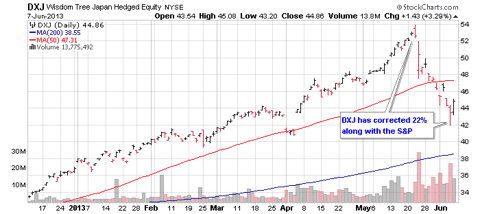 Trading a bubble is a risky business. As mentioned in "How To Play A Stock Market Bubble," we need to control risk by limiting our position size and shortening up our timeframe. However, we should not let the risks stop us from participating in potentially windfall profits. Consider that the Nikkei jumped more than 600 points, almost 5%, on Monday alone. Those are the kinds of gains that can be your reward for conservative speculation.
Disclosure: I am long DXJ. I wrote this article myself, and it expresses my own opinions. I am not receiving compensation for it. I have no business relationship with any company whose stock is mentioned in this article.