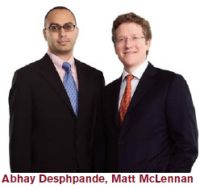 In a recent edition of Value Investor Insight, First Eagle Funds' Matthew McLennan and Abhay Deshpande described why they think Cintas Corp. (NASDAQ:CTAS) is mispriced. Key excerpts follow.
You described Cintas [CTAS] recently as a quintessential First Eagle idea. Why?

AD: It's a company that's very easy to understand, with clear, basic competitive strengths and a cheap stock price. Its primary business is designing, manufacturing and servicing employee uniforms, and over time it has expanded the product line to include things like linens, fire extinguishers and janitorial supplies. It also has a document-management business, not unlike Iron Mountain's.

The key to Cintas' business is the route density around centralized laundry and warehouse facilities. The more clients serviced within the radius of the facility, the higher the incremental margin earned on each additional client. Drivers are much more than just delivery people, they are customer-service contacts and are at least partly responsible for cross-selling additional services.

The Cintas growth story was built around successfully driving the consolidation of a very fragmented industry. As the market leader in a business with significant scale economies, they've been able to translate their size into higher margins than their competitors, and have also made it difficult to compete with them on price.

For a high-quality business, the share price hasn't painted a happy picture for a long time.

AD: As the business matured, the Street consistently marked down Cintas' valuation. The share-price damage only accelerated as the economy went south in the latter half of last year. The company has responded by quickly reducing headcount and capital spending, but earnings have still been hit.

We know what we're getting here, which is a high-quality franchise, growing in the mid to low single-digits on the top line, that is trading at a low valuation based on muddle-through earnings power. That may be rather mundane, but we've historically done very well with these types of situations.

Others have characterized the documentmanagement business as an interesting growth area. Do you agree?

AD: There is potential for them to apply the same model to document management that they've used successfully in the uniform business. But the document business is more competitive and we'd actually prefer they not overspend on it. With the stock trading at just under $23 per share, what kind of potential upside do you see?

MM: Based on our normalized estimates, we're currently paying multiples of just over 10x earnings and 6x EBITDA, and we're getting a better than 10% free cash flow yield. If you apply a 16% EBIT margin to roughly $25 per share in revenue, put a low double-digit multiple on the result and strip out net debt, we come to a private-market intrinsic value of around $40 per share.

Are the biggest risks here cyclical?

AD: The health of the business is closely tied to employment, so continued rising unemployment would likely not be a positive for the share price. That could be partly offset – or exacerbated – by the direction of fuel prices, which are a big cost component.

A more structural risk is that attempts to unionize the Cintas workforce gain steam with the advent of new labor laws and regulations proposed by the current administration. The company today has 34,000 employees, of which around 400 are unionized, so any significant shift toward a more unionized employee base could have a highly negative impact on margins. They've been successful in avoiding unionization so far, but it's clearly an issue we have to keep a close eye on.