Akamai Technologies (NASDAQ:AKAM) should be getting more attention. Not that many people have noticed that Akamai shares delivered an amazing 55.69% return in the past 12 months, doubling the size of its market capitalization. Even better, after making a comparison with other competitors -- specifically, Level 3 Communications (NASDAQ:LVLT), VeriSign (NASDAQ:VRSN), and Internap Network Services (NASDAQ:INAP) -- I found out that Akamai is the clear winner in terms of stock performance. How did they achieve this? And more importantly, will Akamai's stock continue outperforming every major stock index in the next months?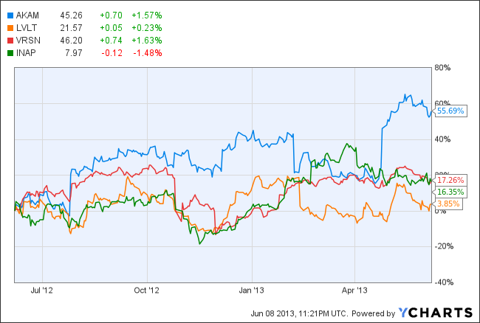 In order to explain Akamai's success, it is better to start by describing the attractiveness of its business: content delivery networks. But what is so attractive about this?
As Tom Friedman from the New York Times wisely noted, in the last decade we have moved from a connected world to a hyperconnected world. But not only the number of sites has grown exponentially, websites and mobile sites nowadays are much heavier than five or 10 years ago.
Almost every page of most widely used services shows content from more than 10 servers: many APIs (from fonts to maps) come from Google server farms, ads usually have their own server, images may be hosted separately, social gadgets are also in different servers, etc. In theory, this causes the loading time to increase considerably. Yet in practice the loading time remains either constant or, in fact, is decreasing. This is mainly because Internet connections are getting faster, but at the same time, content delivery networks are playing a much more important role in minimizing loading times, especially nowadays.
No serious webmaster can afford a major difference in loading time between its site and the competitors. There is an obsession with minimizing the loading time of your site, which is totally natural, as page loading time is a crucial part of any website's user experience, just like the beautifulness of the design or the efficiency of the algorithms behind the site. To mention a concrete example, according to a Forrester Consulting survey, already in 2009 online shoppers cited website as a crucial factor in their online store loyalty: 40% of them replied that they would wait no more than 3 seconds for a page to load before abandoning the site.
The Akamai Intelligent Platform
In order to minimize the loading time of their sites, webmasters (specifically, e-commerce, gaming and media companies) have to rely on content delivery networks (CDN). There are few other choices at the moment. And even if a new method for loading sites faster appears in the next years, they would continue relying partially on CDN: you have to use any available tool to make your site the fastest available option on the Internet. And one of the best tools available at the moment to achieve this is nothing else but the Akamai Intelligent Platform, Akamai's flagship product.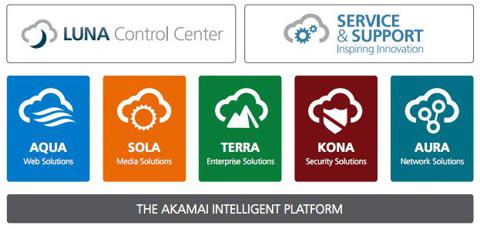 The Akamai Intelligent platform is how Akamai provides cloud infrastructure services for accelerating and improving the delivery of content and applications to over one third of Fortune's Global 500 companies' sites: from cloud based applications, conventional content (heavy images) to live and on-demand streaming video capabilities and HTML5 based games. This platform comprises more than 95,000 servers located across nearly 1,000 networks in 70 countries worldwide and can deliver hundreds of billions of Internet interactions daily.
It is also the best CDN available, although this can be hard to prove theoretically. But we better start with some intuitive facts: Akamai is a first mover, the company practically introduced the concept of CDNs more than a decade ago to help businesses overcome performance, reliability and scalability issues in their websites. Now, Akamai delivers about 15-20% of all web traffic worldwide and provides several types of commercial services, which go beyond simple content delivery: IP application acceleration, EdgeComputing, on-demand high-definition media, storage, analytics and authoritative DNS services, to mention some examples.
How much does Akamai help a business website?
Well, there is an Akamai study on an e-commerce website. Visitors were partitioned: half of them were directed to the site through Akamai while the other half were sent directly to the site's origin servers. Users on Akamai were 15% more likely to complete a purchase and 9% less likely to abandon the site after viewing just one page. How about B2B applications? An IDC survey in 2009 showed that customers using Akamai's acceleration services reported annual revenue increases of $200,000 to over $3M "directly attributable to the improved performance and reliability of their applications."
But what makes Akamai so special? Is being the first mover a strong competitive advantage in the CDN Industry? What guarantees the investor has that a startup with some linked servers won't appear all of the sudden and start stealing market share in this promising market?
Well, to begin with, the Akamai network is not just a bunch of well optimized servers located all over the world (which is already a very challenging task to achieve). Akamai's servers run very sophisticated algorithms (patents!) to enable the delivery of highly scalable distributed applications. It comprises many smaller delivery networks, and each of them has been optimized to address a particular type of content: some will address images, others will address dynamic applications, and so on.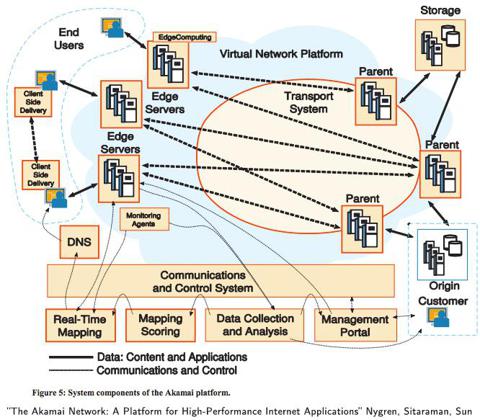 Let me explain you how Akamai works. Every time you type a URL of an Akamai customer into your browser, the domain name of the URL is translated by a mapping system into the IP address of an Akamai "edge server." Each Akamai edge server is part of an edge server platform -- thousands of servers located in thousands of locations all over the world. To respond your request, the platform will find the fastest currently available way: it may request content from an origin server, use a server located near you, judge the kind of content you are about to see and use it as a criteria to choose your server, give you entirely cached content (in case the site you are about to see is not dynamic), etc.
To perform all these operations, Akamai uses an optimal communications and control system. And finally, they collect a lot of data using server logs, client logs (over 100 terabytes of logs per day) and network and server information, which can be used for monitoring, analytics, reporting and alerting. This whole system represents a "state of the art" network, following excellent design principles: reliability (every component is redundant, which is important as there can be a broken pipe or an error at any time), scalability (more than 95,000 machines and growing), limited human management necessity (less prone to human errors) and high-performance driven.
How Safe Is the Business?
First of all, we know that the number of Internet connections continues growing. Likewise, the growing demand for heavy content (from video streaming to highly dynamic cloud based sites) is also a fact. Now, unfortunately for many (but not for Akamai), the Internet is not a single entity, it is actually composed of thousands of different networks, each providing access to a tiny percentage of end users. The largest network has only 5% of Internet access traffic.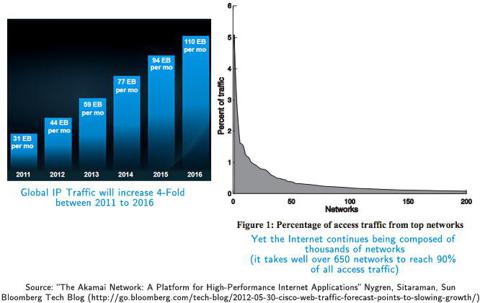 Therefore, we have two realities coexisting at the same time: on one hand, global traffic is increasing massively. On the other hand, the Internet continues being composed of thousands of networks. This makes inter-network data communications an extremely important issue in the next years. Specifically, the following problems will continue increasing (identified by Nygren, Sitaraman and Sun) :
Peering point congestion.
Inefficient routing protocols.
Unreliable networks (due to thousands of reasons, from cable cuts and misconfigured routers to DDoS attacks).
Inefficient communications protocols.
Application limitations and slow rate of change adoption (as enterprises have little or no control over the end users' software).
Considering that the Akamai network is a tool specifically designed to address each of this issues in the best possible way, we can be sure that in the next years the demand for Akamai network will continue increasing.
How about other CDNs similar to Akamai? Do they pose a risk?
Well, we cannot deny the fact that more and more CDNs are appearing but it is difficult for them to overcome Akamai in terms of performance. First of all, under the current state of technology, the more servers you have in your network and the more locations you cover, the more efficient your CDN will be. And Akamai is already very big. Too big to be reached by a small startup. I also explained in the previous section what makes Akamai network so special.
An interesting paper by Huang et al. ("Measuring and Evaluating Large-Scale CDNs") compares the performance of Akamai and one of its competitors, Limelight, provided by Limelight Networks (NASDAQ:LLNW). The paper does an excellent job in comparing these two CDNs with regards to the numbers of their content servers, their internal DNS designs, the geographic location of their data centers and their DNS and content server delays. Limelight is probably the best choice for comparison, because it embraces a different philosophy for CDNs: the Akamai way is to "enter deep into internet server providers (ISP)," and the Limelight design "brings ISPs to home."
So, which network is the best choice?
The paper founds evidence that Akamai network is superior in most comparison criteria. Let's start with the downside: to compare CDN availability, the researchers monitored all the servers for more than two months back in 2008, by connecting to port 80 of each once every hour. If a server cannot be connected for two consecutive hours, it is treated as down. The paper found that more than 50% of Akamai servers are always available, and that 70% or more of Limelight servers are always available. This shows that Akamai network is more difficult to maintain.
But this is not necessarily bad news. After all, Akamai has many more servers which are distributed in many remote locations. What is important is to measure and compare delay performance.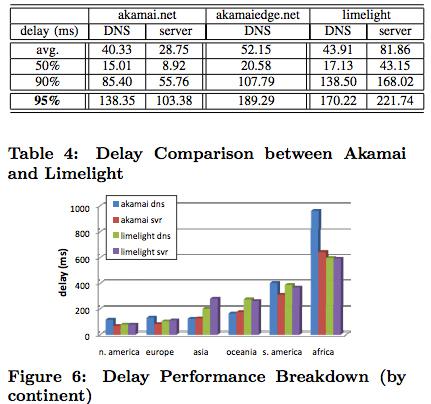 The paper founds that there is a big gap in delay performance between Akamai and Limelight. In North America, the delay to Limelight servers was 18% more than Akamai servers. In Europe, Limelight's delay is over 33% more than Akamai and in Asia about 127% worse. This clearly shows Akamai's advantage in performance.
Not surprisingly, Limelight's stock has also performed worse than Akamai Technologies. I compared the stock performance for the past five years between these two CDN stocks and I found out that Limelight had an overall negative return (-31.94%), while Akamai had an excellent positive return (+21.08%). This shows that the market is well aware of who is the best in terms of performance.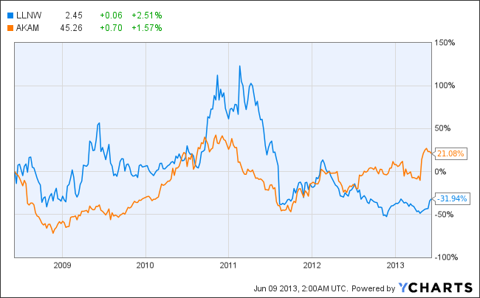 10 Years of Growth
Akamai shows an excellent revenue growth record. Annual revenue in 2012 was up 19% from 2011. GAAP net income also increased 2%, to $204 million, or $1.12 per diluted share. In the latest earnings call (late April), Akamai confirmed that revenue growth remains solid. Revenue for the first quarter of 2013 was $368M, a 15% increase over first quarter 2012 revenue of $319M. Net income is also improving, a 5% increase over the prior quarter (to $71M from $68M).
Variant View
By this time, you should have noticed that although revenue growth is spectacular for a company that is already 10 years in this business, profitability isn't. To show this better, take a look at the next image: although revenue grew 19% (2011-2012), net income only grew 2% in the same period.

I am concerned about the disparity between revenue and net income growth. One way to understand this is that competition is increasing from telecom companies, who are adding CDNs to their baskets of products. In this sense, Akamai did an excellent job in keeping its margins and price premium for the past 2 years; however, increasing competition could put Akamai's price premium in danger for the next quarters and this risk should not be ignored.
We can also try to understand this figure from a cost perspective. About half of Akamai's costs of goods sold are related to colocation and bandwidth fees. These fees are decreasing as a percentage of revenue, but the decreasing rate is not strong enough to have a significant impact on net income growth. This leads me to think that Akamai is reaching the bottom vertex of its long run average cost curve, as the benefits of economies of scale apparently are starting to fade away. The bottom line is that we cannot have diseconomies of scale here. Either costs continue decreasing or reach a level so low that they cannot decrease any more. Also keep in mind that Akamai already delivers 20% of all web traffic. As Akamai moves from 20% to 30% in the next years, we will see how strong their pricing power really is and how much economies of scale can help the company to reduce its cost base even after reaching such an enormous scale of operations.
Balance Sheet
Nothing to complaint about here. The company exited the latest quarter with more than $1B in cash and marketable securities, and no debt. Therefore, Akamai is prepared to invest or make acquisitions, if needed in the near future.
Valuation
I use Old School Value financial spreadsheet and a discounted cash flow valuation under the following assumptions: a 15% average revenue growth rate for the next 10 years, which is optimistic in the sense that I am assuming the company will be able to keep its current growth rate; a 9% WACC discount rate and a 3% terminal growth rate, I obtain a fair value of $52.32 per share, approximately 15% above the current stock price.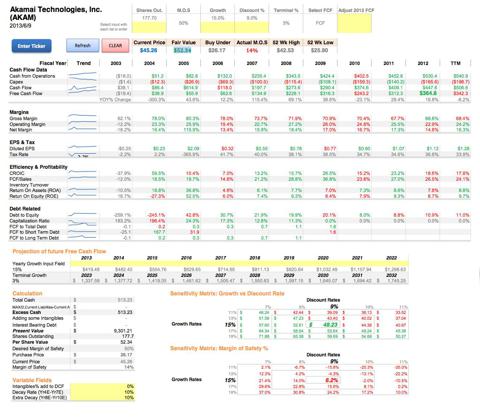 Risks
The disparity between revenue growth and net income growth in the past quarters is my main worry. At the moment, I think that Akamai's profitability is solid but we ought to monitor Akamai's pricing power and cost structure every quarter.
Despite being the best CDN, Akamai faces intense competition. Not only startups are interested: Telecoms are also joining the game. The upside is that many have tried to compete against Akamai for years, and Akamai still managed to keep its price premium safe. The downside is that having many data centers all over the world is currently a competitive advantage hard to beat, but nobody knows what will happen in the long run. Maybe a new way (either a protocol or algorithm or something else) to accelerate the web will appear. And a small startup may be able to respond more quickly than Akamai to this new technology.
Other CDNs are offering much lower prices for their services and customers may be more price sensitive now than three or four years ago. The company seems to be facing strong market pressure to decrease its prices particularly in the media business.
It is easy for a customer to replace Akamai: it is not so difficult to move from Akamai to another CDN. Customers have no obligation to renew their agreements after the expiration of their existing terms, typically 12 to 24 months. And it is hard to forecast how many customers are currently thinking about not renewing their contracts with Akamai. Furthermore, in the latest 10-K Akamai admits in page 11 that a significant percentage of their renewals have involved unit price declines, particularly with large customers.
References
Huang, Wang, Li and Ross. Measuring and Evaluating Large-Scale CDNs. IMC. 2008
Nygre, Sitaraman and Sun. "The Akamai Network: A Platform for High-Performance Internet Applications"
Forrester Consulting. "eCommerce Web Site Performance Today: An Updated Look At Consumer Reaction To A Poor Online Shopping Experience." Aug. 17, 2009
IDC. "Determining the Return on Investment of Web Application Acceleration Managed Services." Oct. 2009
Akamai latest quarterly release
Final Remarks
Rating: Buy
Investment Strategy: Growth
Investment Horizon: One year
Price target: $52
Uncertainty: High
Disclosure: I have no positions in any stocks mentioned, but may initiate a long position in AKAM over the next 72 hours. I wrote this article myself, and it expresses my own opinions. I am not receiving compensation for it (other than from Seeking Alpha). I have no business relationship with any company whose stock is mentioned in this article.