ChannelAdvisor (NYSE:ECOM) has just reported its May 2013 "same store sales" for Amazon.com (NASDAQ:AMZN). These came in at +25.8% year-on-year, as we can see below:
Amazon - In May, Amazon came in at 25.8% which is a decrease from April's 30.6%. Note that 25.8% is still materially faster than the current 14-15% e-commerce growth rate (according to ComScore).
This represents a massive deceleration from April's +30.6%, and most importantly, it bodes very badly for Amazon.com's all-important 3P (third party) sales, for which ChannelAdvisor's data is a proxy.
Q2 2013
With the data for May, I can update my ChannelAdvisor model, which seeks to predict the direction of Amazon.com's revenue growth and has exhibited a 100% success rate in doing so. So what is the model saying now? Let us see where we stand (green is the new data, red is the present consensus):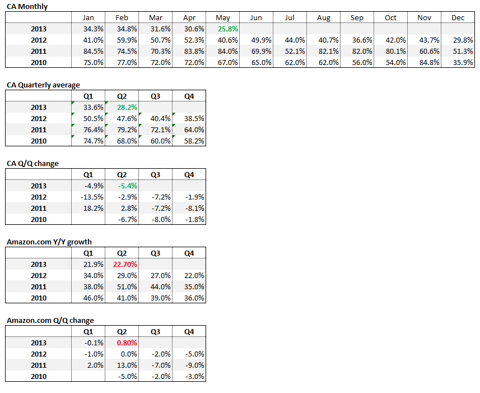 As we can see, the average reported growth (by ChannelAdvisor) for Q2 2013 up until this point stands at +28.2% year-on-year, down from the growth reported on Q1 2013 (+33.6%). This implies that Amazon.com's revenue growth rate during Q2 2013 will fall from Q1 2013, while the present consensus calls for +22.7%, which is above the +21.9% reported on Q1 2013. As such, our model is clearly saying that Amazon.com will miss revenue estimates for Q2 2013 and show a further deceleration in revenue growth.
Not only that, but the growth being reported by ChannelAdvisor is the lowest since we've been tracking it, and decelerating quickly even though these numbers work as a proxy for Amazon.com's 3P growth rate.
In short, this model -- which has gotten the direction of Amazon.com's revenue growth rate right 100% of the time -- is predicting that Amazon.com will miss Q2 2013 consensus revenue estimates.
Conclusion
I again predict that Amazon.com will report a Q2 2013 revenue growth rate below the present consensus of +22.7%. The difference is now larger than when I last made this prediction, so this is even more certain to happen.
Also, it seems likely that Amazon.com will disappoint particularly in its 3P revenues, perhaps as a result of the recent increases in commissions both in the U.S. and Europe.
I also believe that this data is bound to have a negative impact starting right in the market session for June 11.
Disclosure: I am short AMZN. I wrote this article myself, and it expresses my own opinions. I am not receiving compensation for it (other than from Seeking Alpha). I have no business relationship with any company whose stock is mentioned in this article.