If you've read my last article, I showed how a large player entered into a significant options play in Sirius XM (NASDAQ:SIRI) with an expiration date of January 2015. Since that article ,many readers have contacted me privately asking how they may employ this strategy themselves and if it is possible to do so shorter term.
The simple answer is yes, shorter term is possible. But first one must consider what I believe will push Sirius XM's share price to approximately $4.25 by January of 2014. The share price target is critical to the strategy involved, and that share price target comes mainly due to two fundamental reasons.
The Fundamental Story
With Sirius XM currently trading for $3.40 per share, what will drive the share price to heights potentially reaching $4.25 over the next 7 months?
The first, is Sirius XM's stated $2 billion share repurchase program which is already underway.
Because of this, I expected that the share price of Sirius XM would have strong support and would find a stair stepping pattern of appreciation with rising support during periods of consolidation followed by pops once the share price was squeezed enough. It's similar to the type of behavior seen as Liberty Media (LMCA) was buying shares for control. Supply dwindles as shares are bought, and the buyer must move the share price up to acquire more shares.

Has this happened? Yes. Arguably it has. When you consider the 1 year chart of Sirius XM a sort of stair step pattern of appreciation is readily apparent.

Up, over, up, over, up, over. It should be clear to see. That green line there? That's support, and what I have been stressing is a good indicator of a strong buy area at or below it.
The program had already repurchased 209 million shares as of Sirius XM's Q1 call, and there is little reason to expect that it has not continued since. As the company buys back and removes shares outstanding, each remaining share is worth more, and this slowly lifts the share price of Sirius XM over time. A rising tide will lift a boat, and that's what's going on here. Sure the waves (volatility of the market) bounce the boat up and down short term, but as that tide slowly comes in, the boat rises higher and sinks less relative to where it was before. Higher highs, higher lows. Good for investors.
Second, is that Sirius XM is a play on auto sales, new and used. With new cars seeing sales increase year over year :
For May the auto sales pace appears to be back on track. It is anticipated that the sales tally for the month will be in the neighborhood of 1.4 million units, well above the 1.1 million level that allows Sirius XM to report good metrics.

It is anticipated that for the full year, new car sales can approach 15.5 million units. Sirius XM delivered over 2 million net subscriber additions in 2012 on new car sales of 14.5 million. For 2013 the guidance is 1.4 million net additions on a new car sales market of an anticipated 15 million.
and with used autos increasingly penetrated by Sirius XM's installed base of receivers :
At the moment Sirius XM has over 9,000 used car dealerships signed up for participation in the free trial program. Industry data reveals some very interesting information about the secondary market:

There are approximately 18,000 franchised auto dealerships that sell both new and used cars. Essentially, Sirius XM has a relationship with well over half of them.
Last year approximately 13 million used cars between 0 and 6 years old were sold. Sirius XM was installed in 33% of new cars in 2007 and is now installed in about 67% of new cars. Between 2007 and 2012 new car sales stood at 78.5 million with 42.7 million of those cars being satellite radio equipped. It would appear that 65 million cars from that group remain with their original owners while some 13 million have been sold in the secondary channel. Essentially, 54% of these cars have satellite radio. This number will grow.
the potential market for new subscribers is always increasing. Sirius XM's expansion of deals with the used auto sector only serves to help maximize exposure in this market and should help continue to grow subscribers.
These two fundamental parts are critical to Sirius XM's bullish story going forward. It is important to understand that neither part would be enough to push Sirius XM's share price to that $4.25 target, but in conjunction I see enough upside to reach $4.25 per share near year's end.
How To Enter The Play
A simple long position in Sirius XM will, at a year end price of $4.25, yields a 25% return. Gains are linear, yielding 5% for every 17 cents of appreciation.
The play I am about to suggest is very similar to the one discussed in the previous article, but uses tighter strikes to make it happen. While the 2015 play used $3.50 and $4.50 calls, for a shorter term January 2014 play, we will want to use the $3.50 and $4.50 strikes.
Here's how to do it, both if you are already long the stock or if you are sitting in cash waiting to enter. Please note that you will need options approval for spreads in order to enter this play and enough cash to cover transaction and contract fees, typically $0.75 per option contract needed. Since the play is net debit, and covered on both ends, margin is not necessary. All prices used are as of close on June 10th, 2013 and subject to change.
If you are already long Sirius XM
For every 100 shares you own, sell one January 2014 $4 call for $0.16
With the cash received from the call sale, plus $2 per contract pair, simultaneously purchase one January 2014 $3.50 call and sell one more January 2014 $4 call.
If you are currently in cash
Perform a buy-write and simultaneously purchase 100 share lots of Sirius XM and sell one January 2014 $4 call for $0.16 for each lot you purchase.
With the cash received from the call sale, plus $2 per contract pair, simultaneously purchase one January 2014 $3.50 call and sell one more January 2014 $4 call.
Remember you will need enough cash to cover both trades. For 10,000 shares you would need $34,000 at current $3.40 per share pricing, as well as $75 for each of the 3 "legs" of the options as a premium, plus $200 for the difference in premium received from the option sales and option purchase, plus trade fees.
This places the total trade for a 10,000 share lot at a cost of roughly $34,425 at current pricing.
So why if the cost is higher, is this play better, in my opinion, than simply holding the stock long?
Remember the fundamental story and my $4.25 price target above. Now consider the following graph of profit and loss on a 10,000 share lot.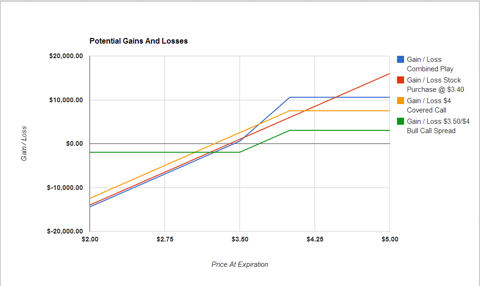 The lines above take into account a $0.75 cost per option contract. As you can clearly see, the red line illustrates profit and loss from a simple stock position. What we are interested in is the blue line, which illustrates the "play" explained above, and is the result of the addition of the yellow and green lines which are the two plays that make up the total strategy. What is important to note is that at share prices between $3.54 and roughly $4.46 at expiration yield greater gains than simply holding the stock long.
That is crucial and needs to be repeated.
Unless you expect share pricing at the end of 2013 to be over $4.46 or under $3.54, the play as illustrated yields greater gains.
The share price has to *only* hit $4 per share for maximum gains with this play. The gain at $4 per share at expiration is 31% while a simple long stock position is only 17.5%.
Sure, the long stock position offers greater gains over and above $4.46, but I do not expect share prices to hit this high unless something drastically changes on the fundamental side for Sirius XM. 31% in 7 months is an excellent gain.
This play is worth a serious look, and I am considering entering into it myself on all, or a portion of my position in the sessions to come.
Disclosure: I am long SIRI. I wrote this article myself, and it expresses my own opinions. I am not receiving compensation for it (other than from Seeking Alpha). I have no business relationship with any company whose stock is mentioned in this article.
Additional disclosure: I am long SIRI January 2014 $2, $2.50 and $3 calls.