The last article introduced the Carbonate Triangle region as the world's third largest oil reserve with its rich carbonate-hosted bitumen deposit in the northern Alberta's deep underground. Notably, the Carbonate Triangle is located between three areas, Athabasca, Cold Lake and Peace River.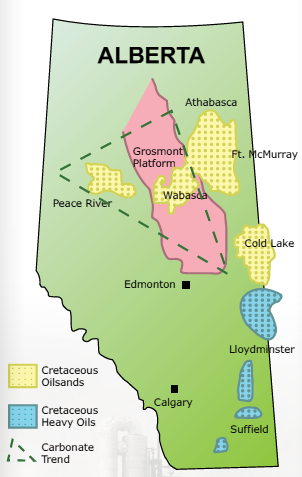 Source: Government of Alberta
In today's investment guide on the Carbonate Triangle, I will present the main characteristics of the Peace River area to have a better assessment of its potential. Then, I will introduce one of the oil producer that is currently extracting this carbonate bitumen in the area.
An analysis of the current operations of the company will be examined with the objective to give the most complete information available to potential investors before deciding to seize the opportunity that the 54,132 square miles of the Carbonate Triangle has to offer. Let's start by introducing Peace River, the northern door to the vast wilderness of Alberta.
The Peace River Region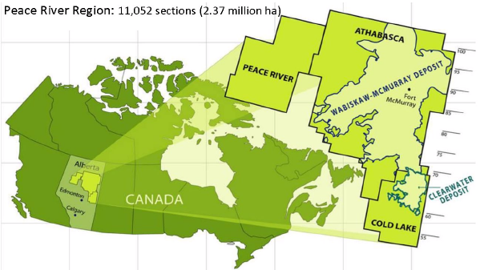 Source: ERCB
According to the September 1999 Bulletin of Canadian Petroleum Geology, exploitable bitumen reserves at Peace River are contained predominantly within the 49-65 feet thick estuarine sands of the Bluesky formation. Where combined with underlying fluviatile sands of the Ostracode Zone, net pay can reach up to 98 feet in thickness. These sands are penetrated at an average depth of 1804 feet and production of the bitumen relies on non conventional recovery methods.
Two other formations, Debolt and Elkton are getting more explored since the exploration and production was mainly focused in the Bluesky/Gething formations. Debolt would be similar to the Grosmont play in the Wabasca area, according to specialists. Heavy oil total reserve in-place is estimated at more than 90 billion barrels, with the potential to gather more than 7 billion barrels of oil with today's technology.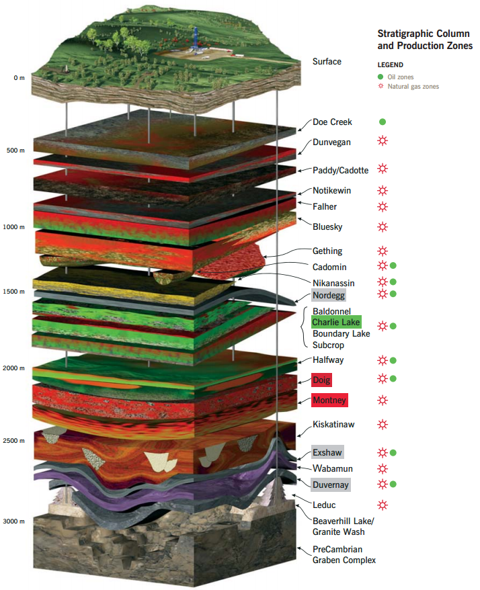 Source: Canadianoilstocks
Discovered in the 1950s, the Peace River oil sands deposit is located exclusively within the subsurface, the total area of the deposit spanning about 11,052 sections or 2.37 million hectares. Notably, the Red Earth Highlands effectively separates the Peace River and Wabasca oil sands deposits. Pilot projects initiated by Shell Canada (NYSE:RDS.A) in the 1970s and early 1980s led to commercial production of bitumen in 1986 using CSS and SAGD methods.
According to the Final Oil and Gas Services Business Case Report of Abiocon Strategies, only 0.3% of the oil sands area, or 0.1% of the total land area of Alberta was commercially exploited. Current upgrading capacity in Alberta is about 1.209Mmbls/d (million barrels per day) of bitumen with SCO (synthetic crude oil) output at approximately 1.037Mmbls/d. Currently about 59% of bitumen production is sent for upgrading to SCO in the province. It takes about two tonnes of oil sands to produce a barrel of oil.
Notably, as of January 2011, the operating capacity amongst current existing and proposed bitumen producers, Peace River produced 13,500 barrels per day out of a total of 1,787,300 barrels per day, which accounted for less than 1% of current operations at the time. Now that we have explored Peace River, let me introduce a small-cap producer which owns over 5.7 million net acres in Canada's oil sands.
PennWest Exploration (NYSE:PWE)
With a market cap of almost $5 billion, PennWest has more than 676Mmboe (million barrels of oil equivalent) in proved and probable reserve at the end of December 2012, from which 71% of its total accounts for liquids.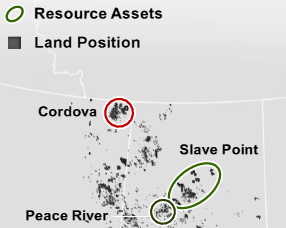 Source: PennWest June 2013 Investors Update
The company's strategy relies on these points:
Active hedging activities
Establish long term, multi-stream supply arrangements with refineries
Direct market to refiners
Identify and develop access to world markets
Selective use of rail for transportation
In Peace River, PennWest's program focuses on two plays. The first is its Seal Main Pilot, a project appraisal that has produced between 150-160Mbls (gross) to date in the first two steam cycles, according to the company. Seal Main would produce 10,000Bls/d (gross) and the commercial engineering & procurement is under way. Ramp-up is expected for 2015.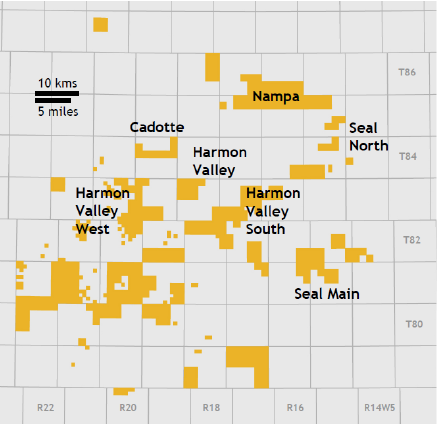 Source: PennWest Exploration
The second play is Harmon Valley South which includes 3 well pilots. The project appraisal would produce 20,000Bls/d. In its Q1 2013 earnings release, the company is expected to commence steam injection in the 2H of 2013. The project is in its commercial environmental assessment stage.
PennWest will continue to drill vertical appraisal wells and operate its existing thermal pilot. Six new primary multi-leg wells currently produce about 1,000Bls/d (gross) of crude. In addition, construction completion of its second thermal pilot and start-up of steam injection is expected in Q3 of 2013.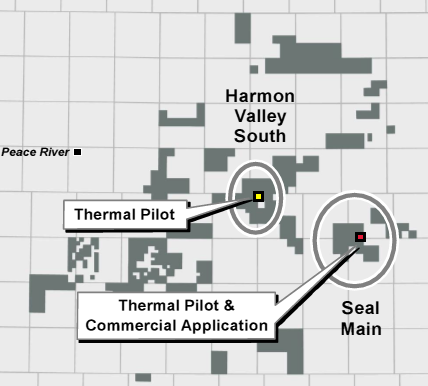 Source: PennWest May 2013 Investors Update
The producer, in its 2013 Q1 earnings release, reported an average production of 142,804Boe/d and it maintains its annual average production guidance at 135,000 to 145,000Boe/d. Assuming a production of 145,000Boe/d, the two plays of Peace River would add 30,000Bls/d to the production, a 20.7% increase for PennWest's total production.
Notably, the company reported that exploration and development capital expenditures of $427 million were on budget, its full year capital guidance remaining at $900 million. Furthermore, improvements in capital efficiencies and cost structures on all key plays were realized, driven by reductions in drill times and decreased completion costs in addition to improvements in field execution.
For the full year 2013, the $900 million budget includes drilling 160 to 180 net operated development wells, concentrated on light oil. Development costs showed significant improvement from prior programs with substantial reductions in drilling days and overall cycle times compared to prior programs. The company has the reliability of its production base with the Spearfish, Carbonates, Cardium and Viking producing assets in oil sands, while the management continues to improve its balance sheet.
Bottom Line
On June 5th, PennWest announced some changes mostly with the management, operating costs and dividend policy. Murray Nunns, President and Chief Executive Officer will retire effective July 1st, 2013 and will be replaced by David Roberts, the former Executive Vice President and Chief Operating Officer of Marathon Oil Corporation (NYSE:MRO), effective June 19th, 2013.
The company plans to significantly reduce the general and administrative expenses as well as field operating costs, focusing instead its efforts on execution across the board, maximizing the use of its mid-stream assets and improving the netbacks it receives on each barrel produced.
Finally, effective for its Q3 2013, Penn West's quarterly dividend will be reduced to $0.14 per common share from $0.27, a 48% decrease. This measure is said to provide Penn West with increased financial flexibility and a sustainable dividend, as it continues to improve its operating performance. At the new dividend level of $0.14 per share per quarter, the dividend yield will be about 5.35%, which is well above the industry's average of 1.34%.
Usually, a dividend cut doesn't bode well for a company. However, in this particular case, I believe PennWest made a wise decision for two reasons. First, to ensure its growth, the company needs to get more access to capital for funding assets purposes. Second, a more realistic dividend yield given its low net margin profit of 0.66 makes more sense.
The cut doesn't reduce the appeal since PennWest has already a good assets base that should drive its future earnings. Therefore, the stock price is trading at approximately $10, which is significantly lower from the peak of $16.70 in a year span, achieved on September 14th, 2012. Moreover, I believe that the stock offers a good opportunity to get a little discounted price, since the fair value assessed by Morningstar is set at $11/share.
Disclosure: I have no positions in any stocks mentioned, and no plans to initiate any positions within the next 72 hours. I wrote this article myself, and it expresses my own opinions. I am not receiving compensation for it (other than from Seeking Alpha). I have no business relationship with any company whose stock is mentioned in this article.