Summary
Monday, Halcón Resources (NYSE:HK) provided a mid-quarter operational update. Despite impressive results in the Bakken and East Texas Eagle Ford, the report falls short of what would be needed to put the stock on a recovery trajectory (the shares have lost a quarter of their value since April when Halcón was trading around $8 per share).
The press release states that activity in the company's previously highly publicized Woodbine play is continuing to be scaled back, with only two rigs currently running in the area. Halcón is re-allocating resources towards its recently announced East Texas Eagle Ford play. Previously, Halcón considered the Woodbine one of its top two operating areas, with plans to run five to seven rigs in 2013 and $490 million budgeted for the year.
Halcón is yet to prove commerciality of its Utica Northern Extension play where the company is the most aggressive explorer. The press release provided a status update on Halcón's closely watched testing program in the area, which now includes the company's nine evaluation wells and extensive "science" work. No additional information was released with regard to flow rates (Halcón has issued a Utica-focused operating update just three weeks ago, with IP results for its first two tests announced; a third well, the Brugler 1H in Ohio, should have been tested by now and may be the next flow result to be made public).
Overall, the report can be interpreted as an incremental positive data point for the stock, given that the disappointments with regard to the Woodbine and Tuscaloosa Marine Shale are likely fully discounted into shares. The Utica remains the most watched near-term uncertainly and potential catalyst for the stock, with at least seven test results expected to be announced over the next three months.
The company is currently operating 17 rigs across its holdings and is producing approximately 30,000 barrels of oil equivalent per day.
Bakken/Three Forks
The Bakken operational update is the centerpoint of Halcón's today's press release. The company reported strong drilling results and guided to expected D&C cost reductions.
As a reminder, Halcón acquired the majority of its operated acreage in the Williston Basin from privately held Petro-Hunt in October of last year for $1.45 billion ($700 million in cash and $750 million in stock at $7.45 per share). The acquisition included 81,000 net acres, ~95% operated and 94% HBP, in Williams, Mountrail, McKenzie and Dunn Counties of North Dakota (map below).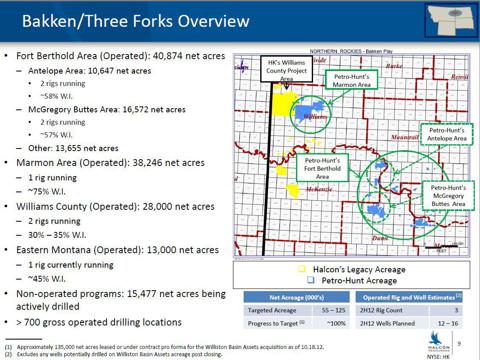 (Source: Halcón Resources October 2012 Investor Presentation)
At deal time, the acquired properties were producing 10,500 Boe/d net and had 42.4 MMBoe of proved reserves. I estimate the M&A value of acquired production in the $550-$625 million range, which implies $11,500-$12,000 paid per undeveloped acre. The average price per acre masks a much higher valuation that should be allocated to the most prolific 10,647 net acres in the Antelope area and 16,572 net acres in the McGregory Buttes area, the two blocks that, in my estimate, account for the lion's share of the acquired undeveloped acreage value (EURs estimated for each portion of the acquired acreage at acquisition time are presented in the table below).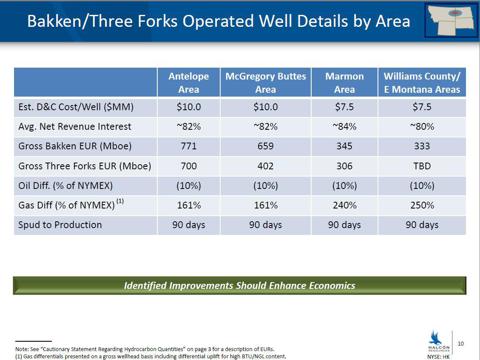 (Source: Halcón Resources October 2012 Investor Presentation)
Halcón is currently operating eight rigs on its total 135,000 net acre position in the Bakken. The company's North Dakota acreage is mostly well delineated but is still less than 15% developed (the percentage may be a bit higher in the Fort Berthold area). There are currently 137 producers on the company-operated lands - 105 Middle Bakken wells and 32 Three Forks wells - and 22 additional wells are in various stages of drilling or completion. While the inventory of undrilled locations is significant overall, the best quality locations may represent less than three-four years of drilling at current pace, based on my estimate.
Fort Berthold Area
Halcón reported that its three most recent Middle Bakken wells in the Fort Berthold area had an average IP rate of 2,648 Boe/d (78% oil), including a well that produced at an IP rate of 3,060 Boe/d (90% oil), the company's best Bakken well so far. This latter well was the first well drilled on a two-well pad. The second well also promises to be exceptionally strong. The frac plugs are currently being drilled out on that well, which has been flowing back during drill out and is currently producing 2,732 Boe/d (86% oil) with just 67% of the lateral cleaned out.
Halcón's last four Three Forks wells drilled in the Fort Berthold area have also demonstrated very strong results, with an average IP rate of 2,094 Boe/d (86% oil).
The results are impressive although they fall behind the recent stellar report released by QEP Resources (NYSE:QEP) for its South Antelope block which is located in close proximity to Halcón's Antelope and McGregory Buttes areas (as a reminder, QEP reported an average IP rate of ~3,600 Boe/d, equivalent to ~3,930 Boe/d assuming full processing, for its four most recent wells).
Halcón attributes these improved rates to recent modifications to completion techniques, including plug and perf completions; switching to ceramic proppant; increased proppant volume per lateral foot; increased stage density; and zipper fracs. In the context of these potentially costly modifications, the company's confirmation of its earlier guidance that well costs should actually decrease by approximately 10% to $9.0 million by the end of 2013 is quite impressive.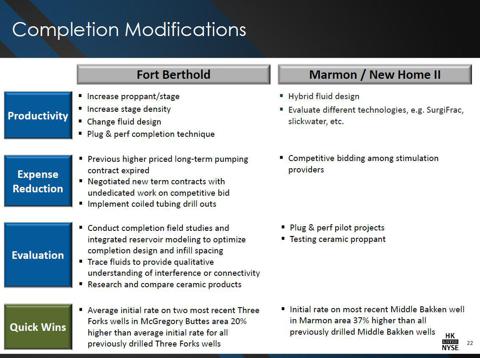 (Source: Halcón Resources' April 2013 Investor Presentation)
Halcón is currently in the process of testing a dense 660-foot spacing for Bakken wells in the Fort Berthold area, which is approximately equivalent to 160-foot spacing. This testing will involve surface and downhole microseismic with results expected by the end of 2013. A 160-foot pilot is also being tested by Continental Resources (NYSE:CLR) in one of its comprehensive pilots.
Notably, Halcón holds a 15.5% working interest in Continental-operated Rollefstad Unit, which will test the upper three benches of the Three Forks formation. The Rollefstad Unit is located adjacent to Halcón 's Bakken downspacing test acreage. A positive test by Continental may provide a read-through to Halcón's stock.
Marmon Area
In Halcón's Marmon area, the average IP rate for the two most recent Bakken wells showed a significant improvement over previous results. Still, the average EUR from these two Bakken wells that Halcón estimates at ~462 Mboe is somewhat below of what is needed for the development to be economically compelling. Well costs in the Marmon area are currently averaging approximately $9.5 million. Halcón expects these well costs to decrease by approximately 5% to $9.0 million by the end of 2013. Further well cost reduction is expected in 2014 once pad drilling is fully implemented in this area.
The reported improvement in IP rates and Halcón's upbeat commentary give hope that the Marmon area may one day become commercial, should operating improvements continue.
El Halcón
Halcón has rapidly expanded its drilling program at El Halcón (East Texas Eagle Ford) and is currently running five operated rigs in the area. The company currently has 55,000 net acres leased in the play. Halcón stated that the average IP rate from its two most recent wells was 1,116 Boe/d (94% oil) on a 16/64 choke (the effective average lateral length for these two wells was 8,349 feet). The two wells continue the string of the company's impressive drilling results in this emerging play (chart below). There are currently nine Eagle Ford wells producing, five wells being completed or waiting on completion and five wells being drilled.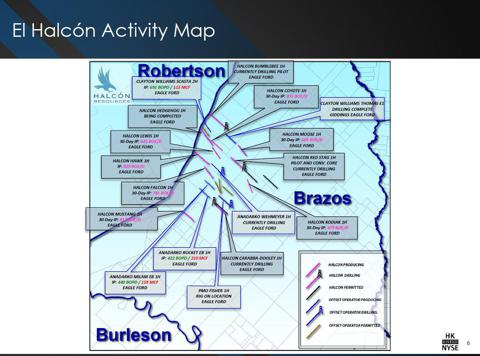 (Source: Halcón Resources' April 2013 Investor Presentation)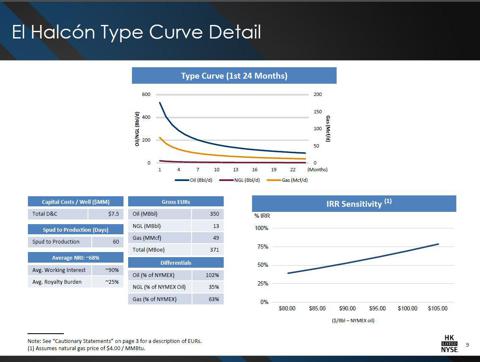 (Source: Halcón Resources' April 2013 Investor Presentation)
Woodbine
Halcón is currently operating two rigs on its 210,000 net acre position prospective for the Woodbine. The focus continues to be on horizontal redevelopment drilling in the prolific Halliday Field in Leon County.
The press release reported that the average initial rate for the three most recent wells in Leon County was 513 Boe/d. Halcón also commented that Woodbine wells do not achieve maximum production until artificial lift equipment is installed.
Halcón's production results in the Woodbine during the first quarter fell substantially below expectation, as some of the wells drilled close to the edge of the Halliday Field disappointed.
Based on the company's most recent presentation, the Woodbine remains one of its highest return plays. The scaling back of the drilling activity in the area may, however, indicate that the play's profitable core and repeatability may be limited (in fact, it is conventional play that lacks attributes of a typical "resource" play) and well results are less consistent than initially anticipated.
There are currently 39 horizontal Woodbine wells producing, 6 wells being completed or waiting on completion and 2 wells being drilled.
Utica/Point Pleasant
Halcón has now drilled eight wells and is currently drilling its ninth well on its 140,000 net acre position in Northeast Ohio and Northwest Pennsylvania. These nine wells were drilled across approximately 70 miles and five counties. The status of each well is as follows: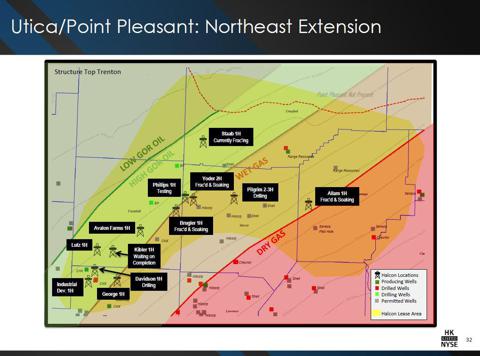 (Source: Halcón Resources' April 2013 Investor Presentation)
In the press release, Halcón emphasized the significant amount of "science work" that it has performed on the acreage. The company has also made numerous data trades with offset operators and has joined several industry data consortiums. However, the company's comment that "the data acquired to date is encouraging" falls somewhat short of what one would hope to hear with regard to this high stakes play.
Implications for the Stock
Halcón has been aggressive - and, I would argue, highly successful - in its rapid build out of a large inventory of potentially impactful oil plays in a very short period of time.
The hit (possibly, Eagle Ford and Wilcox) and miss (possibly, TMS and Woodbine - although the jury is still out on those plays) results are not unexpected.
The success of the Bakken operation is important as it provides a relatively low-risk development component to the company's portfolio. As Halcón's core Bakken areas are entering full development mode, they may also soon become a source of cash flow to be redeployed to other areas.
As Halcón's portfolio remains heavy on early-stage exploration plays, the stock will inevitably be characterized by high risk and high price volatility in reaction to operating announcements. Rewards may also be substantial as it only takes one major success (such as, potentially, the Eagle Ford) to achieve value upside.
Given the company's high exposure to exploration-type plays, its high leverage remains a significant weakness.
Disclaimer: This article is not an investment recommendation. Any analysis presented herein is limited in scope, based on an incomplete set of information, and has limitations to its accuracy. This article is not meant to be relied upon for investment decisions - please consult a qualified investment advisor. The information upon which this material is based was obtained from sources believed to be reliable, but has not been independently verified. Therefore, the author cannot guarantee its accuracy. Any opinions or estimates constitute the author's best judgment as of the date of publication, and are subject to change without notice.
Disclosure: I have no positions in any stocks mentioned, and no plans to initiate any positions within the next 72 hours. I wrote this article myself, and it expresses my own opinions. I am not receiving compensation for it (other than from Seeking Alpha). I have no business relationship with any company whose stock is mentioned in this article.