Assessing Google's Earnings Impact
By Bryan McCormick
Google's (GOOG) earnings report after the market closes Thursday will have a strong influence on the Nasdaq 100 and the S&P 500 because its stock has a weight of nearly 5 percent in both the Nasdaq 100 Index Tracking Stock (QQQQ) and the Technology Select Sector SPDR (XLK).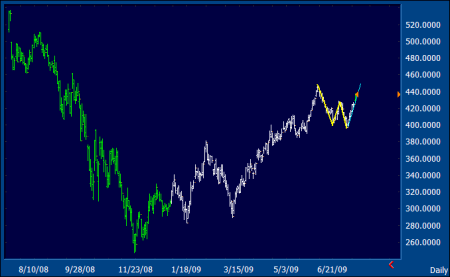 GOOG is also a good proxy for sentiment as far as "hot money" is concerned. As such, a failure to make a good showing could curtail preference for risky assets, while a better report may accelerate it.

There are two charts to view the stock: the daily chart, at right, shows a "W" double bottom pattern already in progress. The completed portions of that formation are shown in yellow, and the theoretical last leg in blue. Upside potential is to the $450 area.

The next chart below is a weekly view, showing a bullish "flag" in progress and the upside potential for that pattern with a vertical blue bar. The "W" pattern is part of this larger weekly pattern. Upside potential for this pattern is to the $470 area.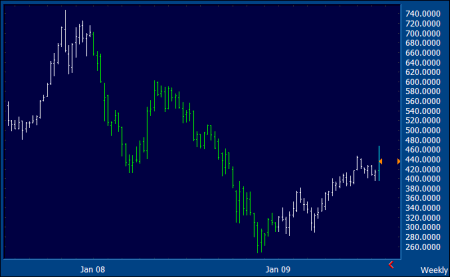 As it happens the support level for both patterns is the same, at the 425 area. A move back below $425 would inactivate both formations.
Interestingly, the Nasdaq 100 itself is showing the same bullish flag pattern on its weekly chart, which became active Thursday when the index crossed 1490.
The NDX pattern has upside potential to the 1600 area. That is, presuming that its biggest components--including Google and Apple (AAPL), which reports Tuesday next week--stay strong.
(Chart data provided by Thomson Reuters)
This article was written by
optionMONSTER® provides stock market insight, advanced options education, and actionable trade ideas to meet the needs of do-it-yourself investors. Our content is published daily at our website www.optionmonster.com in the form of free stories, webcasts, webinars, educational offerings and subscription services.