Global investing has been greatly expanded in recent years with the release of many specialized ETFs that are designed to give you pinpoint access to specific indexes and regions. In this article, I am going to focus on small cap ETFs in both international and emerging markets to point out the potential benefits and drawbacks for each category. Small cap stocks are generally defined as companies with less than $2 billion in total market capitalization.
One of the reasons that small cap stocks are so attractive is that many times they go unnoticed by the broader public. This lack of coverage can create a disconnect between their fundamentals and stock price which can be exploited by savvy investors. In addition, smaller companies are often able to switch directions and adapt to changes in the economy, leadership, products, and consumer demand faster than larger companies. Think of the difference between trying to turn a battleship and a speedboat.
Lastly, small companies are excellent takeover targets for larger companies that are looking to incorporate new technologies or services into their infrastructure. This can create a great deal of value for shareholders in the smaller company as most purchases typically involve a hefty premium to the current share price.
My favorite ETF for investing in small cap international stocks is the iShares MSCI EAFE Small Cap ETF (NYSEARCA:SCZ). This fund currently has over $2 billion in total assets spread out among 1,340 stocks throughout Europe, Australia, and the Far East. The advantage of SCZ over a comparable offering such as the SPDR S&P International Small Cap ETF (NYSEARCA:GWX) is that the expense ratio is quite a bit lower at just 0.40% vs. 0.59%. In addition, SCZ is more broadly diversified with nearly 500 more companies included in its underlying index than GWX.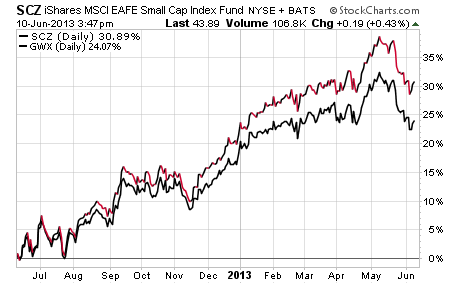 A price comparison chart over the last year shows how SCZ has beaten its competitor by over 5% which is a significant margin. In fact, SCZ is also outperforming its large-cap sibling, the iShares MSCI EAFE ETF (NYSEARCA:EFA) by nearly 1.5% this year as well. The top three sectors in SCZ are financials, industrials, and consumer discretionary stocks which combined make up approximately 60% of the underlying holdings.
Investors that are seeking an allocation to emerging market stocks for a portion of their small cap exposure should consider the SPDR Emerging Market Small Cap ETF (NYSEARCA:EWX). This fund has over $900 million in total assets spread out among 873 companies. The top three countries in EWX include Taiwan (29%), China (18%), and South Africa (7.5%). These up-and-coming economies offer many attractive qualities over developed markets, which can include: Lower debt burdens, solid economic prospects, high levels of natural resources and a burgeoning workforce.
Emerging markets have vastly underperformed this year with the large-cap weighted iShares MSCI Emerging Markets ETF (NYSEARCA:EEM) falling more than 9% in 2013. However, small cap emerging market stocks have posted much stronger relative returns according to the performance comparison below.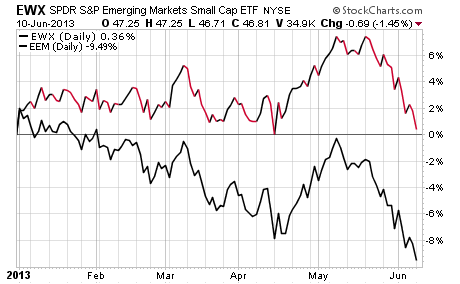 One of the reasons that EWX has outperformed EEM is because of its overweight exposure to Taiwan which is one of the few emerging market countries in positive territory this year.
From a trading standpoint, these small cap ETFs are offering some of their best entry points of the year after falling anywhere from 5-6%. The key to your success will be remembering that these ETFs tend to be more volatile and therefore a risk-management strategy should be implemented to avoid large losses. I believe that the long-term prospects for small cap emerging market companies will continue to shine in the years to come and their non-correlated returns will ultimately benefit your portfolio.
Disclosure: I have no positions in any stocks mentioned, and no plans to initiate any positions within the next 72 hours. I wrote this article myself, and it expresses my own opinions. I am not receiving compensation for it. I have no business relationship with any company whose stock is mentioned in this article.
Additional disclosure: David Fabian, Fabian Capital Management, and/or its clients may hold positions in the ETFs and mutual funds mentioned above. The commentary does not constitute individualized investment advice. The opinions offered herein are not personalized recommendations to buy, sell or hold securities.