It looks like closed-end municipal bond funds are out of whack from where they should be trading. With substantial discounts to net asset value (NAV) and nice dividend yields, there is a pretty good chance these are money makers.
A weekend article in Barron's lists seven such funds through Nuveen, BlackRock (NYSE:BLK), and Invesco (NYSE:IVZ). All are trading at discounts to NAV from 6% to over 8%. A closed-end fund is publicly traded like a stock so its underlying investments can trade for more or less than the outstanding shares. Another good article written a few days ago on the same subject on Seeking Alpha can be found here.
The yields on these funds range between 5% and over 6%. The municipals are long dated with maturities in the late 2020s and early 2030s. Comparable individual bonds have much lower yields. An AA rated Washington state bond that matures in 2025 (CUSIP 93974bvh2) yields 3.6%. An A rated bond from California State (CUSIP 13063bep3) yields 4.2% and matures in 2030.
Because munis are federally tax free, they normally yield less than comparable risk free Treasuries. Not at this point. A Treasury-Bond (CUSIP 912810ev6) with a 2025 maturity is yielding 2.5%. So why have these funds gotten hammered? Obviously investors are concerned that interest rates are rising and the entities backing these issues could be insolvent. This may be true but looking at where they are trading, they look oversold.
The Nuveen Municipal Opportunity (NIO) and Nuveen AMT-Free Fund (NYSE:NEA) are two excellent candidates. The funds employ leverage to goose the returns (or kill the NAV as the case could be). This is another reason the price is down. The portfolios are well diversified with hundreds of issues. It has over 20% of its holdings in California and Illinois. These are not popular states for municipal investors with the ratings downgrades. However, diversification should mitigate many problems.
Looking at a chart, it looks like we've seen the bottom in NIO.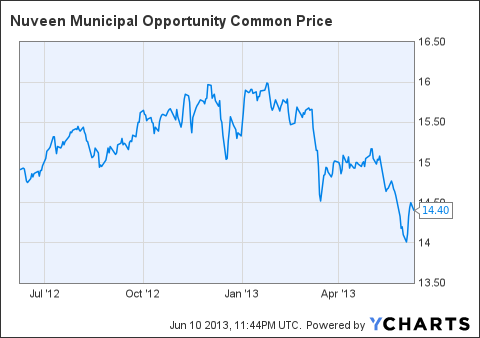 So let's review why these could be a good investments. The funds are trading at a discount to net asset value, yields are substantially higher than individual municipal yields and comparable Treasuries, and the charts indicate a bottom. There is risk involved including defaults, leverage, and rising interest rates. But that's why they invented stop-loss orders.
Disclosure: I am long NEA, NIO. I wrote this article myself, and it expresses my own opinions. I am not receiving compensation for it (other than from Seeking Alpha). I have no business relationship with any company whose stock is mentioned in this article.